Ayurvedic Remedies for Weak Eyesight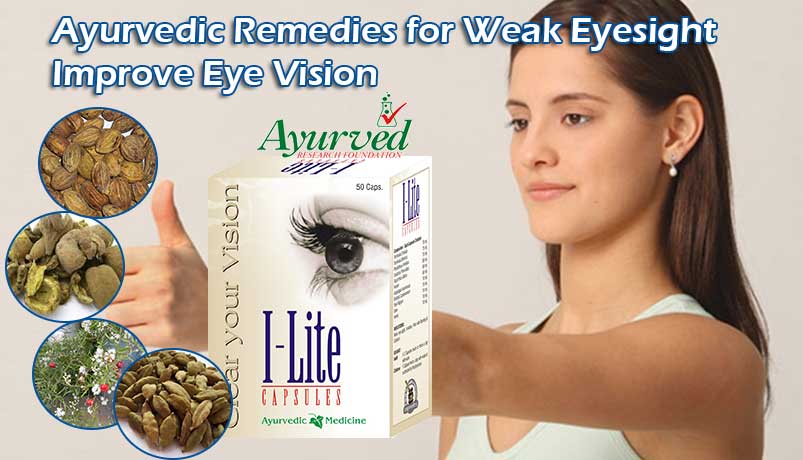 Weak Eyesight Treatment with Ayurvedic Remedies
The eyes are the most sensitive organs in the human body. Everyone needs vision and so these are one of the most crucial pair of organs as well. These are constantly exposed to external environment and that is why prone to straining and fatigue. Most people nowadays including children are in the habit to sit in front of computers and handheld electronic devices such as tablets, cell phones, etc. and due to that their eyes become weak. The reason is a person doesn't blink his eyes while focusing on something. Most scientists, scholars and intellectual students therefore have a poor vision and so wear a pair of contact lenses and glasses. Growing age is also primary reason behind weak eyesight and so individuals crossing the age of 40 years are at most risk.
You may like reading:
Symptoms of Weak Eyesight
Uncontrollable diabetes also leads to vision impairment (Diabetic Retinopathy) which is why controlling this chronic disorder is important. Though, it is not that common among diabetics since those suffering from diabetes generally have regular checkups. People at present do not have the routine of having healthy foods. A person must take lots of foods containing vitamins to maintain and improve the eye health. But guess what! No one does that and end up having blurred vision, dry and itchy eyes. Following are the symptoms of weak eyesight:
Difficulty in focusing
Dry and irritated eyes
Watery eyes
Blurred vision
Double vision
Increased sensitivity towards bright light
Neck, shoulders or backache
Those who have to sit against computer the whole day probably end up with wearing spectacles and those who already wear glasses face elevation of power of their lenses that creates even more trouble. People opt for surgeries if their eyes no longer support the clear vision.
Improve Eye Vision Naturally
We have a better solution for this. Why not try herbal remedies to improve eyesight instead of going for expensive medications and surgeries? We introduce ayurvedic remedies for weak eyesight in the form of I-Lite capsules. Do you wonder how these ayurvedic remedies to improve eye vision work? The reason is these ayurvedic remedies for weak eyesight consist of highly renowned herbs that were used since centuries by Indians. Blending them all was a smart idea because the results are already proven and the grandparents still rely on these. One can say that the herbal ingredients are like grandma's remedy when it comes to treating the poor vision. Let us now reveal all the ingredients used while making I-Lite herbal remedies to improve eyesight.
Ingredients of I-Lite Capsules

Terminalia Chebula, Terminalia Belerica, Asparagus Racemosus, Phyllanthus Emblica, Celastrus Paniculatus, Glycyrrhiza Glabra, Ferrum, Elettaria Cardamomum, Piper Nigrum, Ghee, Honey
Above ingredients contain many vital minerals and anti-oxidants that need to be supplied to the eyes in order to bring back its lost health. Together they make a highly effective formula that is capable to rectify so many eye related issues such as farsightedness, nearsightedness, blurred vision, irritability, itchiness, dryness, bright light sensitivity, etc.
Ayurvedic Remedies to Improve Eyesight
Regular consumption of ayurvedic remedies to improve eye vision for around three to four months causes greater benefits. Depending upon the intensity of the problem take one or two capsules of I-Lite twice in a day after consuming meals and be regular for at least three months to get outstanding results. One may stop the course as per his requirement and there would be no side effects to be faced.
We assure the consumers because these herbal remedies to improve eyesight are manufactured under the watchful supervision of ayurvedic doctors and are time-tested. The manufacture of these ayurvedic remedies to improve eye vision is also carried under hygienic and scientifically sound environment.
Allopathic medicines and surgeries may or may not offer you the positive outcomes and those are expensive and risky as well. Natural supplements might take longer than expected duration but they surely deliver outstanding benefits. Moreover, no one gets to see any form of side effects as well no matter how long you consume them.
I-Lite capsules are safe for children and teens as well. They may take one capsule twice or thrice in a day after having meals with water and they are sure to get tremendous results. Mothers do not have to worry about their children's eye health since we have introduced I-Lite capsule to them.
Most children are careless about the food intake and that is nearly impossible for their mothers to please them having healthy foods. Such problems are not faced anymore as I-Lite contains all crucial nutrients and having just a capsule is not a difficult task for anyone.