Ayurvedic Remedies for Calcium Deficiency, Best Supplements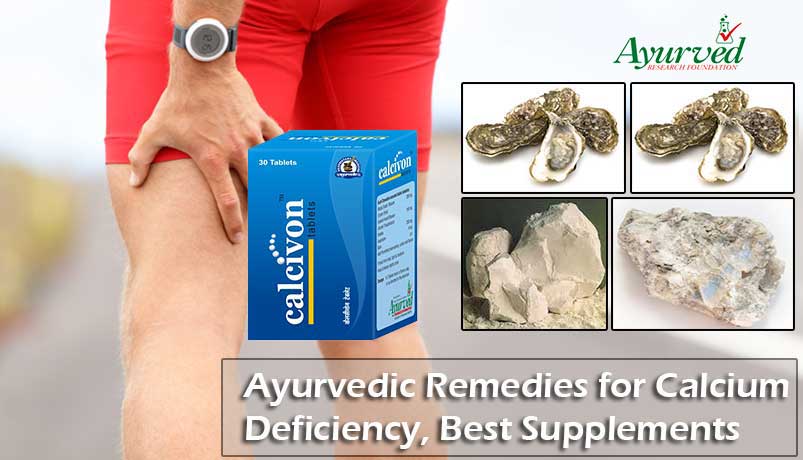 If a person doesn't get adequate calcium required by his body he or she suffers from calcium deficiency. Calcium is a vital mineral that mainly is used to build strong bones and teeth. Calcium also stabilizes the blood pressure, maintains heart rhythm, muscle functioning like contractions and relaxations and hormonal functions. If the body lacks in calcium mineral it fulfills its needs by seeking it from the bones, thereby making it brittle. This speed is at an alarming rate which ultimately results in osteoporosis. In this condition the bones become porous and extremely weak and easily fractured.
You may like reading:
Calcivon Tablets Review
Best Diet for Strong Bones and Joints
Ayurvedic Remedies For Calcium Deficiency
There are two types of calcium deficiency – dietary calcium deficiency and hypocalcemia. In the former case, the person doesn't consume sufficient amount of calcium through diet and/or supplements. Its symptoms include backache, neck pain, frequent bone fractures, humped posture and loss of height. On the other hand, hypocalcemia is the calcium deficiency within the blood. It occurs probably due to certain medical conditions and/or related or non-related medications.
The prime example for that is the problem of hypothyroidism (hypoparathyroidism). In such a case, in order to support the calcium balance and normal functioning of organs like heart, muscles, nerves and brain, the body snatches the readily available calcium mineral from the bones. Its symptoms include loss of appetite, numbness, muscle cramps, bleeding under skin appearing like tiny red colored dots, and large bruised areas.
Common Signs and Symptoms Calcium Deficiencies
Chest pain
Difficulty in breathing
Seizures
Abnormal heartbeat
Both men and women having ages between 19 to 50 years need 1000 to 2500 mg of calcium in their daily diet. Men from 51 to 70 years must take 1000 to 2000 mg of daily calcium and those crossing 71 years of age ought to take 1200 to 2000 mg calcium. Women, on the other hand, need more calcium after they reach 51 and more years of age since they hit the menopause. They require at least 1200 mg of calcium and their upper limit is 2500 mg.
Those who do not take sufficient calcium likely develop osteoporosis, joint and muscle pain, osteoarthritis and other types of arthritis or inflammation of joints.
Herbal Calcium Supplements
People in majority opt for artificial calcium supplementations but we believe only on ayurvedic remedies for calcium deficiency. The reason why we insist consumers in purchasing calcium deficiency herbal treatment is its outstanding efficacy within a short span of time. Calcivon tablets are the best calcium supplements when we talk about ayurvedic remedies for calcium deficiency. This is because this calcium deficiency herbal treatment contains ayurvedic ingredients mentioned as under:
Ingredients of Calcivon Tablets
Oyster Shell (Mukta Shukti Bhasam), Khatika, Arsenil Trisulphidum (Godanti Hartal Bhasam), Aspartame, Color and Flavor, Base and Permitted Preservatives
The purest extracts of these ingredients when combined in a fixed ratio result in a unique formulation in the form of Calcivon tablets which naturally improve the deficiency. These not only help in strengthening the bones and teeth but also nerves, muscles, brain, nails and hair. The reason why these ayurvedic remedies for calcium deficiency are considered as best calcium supplements is because these have multiple properties. They provide relief from muscle spasms and cramps. Regular intake of these ayurvedic remedies for calcium deficiency also provides relief from osteoarthritis, osteoporosis, hormonal fluctuations, hot flashes, joint pain, etc.
One simply needs to take one tablet or two tablets of Calcivon two or three times a day with water or milk at any preferred time for three to four months to get tremendous benefits.
Benefits of Natural Calcium Supplements
We recommend these ayurvedic remedies for calcium deficiency since despite of so many benefits in just one tablet of Calcivon these do not generate any side effects in the whole course duration. These have no impact on health in the form of withdrawal effects as well so anyone consuming Calcivon ayurvedic remedies for calcium deficiency does not experience any of such things. The overall benefits that natural calcium supplements offer are –
Liver health support
Calcium deficiency cure
Promotion of healthy nutrients and energy flow towards cells
Maintenance of healthy pH balance
Healthy teeth, nails, bones, joints and hair
Calcivon tablets might not show you the instant results but their regular intake deliver greater benefits than expected. This is because manufacture of every capsule is carefully undertaken under the supervision of Ayurveda scientists that devote their life in providing advantages from nature. The making is purely done in hygienic environment with well equipped and scientifically sound machinery. This manufacture falls under GMP standards that guarantee the safe making and thus outstanding results.
=> Buy Calcivon Herbal Tablets For Calcium Deficiency To Improve Bone And Joint Health.
You may like reading:
Healthy Juices and Smoothies for Arthritis Pain Relief
Best Natural Foods for Arthritis Relief
You May Like…