BrainOBrain Capsules Review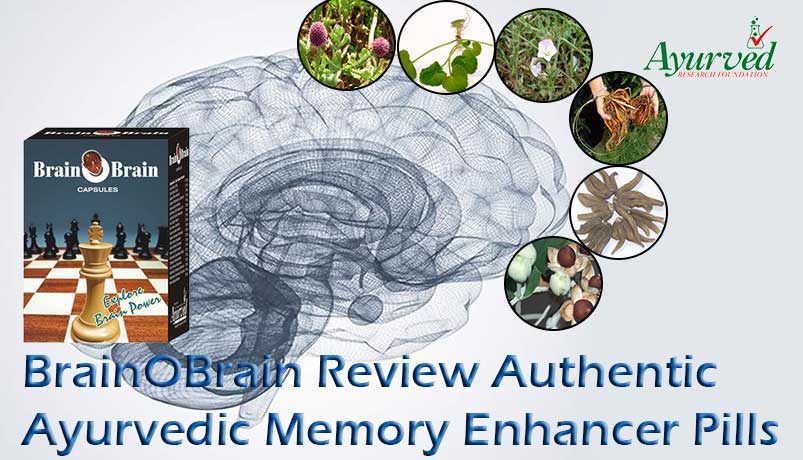 Ayurvedic Memory Enhancer Pills
Human brain is a source of outstanding power and potential. One would be astounded to know that our brain has immense memory capacity ranging up to 2.5 petabytes i.e. around a million of gigabytes. That level of memory storage is enough to comfortably fill thousands of large libraries or run nearly 300 years of a video tape! But, the actual matter of concern is how much amount of memories or facts are we able to retain? And are we able to remember a particular fact at a required point of time? Memory loss and lack of concentration are much resonated problems among both youth and elderly people. Elderly people tend to forget even trivial day to day things that hamper their daily lives.
In this competitive era, life is truly a race. There is no dearth of talented people all around and one needs to actually stand out by doing something substantial if he or she wants to excel out with flying colors. Examinations and evaluations require a student to learn and remember thousands of facts and vast subject matter of their syllabus. A razor sharp memory and swiftness of mind would definitely earn him an edge over others. Logical approach, cognitive skills, presence of mind, creativity, out of the box thinking, etc. are all smart mind techniques that are closely related to the proper functioning of brain.
Brain comprises of less than 2% of the body's weight but requires up to 20% of the body's energy and nutrition. Therefore, it would not be wrong to say that it is the most demanding and most powerful organ of our body. A balanced nutrition that maintains a sound health of brain is very essential to perform with our highest efficiency. Optimum functioning of Central Nervous System, brain cells, nerves and neurons is also very crucial. BrainOBrain ayurvedic memory boosters are natural brain enhancer pills that act as a tonic to our brain. Read this BrainOBrain capsules review to find out more.
You may like reading:
Brahmpushpi Capsules Review
Homemade Electrolyte Energy Drink
What Results We Will Get by Taking BrainOBrain Capsules?
There will be a tremendous improvement in focus and concentration after taking BrainOBrain ayurvedic memory enhancer pills. Alertness of mind and learning capabilities will be enhanced. BrainOBrain capsules also cure memory loss and increases brain power. Aging of brain cells will be delayed since their activity is stimulated. Blood circulation is greatly improved leading to the efficient functioning of all the body organs. These effects are well researched and studied before writing this review of BrainOBrain ayurvedic memory enhancer pills.
Core Features
Serves as a brain tonic comprising all the essential micronutrients.
Boosts memory.
Powerful ayurvedic herbs improve focus and concentration.
Enhances blood circulation and activity of brain cells.
Regulates Central Nervous System and ensures sound health of brain.
Herbal Ingredients
Ayurvedic ingredients in their pristine form are duly used in BrainOBrain capsules and we are mentioning the major ones in this review of BrainOBrain ayurvedic memory enhancer pills.
Brahmi which serves as a nerve tonic and memory booster. It has been in use since 500 B.C. to improve memory and intellect.
Shatavari helps in digestion and establishes a healthy hormonal balance. It also aids in sound functioning of brain.
Shankupushpi is widely used herb in India that is a potent alexiteric and helps in calming nerves. Both memory and concentration is increased manifold by taking this herb.
How Do They Work and How Long Till We See Its Results?
100% pure ayurvedic herbs such as Brahmi, Shankupushpi, Shatavari, Salabmisri, Gorakhmundi, Vidhaara, Amber Ved, etc. work together to provide nutrition to our brain cells. First of all they improve the blood circulation so that all essential nutrients reach various parts of our body. They heal and calm the nerves and contribute to overall well-being. The unique blend of these herbs results in the increased proficiency of our brain and agility of our mental activities. We are laying stress on the fact in our review of BrainOBrain ayurvedic memory boosters that ayurvedic treatment is a comparatively slow treatment as compared to the modern allopathic ones as it uproots the ailment from its root cause. Considerable progress is shown in 10 days and total treatment is done by around 3 to 4 months.
How Many BrainOBrain Capsules Do We Need to Take Daily?
It is recommended to take 1 or 2 capsules twice a day, 1 in the morning and other at night with milk or water. We would very well advise everyone reading this BrainOBrain capsules review that this dose must be continuously followed for 3 to 4 months to enhance mental abilities.
Is it Safe and Reliable to Use?
Presence of natural products and ayurvedic herbal ingredients assures of 100% safety and pose no dangers to your health. We are giving full assurance to the readers in this BrainOBrain ayurvedic memory enhancer pills review that they do not cause any side effects after we stop taking them.
Advantages
Now, we will focus on some specialties and outstanding benefits in this section of our review of BrainOBrain ayurvedic memory enhancer pills –
They can be consumed by males and females of all ages.
They naturally enhance the memory, focus and concentration power.
Presence of unique and effectual herbal blend of ayurvedic herbs.
Zero risk of side effects.
Stimulate proper blood circulation and lead to overall well-being.
Slow down the aging of brain cells and boost up their activity.
Limitations
Now, we'll throw some light on several limitations of these pills in our review of BrainOBrain ayurvedic memory booster pills –
Unavailable at medical shops and can be ordered online only.
A consistent dosage must be followed for around 3 to 4 months to achieve all round improvement.
=> Buy BrainOBrain Herbal Memory Enhancer Pills to Improve Brain Power.
You may like reading:
Ayurvedic Herbal Remedies for Acidity, Gas and Indigestion
Ayurvedic Remedies for Blood Purification
You May Like…