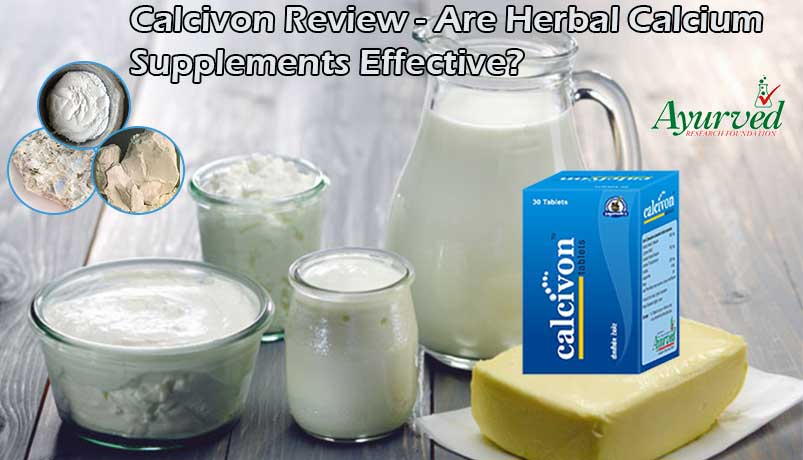 Are Herbal Calcium Supplements Effective Or Not?
Calcium is the most abundantly found mineral of our body. In fact, our bones and teeth are composed of calcium. Body tissues, nerve cells, hair, blood and other fluids also contain calcium. Apart from formation of bones and teeth, calcium aids in the clotting of blood. It helps our neurons in sending messages and signals and also assists in muscular contraction. Our bones and teeth comprise of 99% of calcium and on a daily basis we lose calcium through urine, nails, hair, sweat, etc. Our body does not produce calcium of its own and hence one can decipher that it is very essential for us to supply our body with adequate amounts of calcium through diet and other supplements. Dairy products like milk, cheese and yogurt, cereals, green leafy vegetables and soy milk are excellent food sources of calcium.
An average human requires 1000 to 1200 milligrams of calcium on a daily basis. If one is suffering from calcium deficiency, our body starts taking it from our bones and hence making them weak and fragile. Osteoporosis, muscular spasms, loss of tooth, spinal pain, low BP, brittle hair and nails, faintness, anxiety, fractures, muscular cramping, facial spasms, tremors, etc. are some serious conditions that may occur due to lack of calcium in our bodies. We do not feel calcium deficiency directly, so it is very essential to opt for a bone density test if one is experiencing some of the above symptoms. Herbal calcium supplements are the best bet if we want to supply adequate amounts of calcium to our body and Calcivon tablets are one such natural calcium remedies. Here in this Calcivon tablets review, we will investigate the actual truth about their effectiveness by examining various parameters such as features, dosages, ingredients, pros and cons, etc.
You may like reading:
Best Diet for Strong Bones and Joints
Ayurvedic Remedies for Calcium Deficiency, Best Supplements
Features
We will start this Calcivon tablets review by listing the key features of these natural calcium supplements –
Strengthen bone tissues and cater for our calcium deficiencies
Provide calcium to our bones, teeth and muscles
Supply adequate calcium to the blood to enhance blood clotting
Help in bone formation and improve calcium absorption
Increase the strength of nails and hair and make our skin beautiful
Complications in women such as PMS and hot flashes are dealt with ease
Old age ailments such as osteoporosis are relieved
What Do We Achieve After Taking Calcivon Ayurvedic Tablets?
Calcivon tablets are basically designed for supplying the required amounts of calcium to our body. Due to our hectic lifestyle and packed schedules one is not able to take a balanced diet full of calcium sources. People are unable to pay attention to include proper food items and hence suffer from lack of calcium and a variety of ailments it brings with itself. Herbal supplements are always the best suitable option as they do not cause any pernicious side effects. Excess of calcium may even lead to kidney stones if we take the wrong amount of allopathic calcium tablets. Such types of complications do not arise in the case of Calcivon herbal calcium supplements. They effectively mitigate the calcium deficiency and the problems that occur due to lack of calcium.
Ingredients
Mukta Shukti Bhasm, Godanti Hadtal Bhasm and Khatika are the major components of Calcivon tablets. All these ingredients are 100% natural, time tested and highly effective in catering for our body's calcium requirements.
Dosage
Ayurvedic experts recommend taking 1 or 2 Calcivon tablets twice a day with milk or water regularly for 2 to 3 months.
How Long Do We Have to Consume Calcivon Tablets Until We See The Results?
For ayurvedic procedures, it is always suggested by herbal experts to take the dosage on a regular basis for at least 3 to 4 months. It is a word of advice in our review of Calcivon tablets that they are no miraculous tablets that will show instant results. Although, a great improvement in our health is shown within a fortnight, complete treatment is done only after following the dosage consistently for over a couple of months. After this time, wonderful and long lasting results are obtained without imparting any side effects to body.
Are Calcivon Herbal Calcium Supplements Safe to Consume?
There are absolutely no second thoughts about the safety of Calcivon natural supplements for calcium as they are comprised of pure herbal formula. Ayurvedic ingredients pose no threats of side effects like in case of allopathic medicines. Hence, we suggest people in our Calcivon tablets review to rest assured of the reliability and safety of these tablets.
Pros
Here we mention some pros and advantages in our review of Calcivon tablets –
Calcivon tablets not contain harsh chemicals and additives that produce side effects. In fact, they are based on pure ayurvedic formula and comprise of exotic herbs and natural products to cater for the calcium requirements.
Calcivon natural calcium supplements strengthen the bone tissues and aid in bone formation.
They provide ample amount of calcium to our bones, teeth and muscle and also to the bloodstream so as to enhance blood clotting process.
On the regular intake of Calcivon herbal tablets one will be able to get beautiful skin and strong nails and hair.
Problems such as premenstrual syndrome and hot flashes in women are also prevented by taking these tablets.
Common ailments of old age such as osteoporosis are relieved.
Calcivon ayurvedic tablets for calcium deficiency are easily digestible and are especially designed for a fast and speedy recovery.
They also stimulate proper assimilation of calcium to achieve healthy and active life.
Cons
We would like to end our Calcivon tablets review by mentioning few cons or limitations of these herbal calcium supplements –
First of all, Calcivon ayurvedic tablets are non-prescription calcium supplements that can be obtained only via placing an online order.
Secondly, they take a considerable amount of time i.e. 3 to 4 months of following the dosage to avail all round benefits.
=> Buy Calcivon Natural Calcium Supplements to Strengthen Bones and Joints.
You may like reading:
Healthy Food Pyramid for Adults
Best Healthy Diet for Athletes
You May Like…