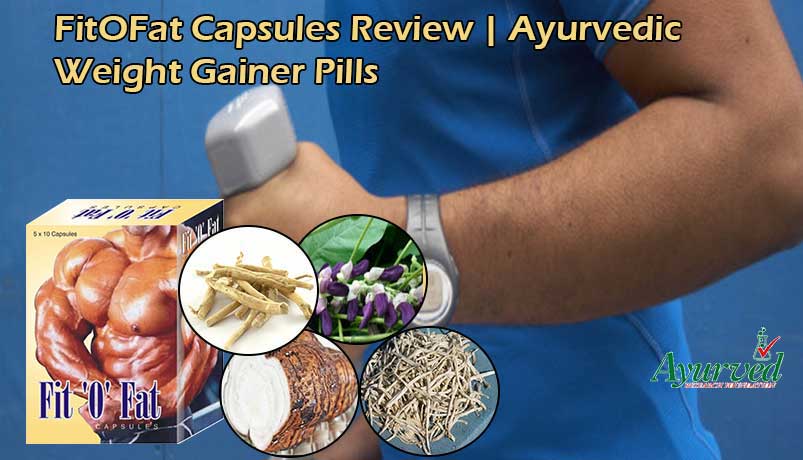 Ayurvedic Herbal Weight Gainer Pills
A skinny and lanky body with chicken legs is undesirable by everyone. Girls aspire to have a dreamy hourglass figure full of curves and boys wish to have an athletic and muscular build. Thin people often go obsessed about putting on few kilograms. They start eating fatty and high calorie food items. This is a very common myth that stuffing your belly with junk and fatty foods will aid in the weight gain process.
But people are unaware of the real fact that such fast foods contain little or no nutritional value and may develop layers of fat around their body instead of lean muscles. Such a rookie mistake will result in making them even more unattractive. Hence a proper diet full of nutritious elements must be taken in order to achieve the body's ideal weight. When most of us try to get into shape by getting rid of stubborn calories, there are still many people who want to do just the exact opposite.
Gaining weight is a tedious and herculean task which is not as easy as it looks so. Those people who have a fast body metabolism rate are incapable of storing any amount of fat and are often lean and thin. Specific exercises must be done to gain weight naturally and build lean muscles. It is a matter of our health and one must definitely take aid of ayurvedic weight gaining supplements.
FitOFat weight gain capsules are also purely ayurvedic product that helps in developing lean muscles and builds up muscle mass. Here, in our FitOFat capsules review we would throw some light on the features, pros, cons, ingredients, safety issues and other useful information to guide the consumers in making a well-informed purchase. These FitOFat weight gain capsules reviews are written after proper research and investigation about these pills and are 100% authentic. To find whether FitOFat capsules are a boon or bane? Keep reading further.
You may like reading:
Mega Mass Capsules Review
Homemade Electrolyte Energy Drink
What Do We Achieve After Taking It?
Regular intake of FitOFat capsules would help us increase weight and improve muscle mass naturally. The digestion process will get improved and one will be able to absorb all the essential nutrients properly. The appetite and food intake is enhanced after taking FitOFat weight gain capsules. Strength, stamina and energy levels are outstandingly escalated after consuming them. Both fitness and libido is increased manifold. Numerous other benefits include lightening of skin complexion and relieving of stress and anxiety. Our immunity system will get enhanced and hence we will be able to fight the diseases efficiently.
Features
We present some salient features in FitOFat ayurvedic weight gainer pills review –
Ingredients
FitOFat ayurvedic weight gainer pills are comprised of pure ayurvedic ingredients such as Barahikand, Safed Musli, Ashwagandha, Kavach Beej Bek and Vidarikand. Manufacturers have ensured that all these herbs are added in correct proportions based on the ancient ayurvedic formula.
Dosage
It is advised that 1 or 2 FitOFat herbal weight gain capsules should be taken twice a day with milk or water as per the person's suitability. We advice everyone in our FitOFat ayurvedic weight gainer pills reviews that a strict dosage must be followed for at least 3 to 4 months to get considerable gain in weight.
Are They Safe and Reliable to Use?
We have done intense research before writing FitOFat weight gain capsules reviews and have arrived at the conclusion that any apprehensions and worries regarding the safety of FitOFat pills must be kept aside. After rigorous research and experiments we found out that all the contents of these capsules are purely herbal and hence they do not cause any side effects. This is in contrast with the synthetic weight gain supplements available in the market which contains chemical additives and fillers. They produce overnight results but in an unhealthy manner. It is a unique feature of FitOFat capsules unlike the allopathic medicines that may pose serious threats to our health.
How Long Until We Lose Sufficient Amount of Weight?
We are constantly iterating this fact in our FitOFat capsules reviews that these pills are ayurvedic and contain natural ingredients which require some time to show results. They are not like some magical pills that will produce drastic change in the body's weight in a day or two. A person has to stick to the dosage for 3 to 4 months along with following a proper diet and fitness regimen. Only after that, he or she can rest assured of getting outstanding results and a wide range of health benefits.
Pros
FitOFat weight gain capsules are 100% ayurvedic formula that does not pose any threats to our health.
FitOFat capsules help in the weight gaining process and develop lean muscles that too in a natural manner.
The body's muscle mass is greatly enhanced after consuming them.
The appetite is increased and proper digestion and absorption of food takes place.
A person's strength, stamina, energy and immunity levels are boosted up after taking these pills.
It also helps in getting a glowing, radiant and fairer skin.
Cons
Now, last but not the least we enlist some cons in our FitOFat ayurvedic weight gainer pills review –
FitOFat capsules can only be purchased by placing an online order on the official website.
Regular exercise, nutritious food and a strict dosage has to be followed in order to avail wonderful results.
A time frame of 3 to 4 months is required to get the desired outcome.
=> Buy FitOFat Herbal Weight Gainer Pills to Increase Body Weight Naturally.
You may like reading:
Foods and Herbs to Increase Energy and Stamina in Men
Best Healthy Diet for Athletes
You May Like…