Best Diet for Healthy Skin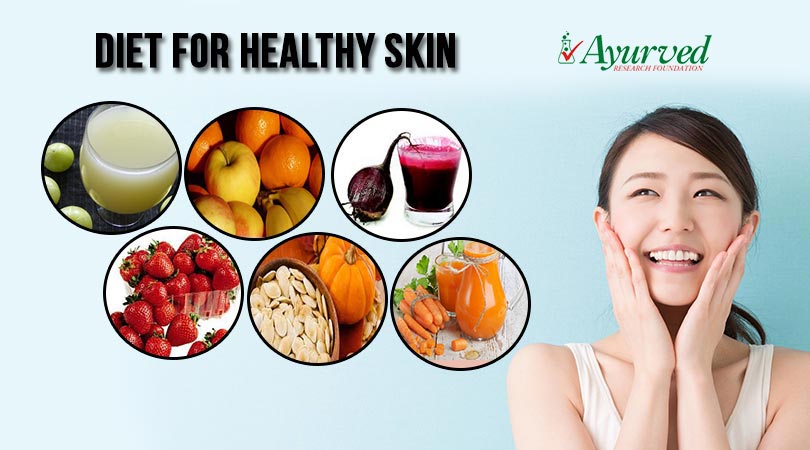 Skin is biggest organ of the body and bears external and internal stressors simultaneously. But surprisingly when it comes to diet this organ is ignored most often. People use expensive gels and creams but do not pay attention to diet to keep skin healthy. If you are suffering with dull and lustreless skin, or see fine lines forming-up much early in the age it is time to switch to a diet for healthy skin. This type of diet contains foods which supplement compounds and health-promoting agents which keep skin nourished and lively. Healthy and nourished skin prevents signs of ageing from showing-up and also remains attractive and glowing.
Skin is first line of body's defence. It protects internal organs from harsh exteriors, infectious agents and pollutants. Naturally, all these roles gradually show their effect and make it dull, weak and wrinkled. Proper nutrition helps skin in maintaining its resistance and endurance to perform its task and also remain healthy which improves looks of a person. Diet for healthy skin provides exactly the type of nutrition which enhances skin's endurance and liveliness by improving its health.
For more on skin care, check out:
Turmeric Face Mask Recipe for Skin Problems
Face Masks Recipes for Glowing Skin
Best Foods for Skin Repair and Elasticity
Indian Gooseberry – Remedy for Healthy Skin
This fruit is biggest source of vitamin C which is excellent antioxidant too. This vitamin inhibits activities of free-radicals which damage cells and tissue of the body. The free-radical mechanism promote rapid death rate of skin cells and block skin pores to make it prone to suffer with skin conditions like acne etc.
Indian gooseberry also supplements vitamin A which promotes collagen production and makes skin tighter and healthier. Consume this fruit or its juice in the morning on an empty stomach to get the best results. This fruit is good part of diet for healthy skin.
Apples – Natural Food for Healthy Skin
This fruit is recommended as part of diet for healthy skin due to its nutrient supplementation and minerals. Apples supplement vitamins and minerals in big dosage which enhance nutrition to all parts of the body. It is source of antioxidants and also fibre which enhance digestion and lower toxin presence in blood. Purified blood maintain healthy growth rate of skin cells and also enhances its ability to fight back external stressors.
Beet – Natural Remedy to Cure Skin Health

This vegetable is source of anthocyanins which is active and strong antioxidant. Include more beets in diet for healthy skin these will make skin tighter and help in removing lines and wrinkles, and also make it glowing and lively. Even juice of beet is very helpful and can be consumed once in a day for healthier skin.
Eat Lemon – to Enhance Skin Health
This fruit too is rich source of vitamin C and supports many healthy processes. It helps immensely in promoting collagen synthesis which makes skin tighter and does not allow it to lose its flexibility and softness. It is also source of antioxidants which promote flow of blood in skin capillaries and enhance its health and endurance. You can drink lemon juice or squeeze it over lentils, salad or cooked vegetables to eat diet for healthy skin.
Recommended reading:
Homemade Probiotic Lemonade Recipe
Spinach – Best Diet to Provide Suppler Skin
Ensure three to four servings of spinach leaves per week to keep inflammation and toxin build-up in skin away. This vegetable helps body to flush-out toxins which get accumulated in skin from outside and also from inside through blood. Spinach leaves are excellent for promoting nutrition and these strengthen skin tissue to provide tighter and suppler skin.
Pumpkin Seeds – Best Remedy for Healthy Skin

Handful of pumpkin seeds in a day are wonderful diet for healthy skin. These seeds are rich sources of zinc which is excellent for opening-up blocked blood vessels and speed-up process of cell generation in the body. This generates skin cells too at faster rate and maintain healthy production of collagen. Inclusion of this food in your diet will not only provide tighter and healthier skin but will also improve its shine, sheen and elasticity.
Carrots – Natural Food for Skin Health
These are sources of antioxidants which are extremely beneficial for eyes and skin. Regular intake of this vegetable through diet can prevent many types of skin disorders and improve skin health considerably. These are good for removing skin blemishes and also prevent signs of ageing from showing-up. Include carrots or carrot juice in your daily meals as diet for healthy skin.
Strawberry – Best Diet to Protect Skin Health
These supplement malic acid which is natural agent to improve skin shade and provide radiance from inside. Eat few strawberries with salad few times in a week to gain glowing and shiny skin naturally. These berries too are good diet for healthy skin.
Tomato – Natural Treatment for Skin Health

This is complete diet for healthy skin. This vegetable supplements lycopene which is a type of antioxidant, it promotes cell generation and works as natural sunscreen from inside. It delays and removes signs of ageing and is excellent aid to cure skin blemishes. It is popularly used in face packs due to its wonderful skin-health promoting properties. It is effective way to treat and prevent acne as well.
Sweet Potato – Home Remedy to Keep Skin Tighter
This vegetable is source of vitamin A and C both which makes it an excellent diet for healthy skin. These vitamins keep skin tighter, glowing and healthier to withstand effects of harsh external environment and also ill-effects of ageing.
Read full Details Here>>Best Foods to Make Skin Healthy Infographic
You may like reading:
Homemade Anti-Tan Beauty Masks For Suntanned Skin
Aloe Vera Mask Recipe for Skin and Hair
You May Like…