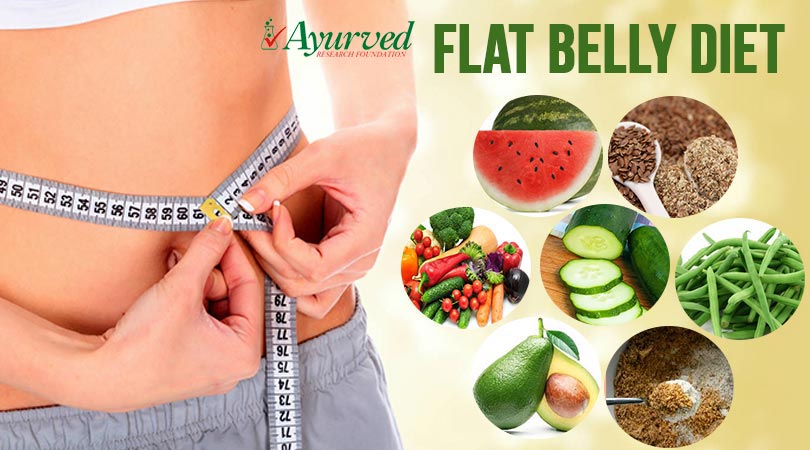 Flat Belly Diet
Bulging belly not only deteriorates bodily shape and appearance but is also harmful to health as it puts more pressure on heart. Exercises and dietary control are useful ways to shed excess fat off belly but these can take long time. Skin over abdomen has very less blood flow because of which during exercises body is unable to access the fat and utilize it for producing energy. Eating flat belly diet can increase effects of exercises and help body in utilizing fat deposited over abdomen to provide shapely middle section.
Flat belly diet does not contain any rare foods or supplements; it just states the kind of food which has fat-burning or fat-utilizing properties. These foods speed-up fat metabolism and promote weight loss. Diet containing these foods on regular basis apart from providing nutrition also helps in dissolving fat which get accumulated in skin tissues. Consuming this diet is very helpful in gaining shapely and slim body in a short time and with much lesser effort.
For more on weight loss, check out:
Green Tea Lemonade for Weight Loss
Natural Weight Loss Smoothies to Get In Shape
List of Foods that Help to Lose Stomach Fat
Apples – Natural Diet to Provide Flat Belly

To get a perfect flat belly diet form core diet with apples. These fruits are packed with nutrients and also soluble fibre which improve fat metabolism in the body. One apple in breakfast and supplement sufficient fibre to keep metabolism on a high throughout the day.
Beans – Natural Diet for Flat Belly
These are excellent foods to gain protein and also fibre to maintain metabolism higher. These foods digest slowly hence keep stomach full for longer duration and prevent untimely eating or eating between meals. These can be part of regular flat belly diet and medium-sized bowl full of any type of beans can provide desired results in a short time.
Fish – Best Diet for Belly Fat
If you eat fish twice or thrice in a week it forms a good flat belly diet to lose stomach fat. These are good sources to obtain omega-3 fatty acids which burn down harmful fat in the body and also prevent its deposition. Use of fish oil is also good way to gain nutrition and healthy fat, and reduce flesh over your belly.
Almonds – Home Remedy to Get Rid of Belly Fat

These are good fat-burning nuts and can be part of regular flat belly diet or as snacks to pass abrupt hunger. These can be used dry roasted or plain but avoid using salt. These are good sources of vitamin E and protein and provide nutrition to muscles and tissues of the body.
Avocado – Best Food to Reduce Belly Fat
This fruit too is packed with numerous nutrients, carb and healthy fat. It is great food supplement for those who perform rigorous exercises. One fruit of avocado can supplement enough carb to repair and reenergize muscles. And this fruit is excellent for reducing belly fat as well. It is source of fibre which enhances fat metabolism and form good flat belly diet along with other fat-reducing foods.
Green Leafy Vegetables – Natural Treatment for Belly Fat
Form a platter full of boiled or grilled green vegetables to eat as a meal on regular basis. This platter can remove the need to eat any other fat-reducing food during the day and can provide optimum fibre to keep your metabolism on a high. Higher metabolism dissolve deposited fat even from difficult areas like belly. Cauliflower, kale, broccoli, spinach etc. all form a good flat belly diet if eaten on regular basis. Avoid salt and spices as much as possible. Use lemon to improve taste.
Cucumber – Natural Diet for Flat Belly

Use this vegetable liberally with meals or as a snack to suppress untimely hunger. It is highest on water content and also packed with nutrients. It speeds-up metabolism and also helps in lowering toxicity in the body which is mainly responsible for promoting fat deposition around belly by triggering stress. These are easily available throughout the year and are good parts of flat belly diet.
Flaxseeds – Home Remedy to Burn Belly Fat
Eat one tablespoon of flaxseeds in a day as a part of your flat belly diet. These are veggie substitutes of fish to obtain omega-3 fatty acids. You can sprinkle dry roasted flaxseeds over fat-free yoghurt or cooked vegetables, or simply chew them plain. These seeds help in reducing accumulation of fat in the tissues and also slow down supplementation of fat to cells.
Watermelon – Natural Remedy to Remove Excess Fat

This fruit is full of nutrients and also supplement calories to help in recovering from exhaustion due to hot weather or rigorous exercises. This can be part of regular flat belly diet as it boost-up metabolism and also improve hydration in the body. It gets digested slowly and is rich source of vitamin C which is a type of antioxidant and delay tissue damage due to free-radical mechanism.
Milk – Natural Treatment for Flat Belly
Though this is regarded as source of fat which can increase bodyweight but drinking skimmed milk can provide nutrition and also healthy fat which helps in burning down excess fat and keep you slim. This helps in enhancing bone and muscular strength to improve vitality and utilize nutrition provided through diet. Drink a glass of fat-free milk every day to gain higher metabolism and dose of minerals. Fat-free milk can be a good part of flat belly diet.
Read Full Details Here >> Flat Diet Infographics, Healthy Foods List to Lose Stomach Fat Fast
You may like reading:
Frequent Sex Can Help You Lose Weight, Sex Positions For Weight Loss
Kissing Help You Burn Calories And Lose Weight In Easy Way
You May Like…