Best Diet for Cancer patients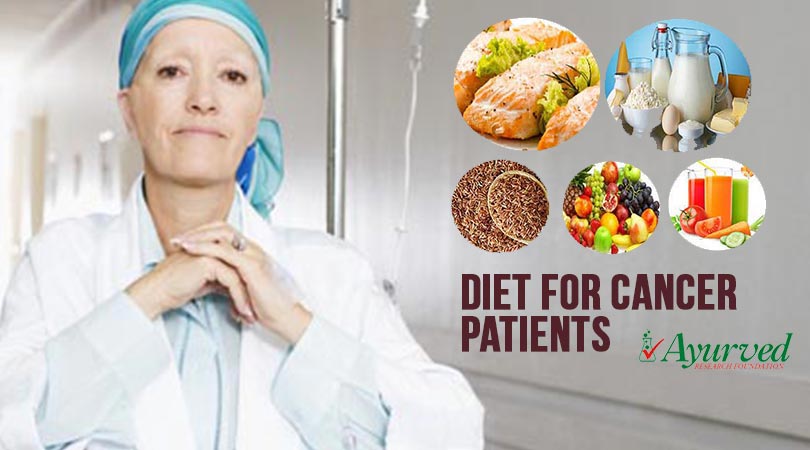 Diet for Cancer Patients
Cancer patients due to therapies, radiation, medicines and treatment lose their appetite and also taste in mouth. This makes eating proper diet difficult for them. Cancer patients shall eat a well-balanced diet to stay energized. Nutritious and balanced diet not only helps them in staying fit but also helps in curbing side effects of the treatment to a large extent. Diet for cancer patients has to be rich in fibre, vitamins, minerals and foods which improve immune system and curb activities of toxins.
Nutrition Required for Cancer Patients
There are certain nutrients which shall always be available through diet for cancer patients. All of these have vital roles to play in keeping patient energized, curbing side effects of treatment, improving immunity, maintaining bodyweight and helping in faster recovery.
Protein – Best Diet for Cancer Patients
These are building blocks of muscles and generate tissues. This nutrient also plays a role in improving immune system functions. Scarcity of this nutrient can push body to breakdown muscles to fulfil its needs which may slowdown recovery of a cancer patient. Diet for cancer patients shall necessarily supplement protein in good quantity.
CLICK HERE for FULL Details>> Best Diet for Cancer Patients Infographic
You may like reading:
Homemade Electrolyte Energy Drink
Foods and Herbs to Increase Energy and Stamina
Fats – Diet to Improve Energy of Cancer Patients
These are instant source of energy. Body breakdown fat and store energy, transport certain vitamins through these and also insulate tissues to protect them. Some fats are good and some may have negative implications on health. Diet for cancer patients shall supplement saturated and trans-fats in lower dosage and unsaturated and monounsaturated fats in higher dosage to improve energy of patient.
Carbs – Healthy Diet for Cancer patients
These are fuels of the body, these are burned down by body to supply energy to muscles and other organs to perform their functions. Intake of these nutrients is extremely vital for maintaining energy levels and healthy diet for cancer patients supplements complex carbs more in quantity than simple carbs to maintain health and energy levels both.
Fibre – Natural Diet for Cancer Patients
These nutrients are good for digestion and keeping digestive system free of toxin build-up. These ease-out breaking down of complex food items and regulate bowel movements to keep health sound and also increase appetite for higher nutritional intake. Diet for cancer patients shall supplement water-soluble and fat-soluble fibre in proper balance and optimum dosage.
Vitamins, Minerals and Antioxidants – Best Diet Good for Cancer Patients
These can be obtained from almost similar types of food sources like fruits, vegetables and herbal teas. Diet for cancer patients shall provide complete range of vitamins and particularly vitamins like A, C and E, these work as antioxidants too. Diet for cancer patients shall be good source of calcium, vitamin D, selenium, iron and magnesium as well to keep health upbeat. Zinc is another mineral which is vital for health and good for cancer patients.
Phytonutrients – Diet to Protect Cancer Patients Health
These are health-protecting compounds which are best obtained from plant-based food sources like fruits and vegetables. Lycopene, carotenoids, resrveratrol and phytosterols are few very beneficial compounds. Diet for cancer patients shall supplement these compounds too in good dosage to protect health and speed-up recovery.
Water – Natural Diet for Cancer Patients
Diet for cancer patients shall lay special stress on maintaining healthy water intake. It is very necessary for keeping cell generation rate higher and prevents side effects of treatments like diarrhoea, vomiting and nausea which hinder normal eating pattern of a person. 8 glasses of water is necessary quantity of water which a healthy person shall consume so increase it by 2-4 glasses to make it a healthy water intake for cancer patient.
Foods that Boost Immune System
Foods which shall be included in diet for cancer patients to provide abovementioned nutrition are as follows –
Whole Grains – Best Diet to Prevent Side-Effects
These shall be included in the diet to obtain carb and fibre. Some of the popular whole-grains are oats, barley, buckwheat, millet, rye and quinoa. These supplement healthy carbs and rich dose of fibre. Carbs provide energy and healthy carbs do not increase sugar levels as well whereas fibre keeps digestion and appetite healthy. Other sources of carbs and fibre are potatoes, brown rice, whole-grain breads and pasta.
Vegetable Oils – Healthy for Cancer Patients

Oils like sunflower, safflower, olive, coconut, flaxseed, canola and peanut are good sources of unsaturated and monounsaturated fats which are sources of energy and protect damage to cells and tissues. These can be included in cooking or as salad and soup dressings.
Protein Rich Foods – Herbal Remedy for Cancer Patients
Foods like lean meat, poultry, beans, lentils, peas, cereals, fish, red meat, eggs, low-fat dairy products and soy foods are excellent sources of plant-based proteins which are extremely beneficial for health. These foods shall be regular part of diet for cancer patients.
Fruits – Natural Remedy to Improve Cancer Patients Health
These shall be consumed in the raw form or in juice form to obtain range of vitamins, antioxidants and phytonutrients. Variety of fruits shall be part of diet for cancer patients as these supplement nutrients in healthy dosage without over-supplementing to improve health. Red yellow and green fruits all are beneficial for gaining optimum dosage of nutrients.
Vegetables and Drinks – Best Diet for Cancer Patients

Green vegetables and those high on vitamin C are good diet for cancer patients. These too are sources of minerals and fibre and also improve body's resistance and recovery. Drinks like green tea, buttermilk, low-fat milk are also recommended for nutrition and maintaining appetite.
You may like reading:
Best Detox Diet Plan for Health
Homemade Healthy Fruits and Vegetables Juices
You May Like…