Best Diet for Asthma Patients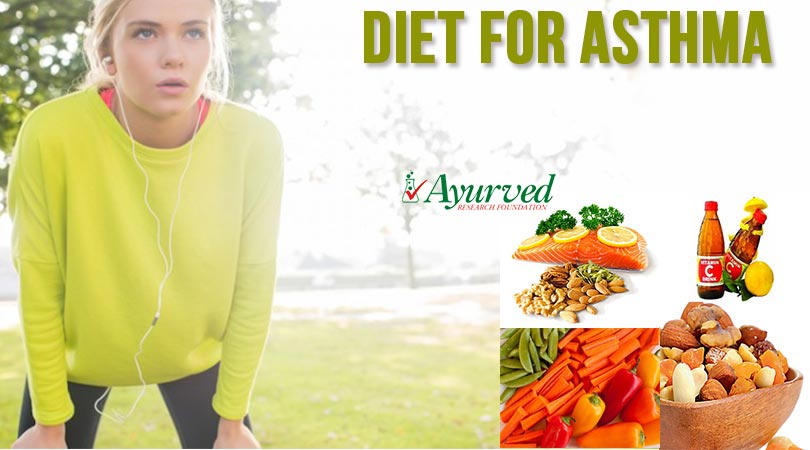 Diet for Asthma Patients
Asthma is caused by disproportionate reaction of immune cells against harmful agents which enter through air and water. Asthma mostly get triggered by causes which are related to weather, environment and environmental pollutants, but in many cases dietary habits also play a role in triggering an asthmatic attack and also in many cases initiate problem of asthma by making immune system over-reactive. One can work out proper diet for asthma by including foods which suppress asthmatic attack and avoiding foods which trigger one.
Diet for asthma includes certain foods which are sources of antioxidants. These compounds are excellent for inhibiting activities of free-radicals. These free-radicals damage cells and tissues of the body and even immune cells to trigger disproportionate reaction of immune system.
These free-radicals also deplete lung functions by damaging tissues and also cause the problem by constricting airways. Proper diet for asthma can relieve the symptoms of the problem considerably and allow an asthmatic to lead a normal life.
Worst Foods for Asthma
Out of all foods milk, cheese and eggs are commonly found causes of triggering an attack of asthma. There are few reasons behind this, person allergic to milk protein tend to get asthmatic attacks more frequently by drinking milk. Person who is lactose intolerant also suffers with severe asthmatic reaction after consuming milk or dairy products.
Similarly people having deficiency or intolerance to any ingredient found in cheese, eggs and milk face asthmatic attack after eating these dairy products. Otherwise nutrients found in these foods are good for reducing intensity of the problem and lowering frequency of attacks.
To include these food items in diet for asthma one needs to know first that whether he or she has any shortcoming or disorder which may get triggered and lead to asthmatic attack after consuming any of these dairy products. If you are fit to digest and absorb goodness of these dairy products then include in your diet for asthma as these are helpful in relieving the problem.
Foods to Eat with Asthma
Here is list of nutrients which one must look for while forming a diet for asthma.
Magnesium – Home Remedy to Cure Asthma

This mineral is needed by the body to keep muscle cells smooth and healthy. Healthy and smooth muscle cells stay relaxed and do not get constricted. This nutrient is capable of relieving severe asthma attacks when injected into bloodstream. Eating foods high on magnesium provide good diet for asthma and relieve the symptoms and occurrences of the problem.
Omega-3 fatty acids – Diet for Asthma
These fatty acids when get absorbed in the body push body cells to produce compounds which inhibit inflammation naturally. When supplementation of omega-3 fatty acids is less in the body, cells produce substances which stimulate inflammation and cause problems in breathing.
Optimum intake of these fatty acids has shown considerable reduction in rate of attacks as much as 70% in many cases. Include foods which are good sources of these nutrients in your diet for asthma.
Vitamin C – Best Diet for Asthma Patient
This vitamin is also antioxidant which seeks and destroys free-radicals. Another major advantage of this nutrient is that it curbs and nullifies histamines which are present in blood and cause inflammation of cells. The free-radicals constrict airways and trigger asthma attack hence good supplementation of vitamin C is immensely beneficial in relieving the problem.
This vitamin is boon for improving immune system functions. Better immune functions prevent disproportionate response when any pollutant or allergen sneak into lungs and prevent an attack. Include foods high on vitamin C in your diet for asthma.
Vitamin E – Best Diet for Asthma

Like vitamin C this vitamin too is antioxidant which scavenges free-radicals in the body. Vitamin C eliminates water-soluble free-radicals whereas vitamin E inhibits fat-soluble free-radicals in the body. Higher intake of this vitamin relieves symptoms and intensity of asthma and provides relief. Good diet for asthma includes food items which are high on vitamin E.
Selenium – Natural Diet for Asthma
This nutrient is missing in diet in most of the cases. This reactivates inactive antioxidants like vitamin E in the body and maintains optimum protection from free-radical damage. Foods supplementing selenium in good amount are excellent for diet for asthma and curb intensity of the disease.
Carotenoids – Natural Remedy for Asthma

Foods rich in this nutrient are also fit to be part of diet for asthma. This nutrient too is antioxidant which inhibits fat-soluble free-radical mechanism and provides relief from symptoms of asthma. Foods which are rich in carotenoids and lycopene are even better for diet for asthma as lycopene relieves intensity of exercises-induced asthma considerably.
Foods to Avoid with Asthma
Apart from eating diet rich in nutrients which relieve asthma one should be aware of nutrients which may trigger asthma and make it more severe. One of the nutrients is omega-6 fatty acids. These are abundantly present in vegetable oils and cause inflammation of cells. Salt intake has been found directly linked with asthma.
People eating more salt in diet have more propensities for asthma than low-salt eating people. Avoid foods which possess artificial food additives and also maintain a track of foods to which your body is intolerant or reactive. Exclude such food items from your diet to prevent an attack.
Read Full Details Here >> Best Diet for Asthma Patients Infographic, Avoid Foods With Asthma
You May Like…