Homemade Anti-Tan Beauty Masks For Suntanned Skin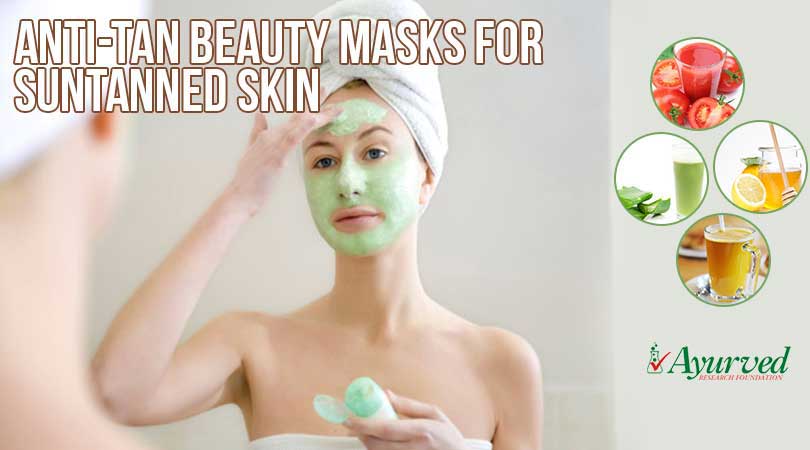 Winters are gone but left you with dull tanned skin. We all love to be sun-kissed while winters are at their peak. People tend to spend their afternoon hours relaxing under the sun. At one side, where we love to spend time under the sun in the winter season and damage our skin, while at the other in summers we try to escape from sun and heat but are caught by the harmful ultraviolet rays. When cells in your body are exposed to sun rays, they produce more melanin. The melanin is the pigment that colors your skin, which is why you tan. Overexposure to the sun can cause serious skin problems. They can cause sunburn, prematurely ages the skin, destroying your immunity and can even reach to skin cancer.
You may like reading:
Best Diet for Healthy Skin
Turmeric Face Mask Recipe for Skin Problems
Homemade Anti-Tan Beauty Masks for Removing Skin Tan
Our skin is the outermost layer of our body which protects our body from harmful pathogens and infection and helps in removing waste in form of sweat. Therefore, it is important to take care of your skin from the excess heat and going out in sun. We cannot always get covered up our skin before going out in sun. In summers wearing long sleeves clothes can be unbearable when planning for a long time outing. For protection against UV rays, people use sunscreens available widely in the market. There are many brands that claim to protect your skin against harmful rays of sun, skin cancer and sunburn.
Millions of sunscreens are sold every year but people are unknown with the fact that they are too poisonous for you. When we rub sunscreen to our skin, it does not remain at the surface of the skin but is get absorbed by our skin and get into the bloodstream traveling our whole body. Having toxins in them they damage our causing skin irritation, skin infection and also disturb the hormonal balance. Why let your skin suffer? Mother Nature has gifted us with some magnificent herbs and spices that work wonders and are boon to human life.
Although, sun tan fades by the time, but as it looks unattractive you can try homemade anti-tan beauty masks to vanish the dark complexion quickly. You do not have to go for any beauty treatment when you can make your own anti-tan beauty masks out of your suitable ingredients. Herbal plant-based remedies have an advantage that they not only cure your skin problems and make them safe but also make it glowing without dark spots and blemishes. Natural ingredients used in this anti-tan beauty masks for suntanned skin have all the vitamins and minerals and skin lightening agents. Tomatoes, lemons, milk, turmeric, gram flour, aloe vera are the most beneficial things used in making products used for skin. Do not be a victim of suntan anymore and try this anti-tan beauty mask recipe and say goodbye to your tan!
DIY Anti-Tan Beauty Masks for Suntanned Skin

Ingredients
1 Tomato
1 Tablespoon Yogurt
1 Tablespoon Lemon Juice
1 Tablespoon Aloe Vera Gel
1 Tablespoon Gram Flour
A Pinch of Turmeric
Chop the tomato into pieces and put it in a blender. Add a tablespoon of yogurt into it. Then add a tablespoon of lemon juice to the mixture and blend well to form a paste kind of consistency. Pour the mixture into a bowl. Now, add a pinch of turmeric and add one tablespoon of aloe vera gel and gram flour each. Mix it well and make a paste.
Apply this paste on the area where your skin got tanned and leave it for 20 minutes. Let it dry and when it dries scrub it off and wash it with water. Do this procedure twice in a week until you get the desired result. You will feel a lighter complexion after the first application. You can also use raw potato, cucumber or milk into your mask depending on your preference.
Lemon used in the anti-tan beauty masks has the great cleansing properties that give you faster results. Aloe vera lightens and nourishes your skin from within and soothes you from the sunburns giving you a cooling effect. Whereas, turmeric has an anti-bacterial agent which balances the moisture and oil of the skin and acts on your skin tone, thereby reducing the tanned effect by melanin.
These anti-tan beauty masks for suntanned skin will help you restore your complexion but will enhance your skin beauty by nourishing it deeply and toning the skin as this anti-tan beauty masks for suntanned skin has astringent and bleaching properties. Fight your allergies and irritation with this simple and effective recipe. Get rid of your ugly suntan naturally and enjoy a new glowing skin with this one of the wonderful anti-tan beauty masks for suntanned skin. Let your skin breathe freely.
You may like reading:
Face Masks Recipes for Glowing Skin
Aloe Vera Mask Recipe for Skin
You May Like…