Golden Glow Capsules Review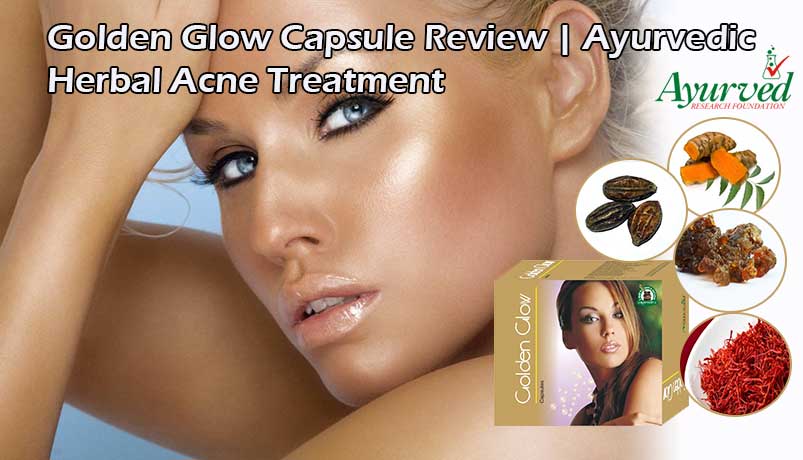 Ayurvedic Herbal Acne Treatment
Nowadays, choosing the 'best out of the rest' amidst the presence of large pool of skin care products has become a herculean and mind boggling task. Market is bombarded with so many products making claims regarding the instant disappearance of acne, pimples and many other skin related problems. Are these much touted claims really trustworthy or a part of just another marketing strategy or hokum? Even among herbal products, there is fierce competition in the market among many firms to present their products in the best possible way to the consumers and that results in a high degree of confusion in the minds of a consumer. If you are searching for an all round and perfect skin care product – Do not make haste. Just go through this detailed Golden Glow capsules review and decide for yourself.
During adolescence, the problem of acne and pimples is quite rampant. Teenagers often tend to purchase a variety of acne removal creams, lotions and scrubs or consume anti-acne pills to get rid of them. Allopathic medicines pose a threat of pernicious side effects to our body and herbal products are exception to that. Their natural ingredients ensure that no such harmful effects are caused by using them. If you're trying to purchase Golden Glow ayurvedic acne treatment, then you must read this Golden Glow capsules review to unravel the truth. Golden Glow capsules are pure and 100% ayurvedic remedies to treat numerous skin disorders such as pimples, acne, boils, skin rashes, black patches and dark circles and brings a youthful glow to the skin.
For more on skin care, check out:
Best Diet to Prevent Acne Problems
Best Diet for Healthy Skin
What Will you Achieve with Golden Glow Capsules?
Golden Glow herbal acne treatment is the ayurvedic remedy for pimples, acne and other commonly occurring skin ailments such as dark patches, scars, under eye circles, rashes, boils, etc. and help in attaining a flawless and glowing skin. They can also be used as a preventive measure for acne and pimples by removing excess of oil from the skin.
Unique Features
Now, this Golden Glow capsules review will discuss some specialties of this herbal acne treatment –
Contains antibacterial properties and removes acne and pimples.
Removes impurities from blood and cleanses it.
Fights other skin ailments such as rashes, boils, scars, under eye dark circles and patches.
Also prevents further acne and pimples to take place.
Helps getting a fair, radiant and toned skin complexion.
Helps in getting a flawless and attractive skin by enriching the overall skin quality and health.
Relieves stress.
How These Golden Glow Capsules Work?
Now a well established analysis regarding the working of this ayurvedic acne treatment has been discussed in this Golden Glow capsules review. Pimples and acne occur when certain dirt particles, dead skin cells, dust and bacteria tend to clog up the pores of our skin. Inside these pores, sebaceous or oil glands are present that produce sebum or oil. Due to the blockage of pores, the excess of oil gets trapped inside and hence a pimple or acne grows. Many genetic and environmental causes also aggravate this problem. Golden Glow capsules helps in removing this extra oil and hence prevents the formation of pimples. They help in purification and detoxification of blood from impurities. The powerful ayurvedic ingredients also have anti bacterial properties that further help in stopping pimples and other skin disorders.
How Much Time Will They Take to Produce Results?
We are crystal clearly stating in this Golden Glow capsules review that this ayurvedic acne treatment won't show instantaneous results and one has to be patient for that. Ayurvedic experts claim to noticeable results within as less as 10 days but also promise a complete treatment and removal of all skin disorders within a time frame of 3 to 4 months. Gradual internal purification of blood and skin tissues takes place which calls for following directs of use unfailingly.
Are Golden Glow Capsules Safe and Reliable to Use?
Well, there can be no doubts about the reliability and safety of this ayurvedic acne treatment since it contains 100% natural and pure ayurvedic ingredients which have been in use since thousands of years by ancient Indian ayurvedic experts. By conducting rigorous experiments and research of its major components we have arrived to this conclusion in our Golden Glow capsules review that there are no safety loopholes related to this product.
What are Its Key Ingredients?
Some of the key herbal ingredients used in this herbal acne treatment are Haldi, Tulsi, Neem, Gulab, Haritaki, Guggul, Moti, Kesar, Giloy, Jaiphal, Kamal, Chobchini, Manjistha and Mulethi. One can search anywhere online and see the outstanding benefits of these herbs as we did before writing this Golden Glow capsules review. These effective and powerful natural products are veritable proof of the wisdom and vast knowledge of our ancestors.
What are The Recommended Directions to Use?
It is recommended to take 1 Golden Glow capsule three times a day with water regularly for 3 to 4 months to get amazing results.
Advantages
Zero side-effects and absence of chemical additives.
Correct proportion of ingredients used and a unique blend.
Do not cause any hormonal changes to stop acne and pimple.
Pure and unique natural formula to combat skin disorders.
It can be taken by both men and women.
Blood purification by them also leads to an overall improvement in health.
Excellent stress busters.
Disadvantages
We would not fail to mention in our Golden Glow capsules review some of the limitations related to this herbal product –
One has to follow the directions to use strictly for 3 to 4 months and must never over consume them.
Can only be purchased via online herbal shops only and not through any prescription.
We must at last state in our Golden Glow capsules review, that these capsules are the best blood purifier and ayurvedic acne treatment in the present market scenario and one should say a big YES to them.
=> Buy Golden Glow Herbal Acne Pills to Cure Pimples Naturally.

You may like reading:
Turmeric Face Mask Recipe for Skin Problems
Face Masks Recipes for Glowing Skin
You May Like…