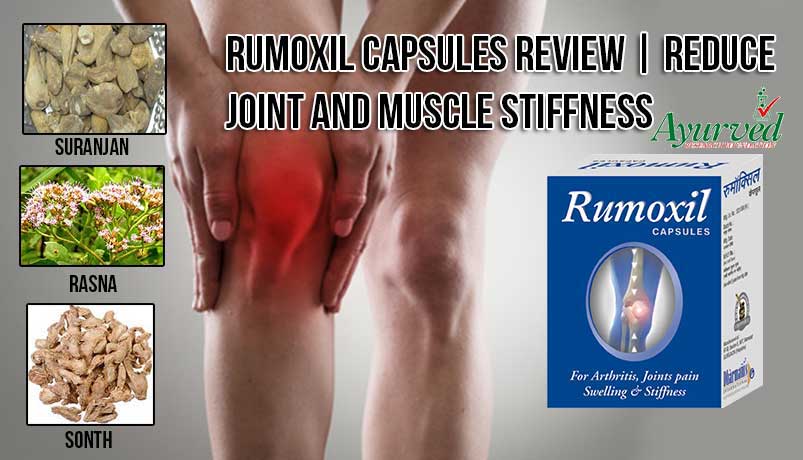 Herbal Supplements for Joint and Muscle Stiffness
Joint is a basically a connection between two bones and is covered by a protective tissue known as cartilage. Cartilage plays a central role in providing flexibility and mobility during motion of our bones. In the absence of cartilage, the bones will start rubbing against each other and which will lead to further deterioration of movements. A variety of reasons such as fractures and injuries, arthritis, infections, obesity, aging, wear and tear of cartilage, continuous exertion on joints and twisting of muscles can cause joint pain. Over some time, the muscles and connective tissues around joints and bones are also weakened which further aggravates the problem. The after effects results are humongous pain, strain, redness, swelling, inflammation, stress and stiffness in our joints.
Apart from going through a medical treatment and therapies, one can certainly alleviate this problem by taking help of certain ayurvedic remedies. They will help a great deal in soothing the excruciating joint pain. Rumoxil capsule for joint and muscle stiffness are very popular among masses by producing positive results in this regard. But how can we put our faith in them? What about the safety concerns and ingredients of Rumoxil capsules? We strongly suggest you to read this article to find out for yourself all the answers. This authentic, in-depth and factual review of Rumoxil capsules for joint and muscle stiffness will be letting you well-equipped with useful information such as features, ingredients, pros and cons, dosage, safety issues, etc.
You may like reading:
Healthy Juices and Smoothies for Arthritis Pain Relief
Best Natural Foods for Arthritis Relief
What Results Will We Get After Taking Rumoxil Capsules?
Rumoxil capsule for joint and muscle stiffness is an herbal pain relief treatment packed with powerful anti-inflammatory properties. Regular intake of Rumoxil pills would be helpful in relieving joint stiffness, muscle weakness and stiffness of muscles. Lubrication is provided to enhance the joint flexibility and range of movement. It also promotes cartilage regeneration that will also augment to the overall joint flexibility. With the help of Rumoxil ayurvedic capsules for joint and muscle stiffness, we will be able to improve blood circulation that will grant best possible efficiency to our joints.
Regular intake of these pills will trigger collagen production and reduce muscular tension. It will also prevent further degradation of bones. It relieves the pain caused by the vast array of arthritis such as cervical spondylitis, rheumatoid arthritis, fibromyalgia, sciatica, gout and osteoarthritis. Multiple kinds of paining sensation caused by muscular pain, backache, post operative pain, neuralgia, frozen shoulders, lumbago and leg cramps are also soothed.
Basic Features
We will start of by enlisting some of its basic features in this Rumoxil capsules review
100% herbal formulation without side effects
Its anti-inflammatory properties relieve muscular and joint stiffness, swelling and weakness
Proper lubrication is provided to enhance flexibility and mobility
Relieves joint pain from numerous types of arthritis
Alleviates back ache and post operative pain
Triggers cartilage regeneration and collagen production
Prevents degradation of bones
Soothes frozen shoulders, neuralgia, lumbago and leg cramps
Improves overall blood circulation and
Helps in attaining optimum joint efficiency
Key Ingredients
Rumoxil capsule for joint and muscle stiffness is made out of freshly selected ayurvedic herbs that are mixed in a perfect blend. These are time-tested and highly effective ingredients that provide amazing improvement in joint and muscular pain. A complete list of these pristine natural products goes like this – Nag Bhasma, Sonth, Rasna, Long, Suranjan, Karil, Chopchini, Guggul, Kesar, Rigini, Babuna, Swarna Bang, Lohban, Jaiphal, Ashwagandha, Harad, Piplamool, Nirgundi, Asthisanhar, Nagkesar and Samudra Shokha. Thus, there are no harmful chemical substances and additives used in making Rumoxil herbal capsules for joint and muscle stiffness.
Dosage
One must consume 1 or 2 Rumoxil pills with water two times a day i.e. one after breakfast and other after dinner. A combination of taking Rumoxil capsule for joint and muscle stiffness and regular massage by Rumoxil oil will sooth both the internal as well as external systems and will produce better and long lasting results.
How Can We Say That They are Completely Safe to Use?
Ayurveda is an ancient science and legacy of India. It was developed by wise Indian alchemists after rigorous research which can be traced back to 5000 years ago. It is a holistic approach of life and believes in utilizing the healing benefits of naturally occurring herbs and products. These ayurvedic ingredients are directly obtained from Mother Nature and are fully secure and reliable to use. This review of Rumoxil herbal supplements will ensure you of zero side effects. No such dangers of side effects occur by taking Rumoxil capsule for joint and muscle stiffness even in case we abruptly discontinue their use or in taking them in addition to other prescribed treatments.
For How Long Do We Have to Consume Them?
One must consume Rumoxil pills consistently and unfailingly for over 3 to 4 months to get splendid results. A time frame of 3 to 4 months is mandatory for the ayurvedic procedure to effectively carry out its healing process. The pure natural ayurvedic contents work gradually by going through the root cause of the disease. We clearly recommend you in our review to at least buy a 4 month or 6 month package to get remarkable improvement.
Advantages
Now, we mention multiple advantages of taking this herbal treatment in our reviews of Rumoxil capsules –
Rumoxil pills pose no perils and side effects to our health and are extremely safe and secure to use.
These pills relieve joint and muscular pain, stiffness and swelling by wonderful anti-inflammatory properties.
They ease the pain caused by commonly occurring types of arthritis such as osteoarthritis, rheumatoid arthritis, gout, fibromyalgia, sciatica, gout and cervical spondylitis.
Chronic pain caused by frozen shoulders, neuralgia, lumbago and leg cramps are effectively mitigated by taking Rumoxil herbal supplements for joint and muscle stiffness.
Regular intake of these herbal supplements enhances flexibility and mobility of joints by providing ample amount of lubrication.
They also trigger cartilage regeneration, collagen production and prevent bone degradation.
These capsules increase joint efficiency and blood circulation. Conditions like backache and post operative pain are remarkably soothed.
Disadvantages
Last but not the least we introduce you some disadvantages and limitations in our review of Rumoxil capsule for joint and muscle stiffness
Rumoxil ayurvedic capsules can only be procured by placing an order via online means.
A strict dosage must be followed for 3 to 4 months to actually get benefitted by its ayurvedic treatment. That too must be followed along with leading a healthy lifestyle.
=> Buy Rumoxil Herbal Joint Pain Relief Supplements to Reduce Joint Pain and Stiffness.
You may like reading:
Rumoxil Oil Review
Rumatone Gold Oil Review
You May Like…