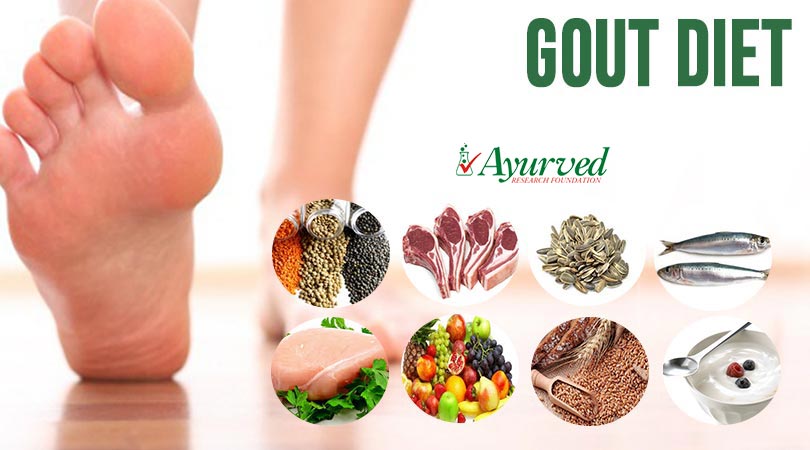 Best Gout Diet
Gout is a type of arthritis which is triggered due to consistently high level of uric acid in blood. When uric acid is higher than normal for longer periods it forms crystals which get deposited in joints and damage cartilages. With damaged cartilages joints become stiff, painful and even red and inflamed. If not treated it can deform joints and causes bone spurs which make joints completely immobile. There are medicines to bring high uric acid level down but nothing can be compared with proper diet. Eating proper gout diet keeps problem under control and prevent reoccurrences of gout attack.
There are certain foods which are high on purine, the foods rich in purine produce uric acid in higher amount on consumption which triggers as well as initiates gout. Diet excluding high-purine foods is regarded as gout diet which keeps level of harmful uric acid under control. Eating gout diet is also beneficial for those who suffer with kidney stones. Higher level of uric acid binds crystals of substances to form stones. Here is a list of foods which one should avoid to prevent and control gout.
You may like reading:
Best Diet for Healthy Kidney
Best Diet Gall Bladder
Foods to Avoid to Control Gout
Lentils – This is commonly eaten food by veggies and is part of their regular diet. But despite of their nutritious nature these are high on purine and cannot be part of gout diet. 100 grams of lentils can supplement up to 127 milligrams of purine. These are veggie sources of protein but need to be avoided by those who suffer with gout or kidney stones.
Lamb – Though this is not commonly eaten in some countries but in some it is more prevalent non-veggie food than any other. This is high protein and high purine food and shall be strictly avoided in gout diet. 100 grams of lamb supplements 182 milligrams of purine which makes it a dangerous food for people suffering with gout.
Sunflower Seeds – These seeds are high on purine and shall be avoided to keep uric acid levels under control. !50 grams of these seeds supplement about 143 milligrams of purines. Though these foods are beneficial for health in many ways but for those who want to eat gout diet shall strike these out of diet plan.
Organ Meats – If you are a non-veggie avoid all sorts of organ meats, although not all animals have very high purine in their organs yet even the organ containing lowest content of purine may have considerable amount of it, so avoid these from gout diet to be safe. Liver, kidneys, heart, spleen etc. are rich sources of magnesium, iron and potassium but also trigger gout attack by raising uric acid level. 100 grams of organ meat can supplement from 440 to 770 milligrams of purine.
Sardines – This is not kind of food which is easily available and eaten regularly, but still experts recommend eating fish as these are rich sources of nourishing omega-3 fatty acids. But in gout diet, one needs to avoid this fish as it is high on purine. 100 grams of sardines supplement 480 milligrams of purine.
Read Full Details Here Best Diet for Gout
Chicken – Avoiding this food can be testing as it is prevalent all over the world. This food is nutritious but cannot be part of gout diet due to high purine content. It is more purine-rich than beef but little lesser than fish. 100 grams of chicken can serve 175 milligrams of purine which may not trigger gout attack alone but can increase day's total and sum-up with other foods to cause high purine intake.
Raisins – This is commonly eaten dry fruit which can also trigger gout attack or form kidney stone. Raisins are digestion boosters but their regular intake increase uric acid levels to increase chances of gout. These shall be avoided form gout diet. 100 grams of raisins can supplement up to 107 milligrams of purine.
Fruits and Vegetables – These are safest foods to form gout diet. But amongst these limit intake of spinach, cauliflower, asparagus and mushrooms to two servings per week. Fruits and vegetables are good sources of vitamins, minerals, fibre and antioxidants; these are also low on purine and reduce chances of gout attack without compromising on nutrition.
Grains and Starches – You need to select foods from this category to get dose of nutrition and fibre avoiding high purine intake. Limit intake of oatmeal and wheat germ but you can eat potato and winter squash. Do not eat the foods from this category indiscriminately as some of these may spike uric acid levels but limited intake of these on per week basis forms good gout diet and maintains nutrition as well.
Milk and Yogurt – These dairy products are also good sources of nutrition and minerals and low on purine. But choose only fat-free products. Remove the skin of milk twice to drink and use same milk to prepare homemade yoghurt to gain dose of vital minerals and also stay away from high uric acid levels.