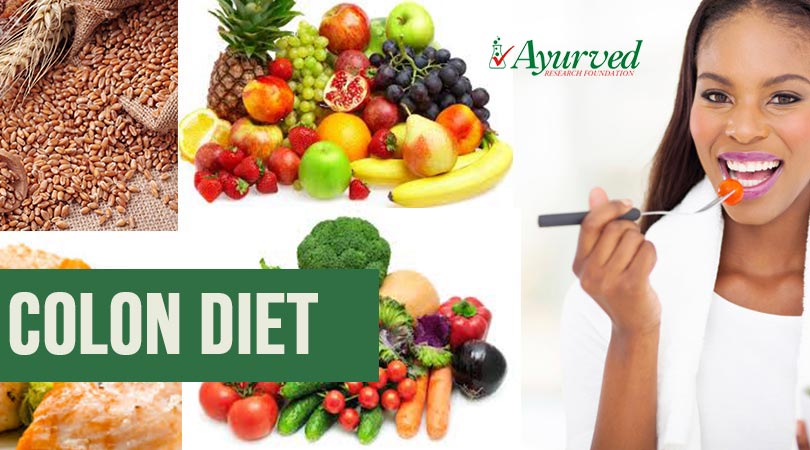 Healthy Colon Diet
Colon plays a crucial role in providing complete and smooth defecation of waste matter from the body. If this matter is not cleared on regular basis it gives rise to various disorders and promotes toxin build-up. These toxins when enter into blood stream can play havoc on overall health as these can approach each and every organ of the body through blood. Healthy colon diet supplements nutrients and other compounds which maintain its functions, protect it from toxicity and weaknesses. Unhealthy colon shows-up as disorders like chronic constipation, diverticulosis and even colon cancer.
The food we eat gets digested in stomach. Large intestines and colon are part of digestive system and also leaders of waste management. When digested food enters colon the water is squeezed out from remnants of food and nutrients are reabsorbed into bloodstream. The remaining material consisting of undigested fiber, bile acids, bacteria and cells scraped-off from intestines is excreted out as stools. If movement of this material is slow the toxins present in waste matter get reabsorbed in the blood and affect the health.
Colon is a place where most of the disorders get initiated and colon cancer is one of the leading killers of modern times. Diet plays a very important role in keeping this organ healthy and in proper functioning. Healthy colon diet prevents toxin build-up and slowness in colon functions which give rise to problems.
You may like reading:
Ayurvedic Herbal Remedies for Acidity, Gas and Indigestion
Ayurvedic Remedies for Constipation, Hard Stool
Foods to Detox Colon Naturally
Fruits – Healthy food for Colon

These are good healthy colon diet as these are sources of fiber which promotes regular bowel movements and allow smooth passage of waste matter. Fiber digests food and makes stools bulkier and softer, this allows stools to move quickly through the colon and keeps digestive system clean. Intake of all types of fruits is beneficial for digestive system but there are certain varieties which are especially beneficial for healthy colon functions. Include these fruits in your diet on regular basis to eat healthy colon diet. Apples, bananas, papaya, pears, watermelon, grapefruit and avocado are good quality fruits to gain dose of soluble fiber and improve digestion. These fruits not only form a healthy colon diet and keep this organ free of toxins but also enhance nutrition by supplying minerals and vitamins in optimum dosage.
Dairy Products – Best Diet for Colon Health
Milk and yoghurt are wonderful foods to accompany a healthy colon diet. These products are good due to two reasons, one, these are digestion enhancers as yoghurt contains a big dose of good bacteria which resides in intestines and breakdown complex food items to allow smooth digestion, secondly consumption of milk and yoghurt provides optimum calcium supplementation which is known for reducing chances of colon cancer. Consume fat-free varieties of these products on regular basis to maintain regular and complete defecation of waste matter by keeping colon healthy.
Vegetables – Natural Healthy Colon Diet

These shall form a large part of your meals to provide healthy colon diet. Vegetables like fruits are also sources of fiber and minerals and vitamins. These keep digestion smooth and bowel movements regular to prevent toxin build-up. Some of the vegetables like broccoli, Brussels sprouts and artichokes are reckoned as vegetables containing highest amount of fiber. Inclusion of these in meals makes a healthy colon diet which protects this vital organ of the body from toxicity. Other vegetables like turnips, sweet potato, carrots, kale and spinach are also high on fiber and nutrition to work as good part of healthy colon diet.
Berries – Best Diet to Maintain Healthy Colon System
Raspberries and blackberries are two varieties which are amongst the top fiber supplementing foods. Regular intake of these provides healthy colon diet and also improves its nutritional value. These are savory and delicious too.
Legumes – Natural Diet for Healthy Colon

These too are highly nutritious and fiber rich foods which provide effective healthy colon diet. Lentils, kidney beans, split peas, black beans, lima beans and peas are top fiber supplementing foods on the planet. These are good sources of protein and complex carbohydrates which keep muscle mass and muscular endurance higher to provide fitter and stronger body. These foods are perfect replacements of non-veggie sources and not only provide healthy colon diet but also much better nutrition.
Wholegrain – Best Colon Diet to Improve Digestion
These foods are also rich sources of fiber and excellent for gaining improved digestion. These also supplement folate which is also supportive for good colon health. Wholegrain can form core of healthy colon diet and improve nutrition along with colon health.
Fish – Diet for Healthy Colon
If you eat non-veggie foods replace meats and other varieties with fish. These foods are sources of omega-3 fatty acids which reduce inflammation of cells and also support digestion. These curb slowness in digestion by improving metabolism of complex food items like fat and protein. It has been found medically that people eating meat and other non-veggie sources are at higher risk of suffering with colon toxicity or even cancer than those who choose more nutritious and fiber rich varieties of non-veggie foods like fish.
Water intake also plays a major role in improving digestion and also in resolving problems like constipation, bloating and acidity which eventually affect bowel movements negatively. Maintain healthy water intake. Increased water intake is also necessary due to increased fiber supplementation, fiber needs optimum hydration to show its effects and promote smooth defecation.
CLICK HERE for FULL Details>>Healthy Colon Diet Infographic, List of Foods to Detox Colon Fast
You may like reading:
Healthy Gallbladder Diet
Best Diet Gall Bladder
You May Like…