Ayurvedic Remedies for Constipation, Hard Stool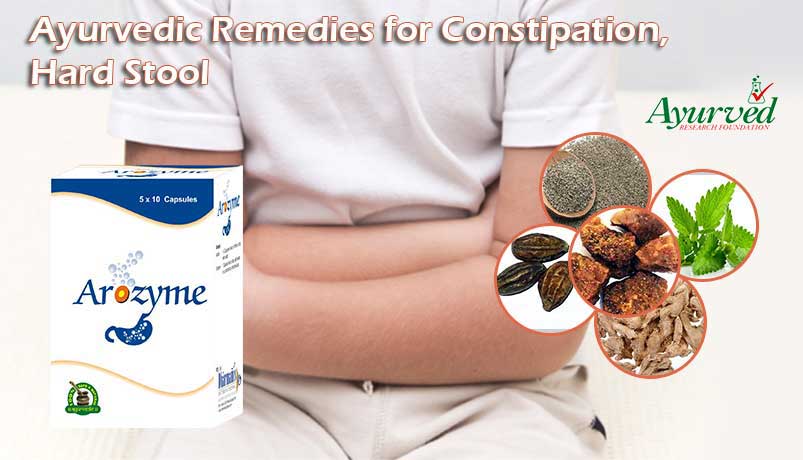 Constipation is a condition of passing infrequent stools. It is considered to be chronic if it persists for weeks or months and doesn't seem to just go away. Practically speaking less than three bowels a week is considered as constipated. The average estimation of people having bowel movements ranges from 3 to 21 times per week. Almost every individual experience this at some point of his or her lifetime but if the problem continues for more than expected interval one must know the reasons behind that. There are cases when the causes behind the problem go unnoticed. Following are the symptoms of a constipated person:
You may like reading:
Best IBS Diet
Healthy Colon Diet
Causes and Symptoms of Constipation
Having less than three stools a week
Straining to empty the bowels
Feeling of blockage at the rectum
Feeling as if your rectum can't be emptied at all
Having hard stools
Needing to manually empty the rectum like pressing the lower abdomen or using finger to take out the stools
There are certain common factors that cause this condition such as under:
Blockage in colon or rectum: This causes slowing down or stoppage of colon or rectum. Following are the causes of this issue:
Colon cancer
Rectal cancer
Anal fissure
Rectocele
Bowel obstruction
Any other abdominal cancer attached to colon
Nerve problems at the colon or rectum region: There are a few nerves that cause muscles involved in bowel movement to act and neurological problems may interrupt that functioning. Its causes are as under:
Parkinson's disease
Stroke
Spinal cord injury
Multiple sclerosis
Autonomic neuropathy
Problem in the muscles that are involved in the defecation: Muscles like pelvic muscles become weak or less functioning may affect the bowels and hence constipation occurs. Following are its causes:
Weak pelvic muscles
Inability of pelvic muscles to relax in order to allow defecation
Pelvic muscles no longer contract and relax properly
Conditions that affect body hormones: Hormones play a pivotal role in balancing the body fluids. There are certain diseases and disorders which affect them and hence cause the hard stools to form. Here are the causes:
Hyperthyroid (overactive thyroid gland)
Hypothyroid (underactive thyroid gland)
Pregnancy
Following are the most common factors that cause the condition of constipation:
Age: After crossing the age of 40 years the digestive process becomes slow. As the person grows older the condition worsens.
Gender: Women are more prone to develop the condition if compared to male candidates. They hence have to take care more of themselves. Being a pregnant woman increases the risk even more since the baby grows with time and that causes pressure upon the intestines.
Dehydration: Taking water less frequently also causes indigestion since water plays a pivotal role in easing the digestive system.
Having Low Fiber Diet: High fiber foods make the digestion simple and so a person doesn't have to strain while emptying the bowels. Low fiber dietary foods, on the other hand, cause exactly opposite impact on health.
Reduced Physical Activity: If a person is involved in exercise he or she has greater metabolic activity and improved health with elevated digestive process. Sedentary lifestyle does the vice versa.
Medication: There are certain types of medicines that reverse the digestion such as those given to treat viral hepatitis, narcotics, sedatives or those to control high blood pressure.
Ayurvedic Remedies for Constipation
Read Full Details Here Best Diet for Constipation Infographic, List of Hard Stool Foods
In order to provide herbal remedies for hard stool we recommend people like you to take Arozyme capsules. These are one of the prominent ayurvedic remedies for constipation that treat the condition entirely naturally. The following are its natural components that make this ayurvedic treatment for constipation outstandingly effective:
Ingredients in Arozyme capsules
Ferula Foetida (Asfoetida, Hing), Ptychotis Ajowan (Ajwain), Mint (Poudina), Terminalia Chebula (Haritaki), Cassia Angustifolia (Sanay), Gardenia Gummifera Linn (Dikamali), Zingiber Officinale (Sonth), Sodium Bicarbonate (Madhur Kshar)
All these are actually extracted from the plants of deep forests in order to prepare a great herbal formula. These ayurvedic remedies for constipation make the stools softer to pass through in order to accelerate easy defecation and also prevent a person from developing it any further. One simply needs to consume these herbal remedies for hard stool formation for around three or four months and see the changes within. An individual is free to stop the course if they feel like perfect in health.
The best part about Arozyme capsules is this ayurvedic treatment for constipation doesn't cause any negative impact on the health of an individual in any form. This is all because of the presence of the purest extract of the above mentioned herbs. Unlike allopathic medication that are costly and do not assure the results for long term these ayurvedic remedies for constipation provide fruitful results for long run and are available at affordable price.
One just needs to take 1 or 2 capsules of these herbal remedies for hard stool formation with water and wait for a few weeks or months. The results would be outstanding for sure.
=> Buy Arozyme Herbal Constipation Remedies to Get Rid of Hard Stools.
You may like reading:
Arozyme Capsules Review
Best Diet for Diarrhoea Patients
You May Like…