Herboglobin Capsules Review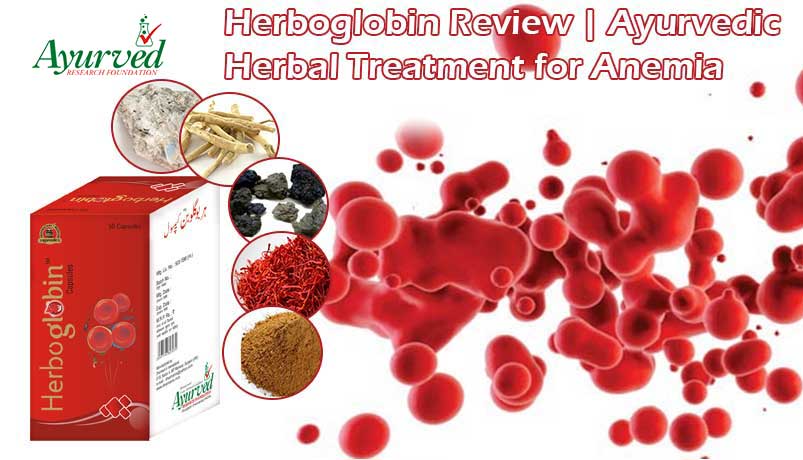 Ayurvedic Herbal Treatment for Anemia
Red blood cells are very vital for the healthy functioning of our body. They perform a most important task of transporting oxygen to all parts of our body. RBCs first of all collect oxygen from the lungs and then carry it to all body cells with the help of pumping done by our heart. After completing one circulation, it once again reaches the heart. Hemoglobin is the protein present in RBCs that imparts red color to it and it is basically responsible for collecting oxygen from lungs. Hence, one can easily imagine how an individual is able to function without them. Anemia is a condition in which we lack adequate number of healthy red blood cells to carry oxygen to our tissues. Anemic people often feel fatigued, tired and weak.
There are 3 major causes of anemia that are – loss of blood, less production of red blood cells by our bone marrow and body cells destroying its own RBCs. The most common cause is excessive loss of blood during an injury. This bleeding will cause so much of blood loss that cannot be easily restored. Anemia due to iron deficiency or vitamin-B12 deficiency is also quite frequent. The symptoms of anemia are as follows – pale skin, fatigue, shortness of breath, constant headache, cognitive disorders, irregular or fast heartbeat, weakness of muscles, debility, dizziness, pain in chest and cold hands and feet. Anemia can be effectively treated with the help of taking ayurvedic supplements that contain micronutrients such as iron, folic acid and vitamin B12 to cater our nutritional deficiencies.
Herboglobin is also one such ayurvedic treatment for iron deficiency and blood loss induced anemia that has become quite popular among the masses over the years. Herboglobin capsules review is beneficial for guiding those who have given a thought to buy Herboglobin capsules. We will take you through key features, herbal ingredients, directions to use, safety, pros, cons, etc. and give a basic idea about them. Readers will get well-equipped by the actual facts and will be able to make a wise decision by reading our unbiased Herboglobin ayurvedic treatment for anemia review. Continue reading to know more.
You may like reading:
Homemade Electrolyte Energy Drink
Foods and Herbs to Increase Energy and Stamina
Basic Features
First of all, we will enlist some basic features of Herboglobin capsules in our ayurvedic treatment for anemia review –
Good for treating iron deficiency and blood loss anemia
Contains 85+ nutrients in bio-available form
Cures symptoms like breathlessness, angina, tiredness and muscular weakness
Promotes RBC production by stimulating bone marrow
Enhances blood circulation and makes our skin glowing
Provides high recovery from sudden blood loss
Opens up capillaries and boost up energy levels
Clears 'blood sludge' or 'sticky blood'
Prevents loss of RBCs due to enlarged spleen and liver
Preventive treatment for those prone to anemia
How The Herboglobin Capsules Work?
Herboglobin ayurvedic treatment for anemia is specially prepared by pristine herbs and natural ingredients that are ascribed for its efficiency. The major content Shilajit is composed of over 85 types of essential nutrients and iron in bio available form. This ensures quick and effective absorption of these minerals in our body and cures any sort of deficiencies. These natural contents provide a big dose of iron and treat all the symptoms and effects of anemia.
Another crucial ingredient Ashwagandha enhances blood circulation and Safed Musli speeds up recovery from blood loss. Kesar boosts energy and hemoglobin level and revitalizes our whole body. Aloe Vera stimulates bone marrow to increase the number of RBCs and brings a natural radiance to our skin. It also clears sticky blood or blood sludge. Kahu is an excellent source of vitamins, alkaloids, proteins, fiber, riboflavin, carbohydrates, and omega 3 and 6 fatty acids. They repair dysfunctional spleen and liver and increase level of hemoglobin.
Direction of Use
Take one or two pills of Herboglobin pills with water two times a day after having your meals for over 3 to 4 months to get impressive and long lasting results.
Ingredients
Swarna Bang, Kesar, Shilajit, Ganjwan, Ashwagandha, Lauh Bhasma, Aloe Vera, Jav, Safed Musli, Hirabol, Long, Godanti Hadtal and Taj are herbal ingredients of these capsules. No additional chemical filler or synthetic supplements are added on them. It has been found experimentally that they are 100% natural and solely based on ayurvedic system.
How Long Until We See The Results?
We advice you in this Herboglobin ayurvedic treatment for anemia review to kindly follow the dosage unfailingly for 3 to 4 months in order to treat anemia completely. Only then one will be able to get long term benefits and the whole problem will be totally uprooted from its cause. That is why one must purchase 6 months pack of Herboglobin ayurvedic capsules.
What About The Safety of Herboglobin ayurvedic Pills?
It has been found out through intense research and experimental results that Herboglobin ayurvedic treatment is absolutely safe and reliable. Thanks to its pure and top quality herbal ingredients that are added in a perfect blend. We assure you that Herboglobin ayurvedic treatment provides no such harmful side effects that may occur after using other allopathic supplements. Even prolonged usage or suddenly discontinuing them after long use won't cause bad effects to our health at all.
Pros
It's time to list some benefits and pros in our Herboglobin capsules review
They are 100% natural supplements with no side effects.
Herboglobin capsules can be consumed by people of all ages and all walks of life.
Herboglobin ayurvedic treatment for anemia treats all types of anemia like blood loss induced or anemia arising from nutritional deficiencies.
They are wonderful shield for those who are susceptible of anemia.
These pills trigger bone marrow to produce more RBCs and cure dysfunctional spleen and liver.
Herboglobin capsules remove iron deficiencies by providing ample amount of essential micronutrients to our body.
This ayurvedic treatment for anemia mitigates all sorts of symptoms such as fatigue, headache, pale skin, debility, breathlessness, etc.
These capsules also clear 'sticky blood' and make our skin glowing and shining.
They enhance blood circulation and aid in recovery of sudden and massive blood loss.
Cons
In this section of our Herboglobin review, we will mention some limitations and cons of these capsules –
We have to order Herboglobin herbal pills through online website only and we cannot buy them from stores or shops.
A time period of 3 to 4 months is required to get all round benefits of Herboglobin capsules.
=> Buy Herboglobin Iron Supplements to Cure Anemia and Low Hemoglobin.
You may like reading:
Best Natural Diet for Healthy Liver
Ayurvedic Remedies for Alcoholic Liver Disease
You May Like…