Can Kissing Help You Burn Calories And Lose Weight In Easy Way?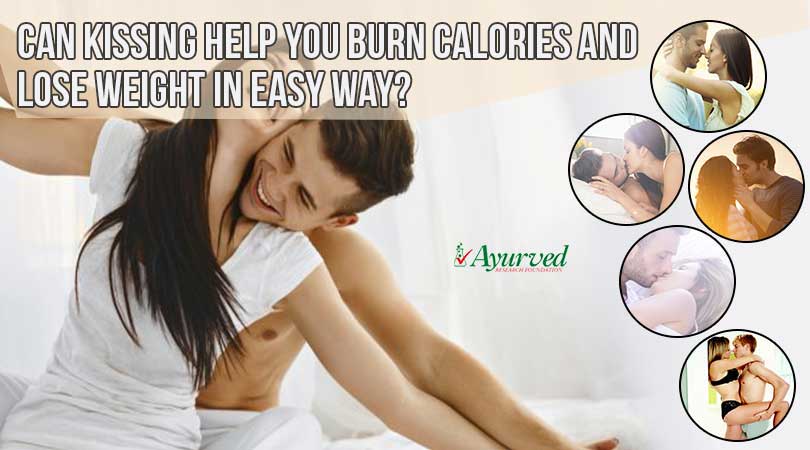 Kissing is Good for Weight Loss and Health
Kissing is way of showing affection and love for humans. We kiss whom we love and whom we love we kiss. A passionate lip-lock worth saying thousand words and conveys strong feelings to both the partners. But there is fitness aspect too involved with this normal act of humans. Kissing and weight loss are connected which may not sound as real to many but it is true. A minute's kiss can burn 2 calories this is what researchers have found. If a couple kisses it is just not feelings which get exchanged they both get a lot more than that. Kissing and weight loss may not appear a very lucrative option for many as just 2 calories get burnt in a minute and average kissing lasts about 15 seconds. But the series of reactions in the body after kissing and to what it can lead to make it certainly lucrative.
You may like reading:
Best Healthy Weight Loss Diet
Low Carb Diet for Weight Loss
Can Kissing Help You Burn Calories And Lose Weight?
Can kissing help you burn calories? Straight answer would be 'yes it does help you burn calories'. But just 2 calories are not many if someone is exercising regularly. Exercises can burn down many more calories during the day. You can burn down 2 calories by many other simple activities like watering plants, so why one should consider kissing as an aid to weight loss. It is right 2 calories may not sound as much but one must not forget that few small steps make one big stride. Kissing is hardly an activity which causes any strain unless it is very long, but it is not strain of kissing which helps you burn calories.
Internal mechanism moving in right direction after performing any activity is what which is needed for fitter body. Even if one speaks non-stop for 10 minutes he or she burns calories much higher in number than kissing every minute. But after speaking for 10 minutes with verve one would feel exhausted and mentally tired, but after kissing feeling is quite the opposite. If one compares benefits of kissing with any other activity in the day he can make-out that kissing and weight loss does make lot of sense.
Kissing boosts bonding between partners. Whether it is day time or parting for office, evening or making plans for dinner, kissing can be done anytime anywhere. It improves bonding and affection and most importantly it helps in releasing a good hormone in blood. Oxytocin is the hormone which both partners release during kissing. This hormone is also called as love hormone and it gets released in higher quantity in females. So kissing her few times in the day would not only bind her more firmly in relationship but will also help both of you achieve fitness. Couples frequently kissing live happy moments whenever they are together which improves their emotional and mental state. Healthy mind keeps them active and inhibits internal processes which are harmful for health and fitness.
Passionate kiss is primer to lovemaking. Couples in privacy after a passionate lip-lock would land up in bed most often for sex. Passionate lovemaking is something which can burn down substantial number of calories. So if one doubts that can kissing help you burn calories think again, it can draw you into intimate act more frequently and keep you mentally calmer to burn down more calories. It is medically proven that couples making love during other hours than night burn higher number of calories during and later and also have happier relationship. Kissing can bring in abrupt rounds of intimacy during the day and help in improving physical health and fitness and promoting content healthy mind.
Depression is one of the major causes of obesity. Indiscriminate eating is what this psychological disorder can cause. Kissing your partner can be very soothing and relieving mentally and helps one to shed negative thoughts. Happier marriages or love-life both are anti-depressant and protect from other psychological disorders. After kissing and passionate lovemaking both the partners gain on secretion of healthy hormones.
These hormones suppress presence of harmful hormones which cause stress, anxiety and depression and cause weight gain. So do not get carried away by number of calories get burn during kissing. Consider the aftereffects and brighter side of kissing and then as yourself can kissing help you burn calories or not. This simple act can improve quality of life and relationship and helps immensely in improving all-round fitness and health.
Kissing is immunity enhancing too. The spit which gets exchanged during this act gives antibodies which can improve body's defensive shield. Kissing is known for increasing production of immune-globin A which works as powerful shield against infections. It protects males and females from variety of viruses and allows them to lead a healthier life. Researchers have found that frequent passionate kissing is best exercise one's face can get. It can be good way to prevent heavy face and added chin and also improves tightness of skin.
You may like reading:
Green Tea Lemonade for Weight Loss
Natural Weight Loss Smoothies to Get In Shape
You May Like…