Wedding Night Sex Tips For Men, Make Your First Night Memorable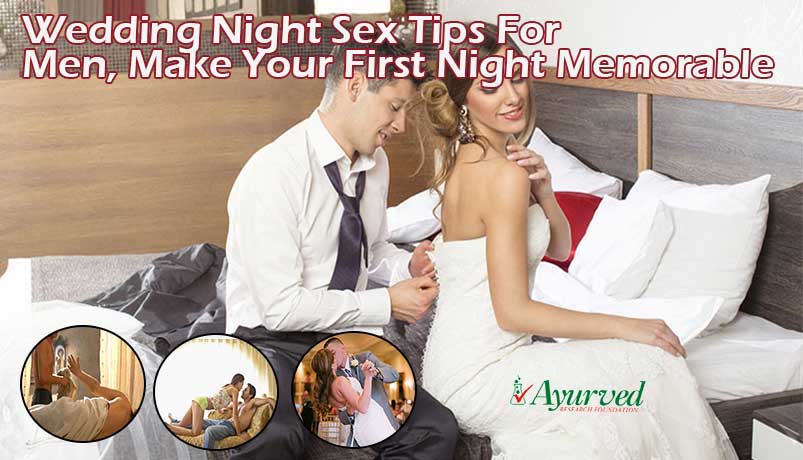 How to Make Your First Night Memorable?
First night after wedding is very special for couples. This is the night most of the couples get to know each other better and may even have their first intercourse. Nervousness, apprehensions, shyness and many other emotions can ride high on mind of both man and woman. If couple have been in love before marriage it is easier for them to pass through this night but for couples under arranged marriage this night is first real step into relationship. Here are few tips to make your first night sex memorable.
It is obvious that both man and woman would be excited to enjoy physical intimacy on first night. But as man you should not make it look too necessary or something you want to jump-start. This kind of behavior is not good for relationship. Man looking too hasty or showing too much excitement can make woman feel like a toy or object during this important night. Self-control is the key and one of the important wedding night sex tips for men.
You may like reading:
Sex Positions Tips for Virgins
Ayurvedic Herbs to Improve Sexual Performance
Wedding Night Sex Tips for Men
Get into any interesting and normal conversation. Interesting conversation is which makes your girl talk more, do make it light and punctuate it with jokes or funny comments, but make sure you do not hurt feelings in any way. Flattery may not be a good practice but here it is very fruitful first night sex tips. Do not go overboard or lie about anything, just use flattering words and admire her beauty. Admiration and actual admiration will make her feel special which is first good step in right direction.
Begin with touches, make them look obvious, do not alarm or startle her. Get close to her during conversation and you may touch her relatively less sensitive parts like hair, neck, back etc. occasionally. Ask for a kiss or just kiss her lightly over cheeks, head or hands to show that you feel aroused in her company. You can continue your conversation and gradually move on to her sensitive parts with touches, caresses and kisses to make things hotter. These wedding night sex tips for men will allow you to achieve what you want to without harming special aura of the night and you wake up with a happy and pleased partner in the morning. Start your night with new found friendship and end it with intimacy is how to make your wedding night memorable.
Once you have your girl mentally ready for lovemaking you should still remain gentle, caring and controlled. Send waves of sensation by kissing her on mouth, neck and other sensitive parts. Let her get excited completely before you begin to help her out of her clothes. Breasts are one of the most sensitive parts of woman's body. You should be focussing more over here to arouse her for actual lovemaking. Kiss around her mounds, gently knead and caress them and suck or nibble her nipples. From time to time place a kiss on her neck and lips until you feel heavy breathing or moans slipping out of her mouth. Playing with her breasts to arouse her desire is the best way to begin lovemaking and works as very useful first night sex tips.
Be gentle while penetrating her. If you girl is doing it for the first time it is added responsibility on you to keep her away from pain and discomfort as much as possible. She may bleed a bit due to rupturing of hymen and may feel pain when you penetrate. Enter into her slowly and in phases. Let her genital passage adjust and stretch to accommodate your organ so that she can overcome pain quickly and begin to enjoy. Taking extra care and showing self-control during penetration are excellent wedding night sex tips for men which will make lovemaking pleasurable for both.
Do not worry about orgasm. The nervousness and apprehensions may prevent a woman from getting climaxes on first night if she is virgin. But do prolong the act as much as possible and remain gentle and caring throughout. Longer you stay inside her better she will enjoy next time and your romantic life will start rolling. Words can do the magic; communicate in ears softly how you are astonished by her beauty and how charming she is, and if she is virgin tell her that this is best wedding gift she could give to you. These words work as wonderful first night sex tips to arouse and satisfy a woman.
Take precautions on the first night of wedding. Fear of pregnancy looms large over a woman's mind be it her first night or hundredth. No girl would like to become pregnant so soon after marriage, if she will see you ready with precautions you can take that fear out and let her submerse in the act completely. Precautions also work as good way to prevent mild infections and irritations which may occur due to rupturing and bleeding. These are good steps to make your first night memorable.
You may like reading:
Ayurvedic Medicines for Sex Power in Men
Ayurvedic Herbs for Better Sex Life
You May Like…