10 Amazing Tips To Last Longer In Bed On Your Wedding Night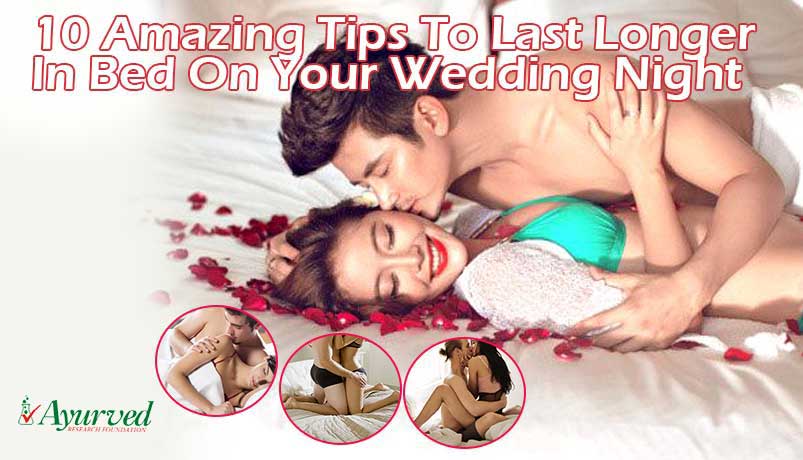 How to Last Longer on Your First Night Sex?
Males get excited quickly and if he has not experienced lovemaking before this excitement can be too much to handle. Over-excitement can bring early discharge and cause disappointment. On the other hand long, slow and passionate lovemaking can make first night very pleasing and memorable. Here are few tips to last longer in bed which can make lovemaking gratifying and highly satisfactory for both the partners.
Avoid thinking about it beforehand. If you will keep reminding yourself what you are going to get at night it can cause excitement which your mind may not be able to handle. In place of romance think and find ways how to make her comfortable and let her speak her mind out. Quality conversation in the beginning will keep your mind a bit away from getting over-excited and help you to act with control to last longer in bed on your wedding night.
Wear sweet smelling and light deodorant. It is good to take a shower before night to clear ripe smell off your body. Bath will also help in calming your nerves and will give mental relaxation. Do not wear any strong deodorant as it can be repelling when someone is so close to you for a longer time. Use room freshener to make it soothing and relaxing. These steps will help you move forward easily and last longer on your first night sex.
You may like reading:
5 Sex Positions Tips for Virgins
Wedding Night Sex Tips for Men
Tips to Last Longer in Bed on Your Wedding Night
Once you are in the room make environment lighter first. Your girl too would be overloaded with thoughts and apprehensions about first night. Lighter conversation about simple things like decoration of room or even weather etc. can be relieving and start a conversation between you two. Talk to her in a manner which makes her feel she belongs here. You can even ask her if she needs anything and she is comfortable or not. Little gestures of care and concern will help her to let her guards down and slowdown her thought spree. Once you are talking controlling your excitement and nerves becomes easier and you will be able to last longer in bed on your wedding night.
Keep your clothes on as long as possible. This will help you to last longer on your first night sex. Shedding clothes can stimulate erotic thoughts and bring wave of excitement. It is better to trigger this wave when time is right and not before that.
Admire her beauty. Do not become too personal right in the beginning, start with her lips, skin, hair or even makeup. This will convey her that you are feeling aroused in her company and infuse excitement in her too. By arousing her with flattering and admiring words you can last longer on your first night sex than your partner and make lovemaking session pleasurable.
Focus on bringing her in mood. Touch and caress gently starting from less sensitive parts. Do not touch her where you want to but where and the way she will like. Play with her mind to arouse her first which will not only help you to last longer in bed on your wedding night but will also help her to gain pleasure from the act.
Perform sensuous and exciting foreplay. Kiss her sensitive parts and play gently with her breasts. Nipples are highly sensitive parts which can arouse her intensely and quickly. Nibble and suck nipples and her mounds very gently to bring her to peak for her arousal.
Caress her thighs these are sensitive too and prepare her mind for actual lovemaking part. Tease her clit gently. This tiny lobe located above her genital passage is full of nerves. Little touch can send waves of excitement to her mind and bring her close to climax. Intense and exciting foreplay is one of the important tips to last longer in bed than your partner for higher satisfaction.
Choose position which keeps you relaxed and let her take control. Rocking horse is ideal for allowing male to last long in bed but a virgin would not be comfortable with it. Missionary pose is most commonly used position but you need to make it more pleasing and less discomforting for her. You can distract your mind for few moments by thinking of something else or keep it busy to find admiring words for her to last longer in bed. Taking mind away from actual act for couple of moments are great tips to last longer in bed.
Keeping condoms and lubricant are good tips to last longer in bed. You may need to pause and start while penetrating her. Delay during penetration can cause over-excitement and bring you to early discharge. Lubricant will reduce pain and discomfort and let her take you in lesser time. Condoms help woman feel comfortable and shed her fear of conception. It also works as protection for cuts and ruptures which may occur when woman has her first penetration.
You may like reading:
Ayurvedic Herbs to Improve Sexual Performance
Ayurvedic Medicines for Sex Power in Men
You May Like…