How To Do Sex On First Night Of Marriage, Sure Shot Tips For Men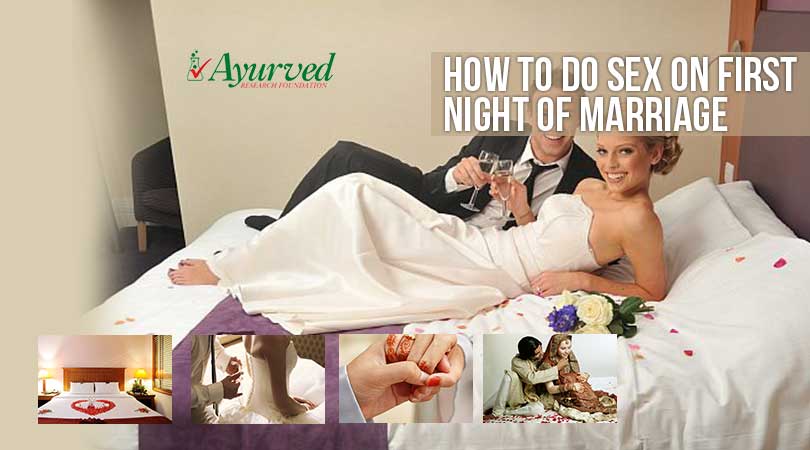 Tips for Having Sex on First Night of Marriage
First night of wedding can bring nervousness, apprehensions and confusion in mind of groom to an extent of breakdown. There is no doubt that couples do get anxious thoughts and emotions which get compounded if it is traditional arranged marriage. Couples who are going to have physical relationship for the first time in their life have rush of thoughts, worries and questions gushing in their minds. Here are first night sex tips for men which show a clear path to pass through this important night of life winning wife's heart completely.
As a man you are in-charge of what happens and how it happens. But remember power comes with responsibility. It is man's responsibility to make this night a solid base for future married life and initiate feelings of love, care, understanding and trust in relationship. There is no general rule how to go through first night of wedding, so drop worries and fear that whether you are doing right or wrong and relax. You will be excited and even aroused but do not thrust yourself over your wife. Even your wife knows that lovemaking is part of married life but make her feel that this is not the only thing for which she is in your life. Riding high on your excitement performing sex on first night of marriage without caring about her wishes can make her feel like toy or an object.
You may like reading:
Sex Positions Tips for Virgins
Wedding Night Sex Tips for Men
How to Do Sex on First Night of Marriage?
Starting a conversation is the first step in right direction. First get into bed and become comfortable, and make her feel comfortable too. Begin something which let her describe herself – hobbies, friends, time-pass, college, office whatever hits your mind first. Once you begin talking the mind begins to open-up, nervousness starts receding and you gain more confidence. Do not use too erotic or aggressively romantic words but praise her beauty in between conversation. Describe only her relatively insensitive parts like lips, hairs, colour, eyes, neck etc. do not get too personal you have lot of time for that later. Making her comfortable and relaxed will pave way for enjoyable and real sex on first night of marriage.
Once your conversation has started just go with the flow. Always remember that she also has strong desire for lovemaking in her heart but also have inhibitions. Once she is out from her shell of shyness and timidity she will give you indications and then you can make things little hotter through touches and hugs. Again focus to touch her less sensitive parts like hands, hairs, cheeks, neck, back and place kisses on these parts first before moving on to her lips. Slow, relaxed and steady are the best first night sex tips for men.
Taking permission first can be a good trick to give your woman a world of confidence. Asking permission to hug, or just whispering before kissing her on mouth telling that you are going to do so, will give her a feeling that she is control too. And on part of male these acts show unselfishness and gentlemanliness. If things become hotter you can move ahead slowly. Try to keep clothes on as long as possible for sex on first night of marriage this helps in keeping environment from becoming too charged too quickly and prolongs the duration of intimate moments.
Show respect to her body. Your woman can be shy kind or aggressive but she will have some hesitation and may need a pause in between to just re-gather. Help her by setting the pace as per her comfort. Do not penetrate her until you have aroused her completely. Perform gentle and arousing foreplay to bring her in complete mood. Focus over parts above her waist and be gentle and slow. Slipping few words of admiration about her beauty and fragrance will fill her with excitement and eagerness for first intercourse.
Few women can handle pain of first penetration easily but few may find it too excruciating. Keep your control while entering into her body and take a pause whenever she indicates by clutching you hand or shoulder. There may be some bleeding too due to breaking of hymen during penetration on first night of marriage. Do not worry about orgasm or satisfaction level etc. This is first night and it is meaningful to build a relationship rather than gaining just physical pleasure.
Choose room for first night which is quiet and safe. Noisy, crowded neighbourhood or other kinds of distractions can harm environment of the room. Clean yourself before and later properly and use contraceptives if needed. Use room fresheners with right kind of fragrance. Man should connect to his wife emotionally first before physically and show characteristics of unselfishness, self-control and understanding to win his woman's heart. These first night tips for men help in making the night a good step forward for passionate relationship ahead.
You may like reading:
Ayurvedic Herbs to Improve Sexual Performance for A Newly Married Man
Ayurvedic Medicines for Sex Power in Men
You May Like…