Top 5 Slow Sexual Positions, Best Slow Sex Tips And Techniques For Couples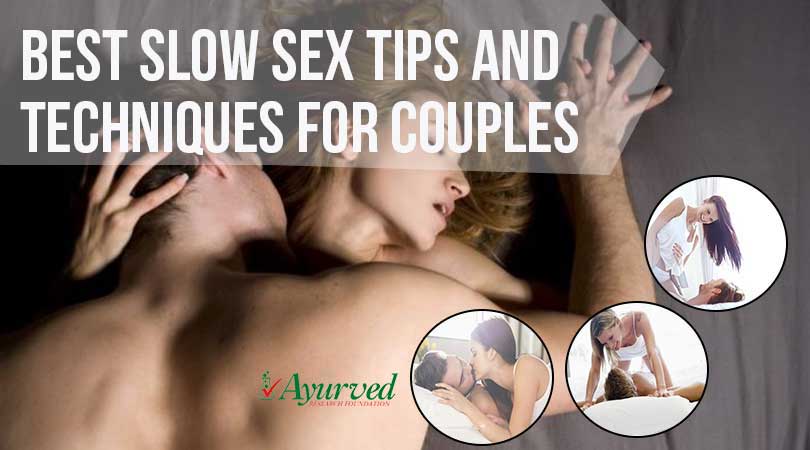 Best Slow Sex Tips and Techniques for Couples
Every couple likes slow paced longer duration of lovemaking, it is greatly satisfying and improves bonding, but most of the time couples are unable to prolong the duration. Here are few slow sex techniques for couples which allow longer duration of sensuous and pleasing lovemaking act. Slow sexual positions allow better control over growing excitement. One or both the partners can take charge and set the pace to prolong the duration. Women are blessed with ability to gain multiple climaxes.
Longer duration of intimacy help them in achieving more than one climax in each act. So when you plan to prolong your intimate moments, as male partner do not worry or hurry if your woman in reaching her climax. Let her enjoy that and you continue with your job she will join you again in few moments. Follow the tips and improve satisfaction level of your love-life.
You may like reading:
Sex Positions Tips for Virgins
Wedding Night Sex Tips for Men
Top 5 Slow Sexual Positions
Lie down in bed sideways. Stay behind your woman and little below her buttocks. Let her bend knee of upper leg a bit and put it little ahead of lower leg to facilitate penetration. Now enter from behind and enjoy longer duration of lovemaking. This way you will make small and light pushes into woman's genital passage and you can prevent your excitement from crossing the limit. You also have complete reach from breasts to thighs to keep her at peak of excitement. You can talk, say flattering words and continue lovemaking as long as possible. If you wish, after penetrating her, you can ask to straighten her upper knee for complete body touch and firmer grip. You can also ask her to bend both legs and stick her butt out towards your groin region. This way you can make bigger movements inside her and still prolong duration of act.
This position is also called as rocking horse popularly. Lie down on your back with legs stretched out and let your woman straddle you. Let her guide the penetration with her knees on either side of your waist and both of you facing each other. Let her sit over you completely and she can lock her ankles behind your thighs for a firmer and tighter position. She will rock over you letting your organ move a bit inside her and set the pace. You can access her upper body and back and she can bend over you for kissing. This is one of the slow sexual positions which allow a male to continue the act as long as possible and excites woman very much by giving her complete authority. To further enhance the passion lift your upper body and get as close to her face, let her rest her arms over your shoulders. Support her back with your arms and lift her up and down a bit. This is one of very sensuous and passionate slow sex techniques for couples.
Use a prop to slow down the pace and prolong the duration of act. There are good tips for slow sex using a prop like chair. Sit in the chair with a back and preferably no handles. Slide downwards a bit to lower your head and stretch your legs further. Let your woman straddle you and guide through the penetration. Let her bend over you resting her arms over back of the chair and make moves. You can caress her entire body, kiss her erogenous zones and carry on for much longer duration than usual. Woman can take support from floor for making smooth movements without getting tired quickly.
Let her lie down on her stomach straight. Ask her to separate her legs a bit and penetrate her from behind sitting between her legs. Now lift your lower body up so that she can close her legs as much as possible. You rest on your elbows so that entire weight of your body is not over hers. Move your waist to pump her, you will feel much higher sensation due to firm grip, and both of you will get feel of entire body. The lesser room for bigger movements will help prolong the act as long as both of you wish to. This too is one of the popular slow sexual positions.
You can try a little variation of missionary pose as slow sex techniques for couples. Let your woman lie down on her back with legs apart forming a V. Penetrate her like usual missionary pose and let her lift her legs and lock them behind your waist. Now roll over sideways and continue. This is one of the sensuous slow sexual positions which keep both partners close and allow a longer duration of lovemaking.
Before trying any of these tips, give due importance to sensuous foreplay. Higher the excitement makes slowness in lovemaking even more passionate. In few techniques explained here male can focus on giving her woman ideal breast sex for more intense climaxes. Conversation during these positions increase pleasure and provide higher satisfaction.
You may like reading:
Ayurvedic Herbs to Improve Sexual Performance
Ayurvedic Medicines for Sex Power in Men
You May Like…