10 Indian Spices To Boost Sex Drive In Men and Women, Spice Up Bedroom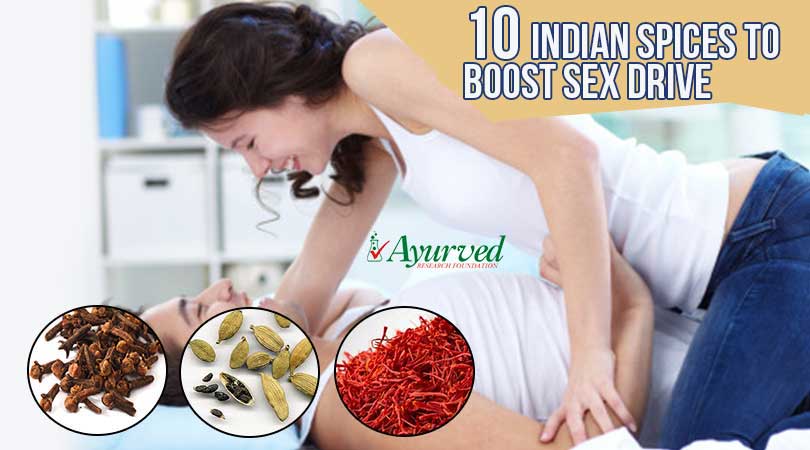 Spices to Increase Libido in Men and Women
Spices to increase libido in men and women have been used since ages for good effects. These are recommended even today in place of other commercial products which have serious side effects. Libido is desire for lovemaking and keenness to utilize every appropriate opportunity for intimacy. There are many Indian spices to boost sex drive used all over the world not only because of their efficacy but also for health benefits. Here we have listed Indian spices to boost sex drive in men and women and take pleasure of relationship to much higher level.
You may like reading:
10 Ways to Boost Sex Drive
Woman Can Boost Her Libido and Sex Drive
10 Indian Spices to Boost Sex Drive
Saffron

Saffron is one of the most popular Indian spices to boost sex drive in men and women. It is nutritive and nerve relaxant and enhances flow of blood towards genitals. It is hormonal balancer too and improves secretion of hormones which stimulate desire and drive in men and women both. Males gain higher release of testosterone hormone and women achieve better estrogen and progesterone balance to lead a pleasurable and highly satisfactory love-life. Adding few strands of this spice to a glass of milk can bring steamy nights regularly for couples.
Cardamom
Cardamom is another one of the useful spices to increase libido in men and women both. The simple way of doing so is by chewing few pods during the day. It aids digestion, keeps breath fresh and improves oral health. It is also effective aid to fight back mental and physical stress. Drinking few cups of cardamom tea during the day is also good way to consume this spice. Its powder can be sprinkled over salad, desserts or milk to maintain libido higher.
Cloves

Cloves are hot in potency and who wants cold partner in bed. Include cloves in cooking or its powder over salad, and desserts. Clove oil also has libido enhancing properties. It can be consumed orally and even applied topically for massages. Sensuous massages can be highly effective with clove oil after adding it to any other carrier oil. Even fragrance of clove is said to have positive impact over erotic desires of females and males. Chewing 2-3 cloves in a day keeps one light after meals and maintains energy.
Fennel Seeds
Fennel seeds are one of the famous Indian spices to boost sex drive in men and women. One teaspoon after every meal can keep hunger and digestion regular and healthy and bring couples in mood in bed faster. The fragrance of fennel is also arousing for both the genders particularly females. It keeps males' digestive tract clean and light which mostly turns them off at night. It is refreshing and helps in shedding day's stress and lethargy. One cup of fennel tea after office with partner can ensure a dirty night.
Nutmeg

Nutmeg is like aphrodisiac and not only for males also for females. It relieves stress, fights back fatigue, improves metabolic rate and balances hormonal secretion. Use powder of this spice in limited quantity with milk products for faster effects. A glass of milk with honey and nutmeg powder will get you and your partner going in bed with intensity.
Ginseng
Ginseng will be called by many as her rather than spice but in many countries it is used commonly as part of regular diet. This spice has wonderful properties to maintain flow of blood towards genitals. This makes it very beneficial for improving libido in both the genders. It also improves nervous system and keeps men and women physically and mentally charged.
Ginger

Ginger is inclined more towards females than men but works for both for higher libido. Ginger is hormonal balancer and particularly aids digestion. It also improves blood flow and in case of woman can bring much intense climaxes. Use of ginger powder with meals or raw ginger tea few times in the day can clear frigidity in women and improve male's intensity in bed.
Garlic
Some would say garlic is repellent due to awful smell it causes after consumption. But if one can manage its smell this spice has fascinating libido enhancing properties. Use garlic regularly in cooking to suppress its smell and gain its benefits.
Fenugreek Seeds
Fenugreek seeds are amazingly beneficial Indian spices to boost sex drive in men and women both. These seeds are packed with saponins and increase testosterone hormone level. These seeds are curers of many disorders in males and enhance sensation in erogenous zones. Regular use of these provides ever-lasting passion and lust in relationship.
Cinnamon
Cinnamon is another very useful and effective libido enhancing spices. One should be careful about its quantity and should not consume more than two teaspoons in a day from all sources. As regular part of diet it is wonderful spice to lead a passionate love-life. This spice comes with many other health benefits which make it a good choice for electrifying night time with partner.
You may like reading:
Natural Female Sex Boosters
Foods and Herbs to Treat Sexual Weakness
You May Like…