10 Best Female Erogenous Zones To Drive Her Wild In Bed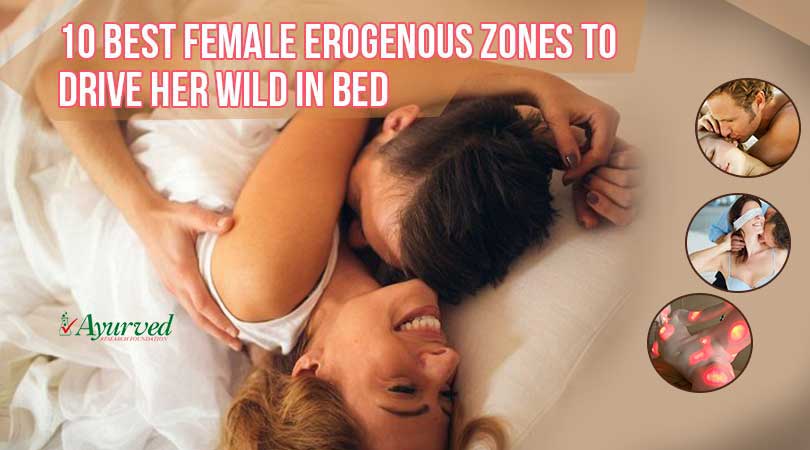 Erogenous Zones In Women
Every female is different, their likings and dis-likings vary hence there is no one formula that fits for them all to please them in bed. Man needs to be inquisitive to find out what is that which pleases her woman in bed. It is not that difficult to find as it seems, after all body of every female is same, it is all in her mind which is different. If you are in committed relationship you can very easily draw out from conversation what she likes. Here we have listed 10 best female erogenous zones which will ring exactly right part of your woman's mind and bring her in mood. By focussing on these areas of her body you can find ways to drive her wild in bed.
You may like reading:
Sex Positions Tips for Virgins
Wedding Night Sex Tips for Men
10 Best Female Erogenous Zones
Head and Hairs – You may not have noticed but hairs and head are sensitive parts and female erogenous zones. If you want to make her ready for later in the night be playful with her hairs. Do not spoil them or make them look messy just caress and comb with your fingers. You can also run tips of your fingers over her scalp dry massaging it. Her eyes will be closed instantly and she will enjoy feel of your fingers and hand over her head.
Ears – These parts are highly sensitive and in contact directly with brain. During most part of the day these parts do not get any attention which makes them even hotter spots to work on during night time. The C-shaped arch of woman's ear is safe zone to start with. Although earlobes are more sensitive but one needs to make sure that these are not irritated due to wearing heavy earrings all day. Whisper in her ears softly, you can even place a gentle kiss over her ear canal. The power of voice can do wonders when playing with her ears and works as the best erogenous zones in a woman.
Neck – The skin over neck is very thin. Even gentle sensation gets magnified. Simple touch of breath over nape of neck can send waves of sensation throughout woman's body. Before you begin to arouse your woman landing a kiss or two over the area where pulse lies are sure shot way to drive her wild in bed. You can brush your lips over entire nape of her neck, or just nibble the skin with lips even touch of your breath would bring her in mood quickly.
Lips – This is no secret that lips are one of the most sensitive female erogenous zones. Deep kissing a woman on lips leaves nothing to speculation and clarifies your intentions every time. There is difference between arousing kiss and just a peck over mouth. We are here talking about arousing kiss which make things hotter. It is said woman feels, smells and tastes during a kiss. Well-timed and well-performed lip-lock can draw woman's entire focus into the act and arouse her completely. Be gentle, slow and little mean while kissing your woman in bed.
Breast and Nipples – As you go further south on woman's body you enter the best female erogenous zones in a woman one after another. Breast, nipples and entire area below shoulder and above abdomen are highly sensitive. Touch, kisses, caressing and gentle kneading all work to arouse woman completely.
Low Abdomen – It is the part below her naval and above her pubic bone. Lying between her legs or staying below her on your knees and kissing this region with passion are effectual ways to drive her wild in bed.
Low Back – You can massage and gently press the area an inch above the point where her tailbone ends. Massaging this region with or without oil and upper parts of her buttocks can be relieving and arousing at the same time.
Mid-Back Region – The area below shoulder blade and to the point where rib cage ends is very sensitive. Like ears it is always out of focus which makes it hotter place on woman's body. Kiss or bite gently the skin and see her responses. Some women like being kissed here very much and one can hear them moaning instantly.
Thighs – Inner thighs and back of thighs both are the best erogenous zones in a woman. Caressing thigh areas, kisses and even gentle pinch can be very arousing and pleasing. Proper touch over inner areas of thigh can make woman hot anywhere.
Clitoris – This tiny lobe has power of an atomic bomb. It sends tsunami waves of sensation throughout woman's body. During foreplay or during lovemaking gentle touch or pressure over woman's clit is one of the most effective ways to drive her wild in bed. Do not be harsh in any way. Play with your fingers during foreplay or with your tongue to take her excitement to the peak.
You may like reading:
Ayurvedic Herbs to Improve Sexual Performance
Ayurvedic Medicines for Sex Power in Men
You May Like…
Sale!

Sale!