5 Sex Positions Tips For Virgins, How To Have Sex For The First Time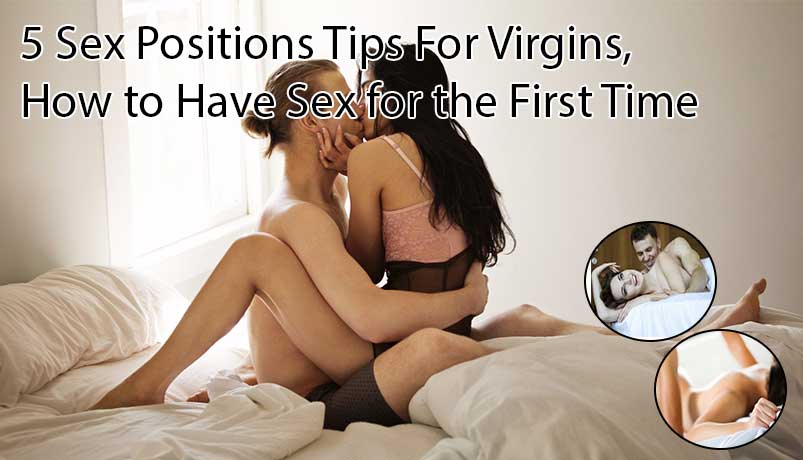 How to Have Sex for the First Time?
Losing virginity is completely your decision, when, where and to whom you want to lose solely depends on you. But once you are all set to shed your virginity there can be millions of thoughts, fears, hesitations and apprehensions gush through your mind. All of these are not false but most of these are blown out of proportion, you need to keep your nerves and maintain your cool for having lovemaking for the first time.
Here we have listed few very useful sex positions tips for virgins. These help you to overcome anxiety associated with first penetration and also allow you to gain pleasure. Remember over-anxiety or hesitation can be a turn-off for your male partner too, he may also become nervous and may not perform up to the level which he is capable of. First time sex tips not only help you to stay calm and focussed but also help your male partner to enjoy and provide maximum satisfaction.
You may like reading:
Wedding Night Sex Tips for Men
Ayurvedic Herbs to Improve Sexual Performance
5 Sex Positions Tips for Virgins
Rocking Horse Position
Rocking horse is one of the most comfortable sex positions tips for virgins. This position allows you to glide him into you as per your comfort. You will need a little time to adjust before letting him inside you completely. Many times the extra time needed is too much for male to handle and he may discharge moments after penetration. This may leave you dejected with some blood and pain and nothing else. Rocking horse position gives male better control over his excitement as he is not in-charge and just following you. You can also set the pace according to your comfort after penetration and may be able to reach climax in this position. Plus your male has complete access to your bosom and can keep you high on excitement throughout the act.
Missionary Pose
Missionary pose is old and trusted position for having lovemaking for the first time. In this position your man will be able to read your expressions and can change the pace accordingly. This pose also allows you to spread your legs wider and expose your genital passage completely to facilitate penetration. You can hold waist of your man and indicate him how to go about it. Males also enjoy this position as it lets them play with your breast and kiss during the act to keep you excited.
Spooning Position
Spooning is another one of the commonly practiced sex positions tips for virgins. This allows shallow penetration just enough to lose your virginity and achieve climaxes. It is one of the best slow sex positions tips for virgins too to keep it gentle and longer. You need to lie down sideways with your man behind your back. Let him take you from behind and penetrate, you can keep one hand over his flanks to guide him and adjust the pace. This position also allows male to perform for longer duration and minimize discomfort.
Standing Position
In standing position too you can have pleasurable intercourse without facing much pain or discomfort during penetration. This is also good pose for getting physical for the first time. You can stand straight with your feet apart so that your man can glide his organ inside you. The position will prevent deeper penetration and provides higher sensation due to clitoral stimulation. You man can play with your breasts and kiss on neck and back to maintain your excitement. If you become comfortable after sometime, just bend a bit to let him pump little deeper and faster.
Doggy Position
Doggy position may not sound many as appropriate position for first timer but if you can trust your man's self-control it is very favourable position to lose virginity. Many experts believe that like four-legged animals this is natural position for humans too to make love. You may lose eye-contact in this position with your partner but if he can keep his excitement under control you won't need any. This position widens the opening and allows easy and smooth entrance into your erotic passage. Man can slide in his complete length which makes it sensational and also increase chances of climax.
All these position work as useful first time sex tips which help you in shedding inhibitions and fear of pain and discomfort. You can always use a good quality lube for further cushion. Lube will help penetration and reduces discomfort later. Insist on protection, if you are worried about conceiving you may not get aroused completely and may feel seriously uncomfortable. Nagging fear in mind of conception also minimizes chances of climax. During first intercourse your hymen may rupture and you may bleed. Taking proper precaution not only helps in cutting conception out but also minimizes chances of any infection or irritation later. These tips are excellent ways to enjoy the important event of your life completely and let your man also feel great after it. You will have many more gratifying episodes of lovemaking after first one by following these tips.
You may like reading:
Ayurvedic Medicines for Sex Power in Men
Ayurvedic Herbs for Better Sex Life
You May Like…