Super Health Capsules Review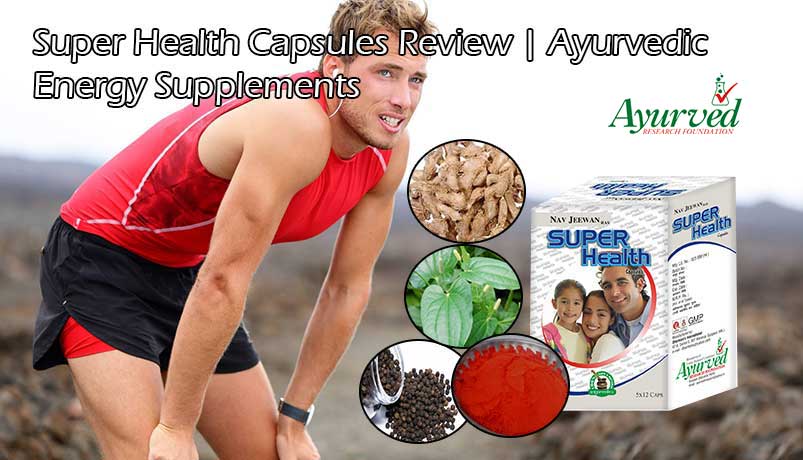 Ayurvedic Herbal Energy Supplements
It is a famous quote – When wealth is lost, nothing is lost; when health is lost, something is lost; when character is lost, all is lost. Health is rightly placed and is indeed the second most important thing after character. Being rich is useless if one is ill and is unable to enjoy his wealth and luxuries. Having a fully functional and healthy body is necessary to attain happiness in life. Yet in today's fast-paced and modernized world, many people neglect their health. Pressures of hectic schedules, competitive atmosphere, unhealthy food, stress and polluted environment takes a toll on the well-being of people.
Whatever we eat is reflected in our external health. A healthy and nutritious diet will result in a fit and fine individual whereas bad eating habits will deteriorate health of the person and make him ill and weak. Whether you are of old age, a teenager or a small child, it is mandatory for you to take special care of your health by including all the crucial micronutrients in your food. Men need high carbohydrate content in their diet to boost up energy and stamina levels. Women and teenage girls need additional nourishment during menstruation. Hence, sound health is equally essential for all human beings alike.
Nutrients like vitamins, proteins, minerals, botanicals, etc. must be taken in sufficient amounts in our food or by taking ayurvedic energy supplements. The decision-making process of selecting a perfect daily health supplement for entire family is quite tricky. That is why we have brought our in-depth and factual review of Super Health capsules that will assist those who are thinking of purchasing them. This review of Super Health capsules will grant basic awareness about pros, cons, ingredients, safety issues, directions of use, time period of usage, etc. to make an informed and well-founded judgment.
For more on energy, check out:
Homemade Electrolyte Energy Drink
Foods and Herbs to Increase Energy and Stamina
Features
In the starting of our Super Health capsules review, we will cite basic features of these ayurvedic herbal energy supplements –
Provides essential botanicals, enzymes, amino acids, minerals, proteins and vitamins to our body
Makes up for the loss of nutrients and increases immunity
Acts as efficient stress busters and helps tackling lack of focus and depression
Makes our skin look glowing, beautiful and healthy
Absolutely natural formula free of side effects
What Will We Get After Using Super Health Cpsules?
Super Health ayurvedic energy supplements bring about a positive change in a person's health by supplying all the essential micronutrients required by them in correct quantities. They also trigger the absorption of nutrients by our body from the food we take. The immunity system of our body is enhanced and one remains free from diseases and ailments. Super Health capsules escalate the stamina and energy levels so that we are able to perform our work with maximum efficiency.
One does not succumb to the daily pressures of hectic life and is able to remain free from stress, frustration and depression after taking Super Health capsules. An average individual requires 1600 calories and these pills make sure that it caters for all the calorie needs. Focus, concentration and attention is improved on regular consumption of Super Health ayurvedic capsules. They even beautify our skin by making it glow and shine.
Ingredients
100% natural ayurvedic products are used as ingredients to make Super Health ayurvedic herbal energy supplements. They are –
Saunth, Pipal, Ras Sindoor, Kali Mirch, Lauh Bhasma, Kuchla.
What About The Safety and Reliability of Super Health Capsules?
We ensure everyone in this review of Super Health capsules to remain absolutely free from any worries or apprehensions regarding the safety of this product. Pristine quality natural ingredients in correct proportions are used to make Super Health ayurvedic supplements. They do not contain any sort of chemicals or synthetic additives and do not cause any sort of side effects.
Directions of Use
Take two Super Health herbal capsules pills with milk or water two times a day to achieve fruitful results.
For How Long Do We Have to Take Them?
The above mentioned dosage has to be followed for a time period of 3 to 4 months to get satisfactory improvement in health. So, we will clear any sort of confusion related to the time period of usage in our review of Super Health capsules. Although a new found energy and vigor is noticeable within 2 weeks of consumption of these herbal pills, total health benefits are only obtained if we stick to the directions of use consistently for 3 to 4 months.
Pros
In this section review of Super Health capsules, we are throwing some light on pros and wonderful advantages of this herbal product
These cater for all our body's nutritional demands by supplying ample amounts of essential nutrients.
These ayurvedic energy supplements are suitable for everyone, belonging to any age, gender or profession.
They do not bring any perils to our health or side effects due to presence of powerful and all-natural ayurvedic ingredients.
These pills boost up the immunity power, stamina and energy levels of our body.
They also improve the mental well-being of a person by keeping him away from stress, frustration and depression. One is able to achieve higher levels of focus and pays amplified attention to all activities just like never before.
They enhance the quality of our skin by bringing a great deal of glow, fairness and radiance to it.
Cons
We will not fail to enlist some limitations and disadvantages in our review of Super Health capsules. Two of them are –
Super Health ayurvedic energy supplements are non prescription capsules which cannot be obtained from any shop. The one and only means of procuring them is to place an online order on its official Ayurved Research Foundation website.
These herbal pills take a time period of 3 to 4 months to avail outstanding benefits and are not as fast enough as allopathic medicines.
=> Buy Super Health Ayurvedic Herbal Energy Supplements.
You may like reading:
Sfoorti Capsules Review
Imutol Capsules Review
You May Like…