Best Diet for Strong Bones and Joints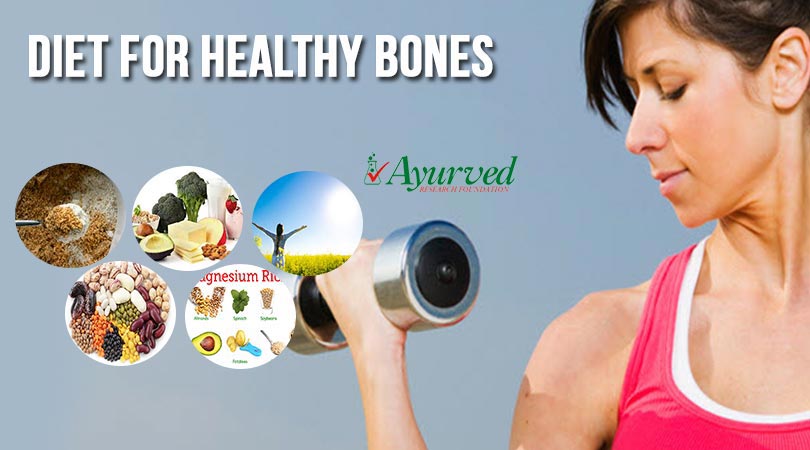 Diet for Healthy Bones
Bones form basic frame of the body, the flesh and organs rest over bones and these body parts bear entire bodyweight and make it run, move and perform activities. These too are not static organs like other organs of the body, these regularly discard old and weak tissues and grow new ones, when body is able to replace tissues in the number it has discarded, bones remain healthy and flexible. But once after a certain age when formation of new ones slows down and rate of damaged tissues increases, bones begin to thin-down and become brittle and weak.
It is just not age which depletes bone density and strength disorders, poor diet, lifestyle, harmful foods, deficiencies, poor metabolism, long term medication and excessive presence of certain minerals also contribute in weakening bones. Diet for healthy bones supplements bone strengthening minerals and vitamins and restrict intake of harmful ones which either promote bone atrophy or hinder growth of bone tissues.
Body needs calcium, magnesium, vitamin D and K in abundance to grow bone tissues at faster rate and enhance bone strength. Supplementation of vitamin C also helps in preventing tissue damage and other minerals like selenium and vitamin E also help in maintaining bone density and flexibility and keep disorders from affecting. Diet for healthy bones supplies all these nutrients in optimum dosage through food and maintains body's vitality and strength.
You may like reading:
Healthy Juices and Smoothies for Arthritis Pain Relief
Best Natural Foods for Arthritis Relief
Foods for Strong Bones and Joints
Calcium – Foods for Strong Bones and Joints

This mineral is not only vital for bone health but also for life. Body performs various metabolic functions through these mineral and also muscular movements. Muscles need regular supply of calcium in order to contract and relax which allows body to move and perform various activities.
Lesser calcium supplementation to body leads to bone atrophy due to calcium reabsorption by the body. When body does not get enough calcium through diet it starts stealing it from bones leaving them weak and fragile. Diet for healthy bones supplements calcium and also ensures its smooth absorption to maintain healthy bones.
Food sources – Fat free yoghurt is one easily available diet for healthy bones. It is high on calcium and other nutrients and fulfils 40% of body's requirements in 8 ounce of quantity. Cheddar-cheese is another safe and healthy source of calcium and excellent diet for healthy bones. Just 1.5 ounce of low-fat cheddar cheese fulfils nearly 30% of body's daily calcium requirements.
One glass of milk is not only capable of fulfilling one-third of daily calcium needs but also supplements vitamin D which promotes smooth absorption of calcium in the body. If you are lactose intolerant use soy milk as an alternative for calcium supplementation. If you want to avoid dairy products use tofu in your diet for healthy bones and joints. This food too is excellent source of calcium and also of protein which makes it very nutritious food supplement for gaining stronger and fitter body.
Vitamin D – Remedy for Healthy Bones and Joints

This vitamin is as vital as calcium for bone density and flexibility. People suffering with deficiency of this vitamin have weak bones which break easily and also keep getting thinner due to lack of bone tissue supplementation. Vitamin D metabolizes calcium and promotes growth of bone tissue, this vitamin can be produced by body in presence of sunlight but in many people this vitamin is not available in optimum dosage. There are certain foods which can easily supplement this vitamin; you can include these foods in your diet for healthy bones and joints.
Food sources – Salmon is one of the richest sources of vitamin D. Just 3 ounces of salmon can supplement 90% of daily vitamin D needs of the body. This food is also rich source of protein and omega-3 fatty acids which make it excellent diet for healthy bones. Canned-tuna is another good source of vitamin D. 3 ounces of this fish provides 50% of daily needs of this vitamin. One should not exceed consumption of tuna more than 12 ounce a week to keep mercury levels low.
Cereals fortified with vitamin D are also good ways to gain optimum dosage of this vitamin. All of these foods form great diet for healthy bones and joints in presence of calcium food sources.
Magnesium – Remedy for Bones and Joints Health
This mineral provides many health benefits and one of them is strong bones. Diet of health bones should contain optimum dosage of this nutrient to make bones healthier and stronger. There are varieties of foods which can supplement good dose of this minerals and form diet for healthy bones.
Food sources – Legumes, nuts, wholegrain and dark leafy vegetables like spinach and quinoa are few commonly available food sources which are good for gaining magnesium and also supply of other health-promoting nutrients to keep bones denser and stronger. You can also snack on almonds and include soybeans in your diet for gaining magnesium in optimum dosage.
Vitamin K – Best Diet for Healthy Bones and Joints
This vitamin is excellent for preventing bone reabsorption and bone loss. This vitamin is important to perform various functions in the body and one of the most important is its ability to improve bone density. Obtaining vitamin K through food sources is safe and do not cause any type of toxicity.
Food sources – You can obtain optimum dosage of vitamin E through leafy vegetables like kale, spinach, collard green and Swiss chard. Half cup of any of these vegetables fulfils 50% of daily needs of this vitamin.
Read Full Details Here >>Healthy Diet for Bones Infographic, Best Foods for Strong Joints
You may like reading:
Homemade Healthy Fruits and Vegetables Juices
Natural Aloe Vera Juice and Smoothies
You May Like…