Foods to Avoid While Breastfeeding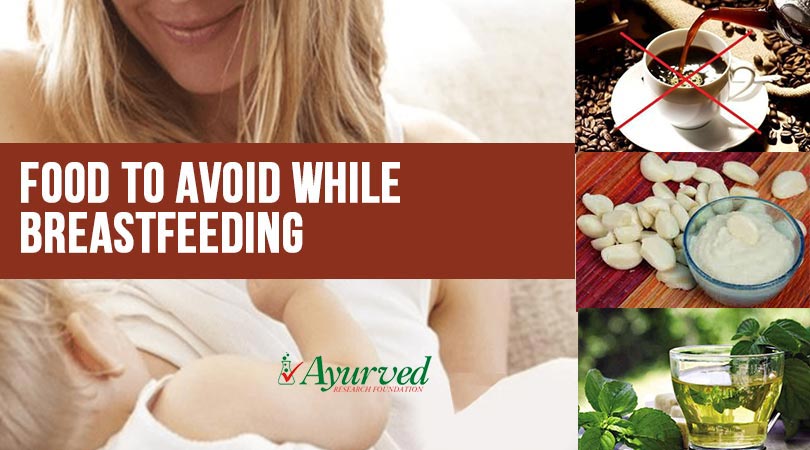 Foods to Avoid While Breastfeeding
Medically mother can eat anything even during lactation. Theoretically speaking there is no food which can be harmful to feeding mother's health just because she is breastfeeding. But there are some foods which can get transported into breast-milk and traces of these can cause certain problems to the child. These foods are cause of concern for all the breastfeeding mothers. Here is list of foods to avoid while breastfeeding.
You may like reading:
Ayurvedic Herbal Remedies for Acidity, Gas and Indigestion
List of Foods to Avoid When Pregnant
List of Foods to Avoid for Lactating Mothers
Coffee – This can be source of trouble in many cases as child's digestive system is unable to digest and excrete caffeine effectively. Drinking few cups of coffee in the day can pass on traces of caffeine in the milk to cause problems like crankiness, sleeplessness etc. Coffee is food to avoid while breastfeeding.
Chocolate – Like coffee, dark chocolates or even simple chocolates are high on caffeine too. Chocolate can be favourite of many women but this is food to avoid while breastfeeding to prevent undue strain on child's digestive system.
Citrus Fruits – These are high on vitamin C and generally no one would ever imagine that these can be cause of trouble in any case, but in case of breastfeeding mother these are foods to avoid. Citrus fruits can irritate child's GI tract and cause problems like spitting-up, diaper rash and fussiness. Not only citrus fruits, all types of high vitamin C foods are foods to avoid while breastfeeding.
Spicy Foods – Like citrus fruits and foods, even spicy foods are cause of problems and are foods to avoid while breastfeeding. Eating too much or even moderately hot foods can make child irritated and fussy. There are some spices which stay in the blood for longer period and can be problematic for mother's health too.
Garlic – This particular spice can even stop baby from consuming milk, the aroma of this spice can come even in the milk and make child fussy on breast. The traces of it in the milk can cause gassiness or bloating in baby so it is food to avoid while breastfeeding.
Alcohol – In very limited quantity alcohol is not a problem, but not more than a glass of wine during dinner or lunch. Even moderately high quantity of alcohol or alcoholic beverages can be problematic.
Peanuts – If you have family history of being allergic to peanut this is food to avoid while breastfeeding right from the beginning. Even if you or any of your close relative is not allergic to this food avoiding its intake during lactation period is good.
Wheat – This is commonly used grain but it can be a cause of allergy in many cases. Children may show symptoms like inconsolable crying, bloody stools or pain in body or abdomen. Do not consume wheat at all for one or two weeks and if symptoms improve wheat is the food to avoid while breastfeeding for you.
Dairy Products – You need to go with these products with caution, some babies show allergic symptoms towards these foods while some do not. Cow's milk, in particular, has been popular for causing the problem. Either avoid yoghurt, milk and cheese completely or begin with moderate consumption to check if your baby is allergic or intolerant to the traces of these foods in breast-milk. If he shows any symptoms like bloating or uneasiness dairy products are foods to avoid while breastfeeding.
Read Full Details Here >>Foods to Avoid While Breastfeeding Infographic
Corn – If your baby has rashes or remain uneasy during most part of the day, try to eliminate corn from the diet. This food is infamous for causing allergy mild to moderate in breast-fed babies. If symptoms improve corn is food to avoid while breastfeeding.
Soy – Generally babies showing signs of intolerance to dairy products are intolerant to soy products as well. If you are consuming soy products and baby is showing symptoms of uneasiness, bloating etc. avoid these foods in your diet.
Fish – Like peanut fishes are well-known for their allergy causing properties in many. Avoid using fish in your diet if your child is unreasonably uneasy and spitting-up. These symptoms are probably due to intolerance to traces of compounds supplemented by fish.
Peppermint Tea – This too is one of the healthy drinks and recommended to people for regular intake, but if you are lactating mother this can reduce quantity of milk. Lesser availability of milk can irritate child and make him cry or reduce his appetite. Peppermint tea is food to avoid while breastfeeding.
Parsley – Just like peppermint, parsley too is healthy food but food to avoid while breastfeeding. This too has adverse effects on milk supply and can be problematic for child and mother.
Eggs – If child shows symptoms of allergy due to eggs mother need to avoid all kinds of foods that may contain eggs. Simply not eating eggs is not sufficient to curb the irritation and allergy in child as even small quantity used in cooking or preparing any cuisine can also cause problems to baby. Identify food items in your diet list which are containing eggs and eliminate them completely for the duration you are feeding the baby.