Ayurvedic Remedies for Insomnia, Herbal Sleep Aid Pills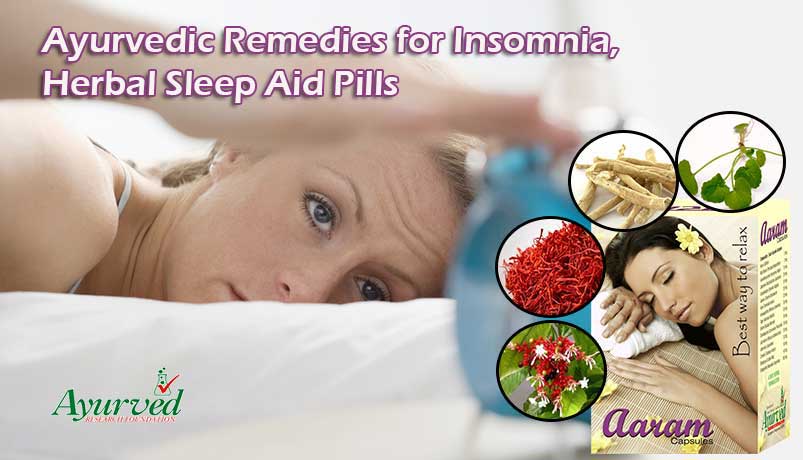 Insomnia or sleep disorder is a condition in which a person isn't able to fall asleep on time or finds difficulty in maintaining it for long or both. It could happen to anyone at some point in life but some individuals face this on regular basis that simply just won't go. It is medically categorized as chronic insomnia.
Symptoms of Insomnia
Difficulty in sleeping
Waking up in the middle of the night several times
Waking early in the morning despite of sleeping late or tiredness
Feeling as if not well slept or rested in plenty
Daytime tiredness
Loss of concentration and difficulty in remembering something
Headaches
Worrying about sleep
Gastrointestinal and stomach distress
There are numerous possible reasons that why this issue occurs. Some of the very common causes of insomnia are – psychological distress that could be due to divorce, work related pressure at workplace, death of a dear one; pregnancy, menopause in women; anxiety, depression, age above 60 years, travelling regularly on different time zones frequently, spending nights right after surgery, some chronic medical condition, injury, alcoholism, drugs addiction, smoking habit, tobacco intake, etc.
Many people have unhealthy routine that includes waking up in the morning a few minutes before their actual office timings, rushing for getting ready and reach office. Then they continuously work whole day, eat junk and consume heavy caffeine. At the end of the day they have the habit to smoke and drink wine to curb the daily stress for a moment. They hence do not get to sleep on time. If their personal life takes a toll like if they have relationship issues with their family then in that case their mental distress elevates which further causes insomnia. They do not change their daily habits since they have no idea that slight change would actually benefit them. This continuation leads to chronic sleep disorder.
You may like reading:
Aaram Capsules Review
Brahmpushpi Capsules Review
Ayurvedic Remedies For Insomnia
People are in the habit to take sleeping pills which add no benefit in their life. Instead these make them extremely addicted in such a way that without taking such supplements they simply won't catch a sound sleep. We therefore recommend consuming herbal sleep aid pills such as Aaram capsules. These are one of the best ayurvedic remedies for insomnia so far that actually provide genuine benefits.
This is so because ayurvedic sleep remedies contain a list of herbal ingredients that are known for their efficacy since centuries. These are those herbs that our ancestors used back then to numb the brain and relax the nerves that cause mental distress. Such ingredients are now used in the making of Aaram herbal sleep aid pills that are indeed in their least refined state blended in a fixed ratio to generate outstanding outcomes to adult of every age who takes them.
Regular intake of these ayurvedic sleep remedies does not cause any form of aftereffects even if the person takes these for too long time or consumes Aaram capsule along with any other prescribed medication. We now want to highlight the ingredients of these ayurvedic remedies for insomnia to make it clearer:
Ingredients of Aaram Capsules
Bacopa Monnieri (Brahmi), Eclipta Alba (Bhangraya), Valeriana Wallichii (Tagara), Rauwolfia Serpentina (Sarpgandha), Withania Somnifera (Ashwagandha), Convolvulus Pluricaulis (Shankhpushpi), Santalum Album (Chandan), Hibiscus Abelmoschus (Lata Kasturi), Onosma Bracteatum (Gajwan), Serpentine (Jahermora), Saffron (Kesar), Terminalia Arjuna (Arjun), Brunella Vulgaris (Ustaykhaddus), Hyoscyamus Niger (Ajwainkhurashani), Nardostachys Jatamansi (Jatamansi), Pinctada Margaritifera (Moti Bhasma)
All these herbs are carefully chosen from deep forests with a watchful guidance of ayurvedic professionals. These are then skillfully extracted and blended together in a fixed proportion to avoid side effects and deliver excellent results. This is the reason why we insist on taking these herbal sleep aid pills so much.
Consuming Aaram capsules is not that complicated at all. Take 1 or 2 capsules of these ayurvedic remedies for insomnia just before going to bed at night and continue the course for at least 3 or 4 months. Those who deal with severe and chronic sleeplessness must take 2 pills of Aaram and those who have mild issues with sleeping may take just 1 capsule.
No one has to worry about the duration that at what point one must stop taking these herbal pills. You may continue it as much as you like. The moment you feel like taking a halt on your course you are free to do so without hesitation since these do not make anyone addicted like other allopathic sleeping drugs do. You are surely going to get long term advantages with these ayurvedic remedies for insomnia. Aaram capsules simply provide the best solution when it comes to dealing with insomnia, whether acute or chronic it doesn't matter.
=> Buy Aaram Herbal Sleep Aid Pills to Cure Insomnia and Other Sleep Disorders Naturally.
You May Like…