Ayurvedic Remedies for Thyroid Problems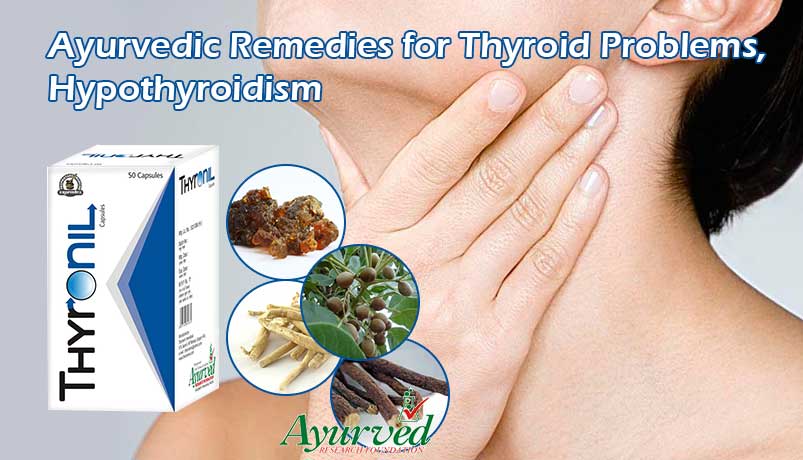 Thyroid Problems Ayurvedic Remedies
The thyroid is a two-inch bow-shaped gland that is situated in front of the throat just below the Adam's apple which controls the body's metabolism, the rate at which body must utilize the energy. It regulates the body's vital functions like heart rate, body weight, central nervous system, menstrual cycles, breathing, body temperature, cholesterol levels, etc. Thyroid produces, stores and releases two vital hormones, i.e. T3 (Triiodothyronine) and T4 (Thyroxine) that are generated with the help of iodine we consume through food source. It is important to maintain the balance of these two hormones, else it has negative impact on overall body's functionality that it manages.
There are two glands in the brain – hypothalamus and pituitary – that keep the hormone release in check. If T3 and T4 are low it is the duty of pituitary gland to release more TSH (Thyroid Stimulating Hormone) so that more thyroid hormones are released. In the case of vice versa, i.e. if there is too much amount of T3 and T4 in the blood stream the pituitary releases less TSH.
You may like reading:
Thyronil Capsules Review
Ayurvedic Remedies for Constipation, Hard Stool
Symptoms of Thyroid

But at times the thyroid fails to function properly and causes health troubles due to reasons like autoimmune disorder in which the body generates antibodies that destroys its own cells; thyroid surgery, radiation therapy, some specific medications, etc. There are two types of issues related with thyroid – underactive thyroid (hypothyroidism) and overactive thyroid (hyperthyroidism). Hypothyroidism is a condition in case two vital hormones, i.e. Triiodothyronine and Thyroxine, are not generated in appropriate quantity. This causes the following issues:
Puffy face
Fatigue
Weakness
Joint pain, swelling and stiffness
Muscle aches, stiffness and tenderness
Slow heartbeat
Thinning of hair
Infertility
Increased sensitivity to cold
Hoarseness
Depression
In the case of Hyperthyroidism, the hormones Triiodothyronine (T3) and Thyroxine (T4) are overly released causing complications as under:
Sudden weight loss despite of healthy or even increased food intake
Rapid heart rate
Elevated appetite
Increased sensitivity towards heat
Sweating
Weakness and fatigue
Changing patterns while menstruating
Frequent bowel movement or even diarrhea
Skin thinning
Goiter – swelling at the neck region
Fine and brittle hair
Thyroid hormones monitor the whole body's functionality like at which rate your heart must beat or how rapidly your intestines must do food processing. Imbalance in these causes irregular bodily system which is why piles up a list of negative impacts.
In order to curb all this, ayurvedic remedies for thyroid problems in the form of Thyronil capsules make a real deal when it comes to balancing the thyroid hormones. These herbal thyroid supplements contain natural ingredients in their most natural form and are blended in the right proportion so that one does not face any troubles of aftereffects even while consuming these ayurvedic remedies for hypothyroidism and hyperthyroidism along with other parallel doses. Following is the key composition of these herbal thyroid supplements:
Ingredients of Thyronil capsules

Guggul (Balsamodendron mukul), Buch (Acorus calamus), Unab (Zizyphus Vulgaris), Kachnar (Bauhinia Tancatosa), Ashwagandha (Withania Somnifera), Varuna (Crataeva nurvala Buch), Haritaki (Terminalia chebula), Rakta Chandan (Pterocarpus Santalinus), Baheda (Terminalia belerica), Bala (Sida cordifolia), Mulethi (Glycyrrhiza Glabra), Gurmar (Gymnema sylvestre), Patharchur (Country Borage), Behman Surkh (Centaurea Behen), Sonth (Zingiber Officinale)
Above ingredients' working and health benefits are seek by us through the help of ancient Ayurveda journals written by our ancestors who spent centuries in extracting the knowledge. Every herb used in these ayurvedic remedies for thyroid problems is carefully extracted and blended into a correct mixture to improve thyroid function entirely naturally. Moreover, Thyronil ayurvedic remedies for thyroid problems do not produce any ill effects even if taken for prolonged duration or consumed along with other sort of medications, the chances of these herbal thyroid supplements to create negative effect upon body is nil.
Ayurvedic Remedies for Hypothyroidism
We ensure every customer that our every product goes through quality check and tests on continuous basis so that outstanding results are offered at the end. Also, we have very clean and hygienic campus with latest manufacturing technology. We have experienced Ayurveda professionals who guide and manage the whole testing procedure while making of ayurvedic remedies for hypothyroidism.
Just take one or two capsules of Thyronil after having meals twice in a day and continue the course for about three to four months at least to get prolonged benefits. Thyronil capsule not only manages the hypothyroidism but also can manage the issue of hyperthyroidism as well since the product is made to accomplish the benefits in both the cases.
You may like reading:
Best Diet for Strong Bones and Joints
Healthy Juices and Smoothies for Arthritis Pain Relief
You May Like…