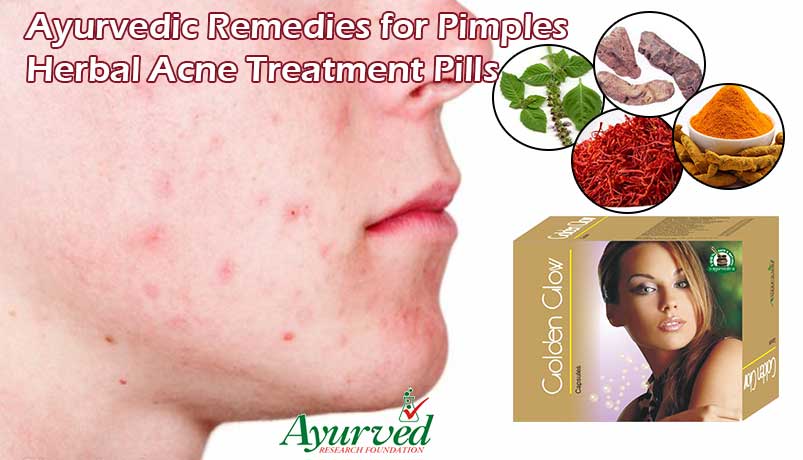 Ayurvedic Remedies for Pimples Treatment
Acne is a skin condition that occurs due to imbalance in the hormonal levels. Though it usually occurs in teenagers due to change in their hormones adults also face this skin problem at times. Almost everyone has to experience this at least once in his or her lifetime. Now let us learn why on earth the problem of acne and pimples takes place.
The skin contains small pores that occasionally get clogged up by dirt, dead cells or oil (sebum) secreted by the skin itself (sebaceous gland). If such things are not removed on regular intervals by actions such as washing and cleaning the face it causes bacteria to prosper inside causing acne outbreaks. The reason why teens are prone to develop acne is their hormonal changes that lead to excessive oil secretion on their skin. The dead skin cells further block the pores and do not allow the oil to come on the surface. The same reason is the case with pregnancy since it too does causes hormonal changes.
There are certain risk factors that accelerate the probability of developing acne outbreaks which are as under:
Hormonal changes during menstruation, pregnancy, menopause or puberty
Certain medications intake like birth control pills
Consuming diet rich in carbohydrates and sugar or dairy products
Heredity

You may like reading:

Best Diet to Prevent Acne Problems
Best Diet for Healthy Skin

Symptoms of Pimples

Though acne and pimples could be found anywhere in the body these usually develop at neck, face, back, shoulders and chest. Acne further grows into pimples that are generally black or white in appearance. This is why these are also called as blackheads or whiteheads. The most common myth heard is blackheads are the external dirt that gets stuck inside the skin pores which is not true.

Whiteheads are the initial stage of acne outbreak and when these get oxidized and come in contact with air their color turns to black, thereby forming blackheads. Other later stages cause pain if not treated on time. Acne and pimples are not life threatening but these lower the self esteem of a person because the appearance becomes hampered. Following are the symptoms of pimples:

Cysts:- Infection beneath the skin that is filled with pus and is usually painful.
Papules:- Infected hair follicles causing red and raised bumps.
Pustules:- Red and small pimples having tip filled with pus.
Nodules:- Solid and painful lumps beneath the skin surface.
Redness at the affected acne outbreak.
Skin Scarring:- Occurs after the pimples submerge.
Whiteheads:- Initial stage of acne when the inflammation just occurs due to blockage of skin pores.
Blackheads:- Oxidation of blackheads.

Ingredients of Golden Glow capsules

Rosa Centifolla (Gulab), Curcuma Longa Linn (Haldi), Crocus Sativus/Saffron (Kesar), Exadirecta Indica (Neem), Ocimum Sanctum Linn (Tulsi), Terminalia Chebula (Haritaki), Glycyrrhiza Glabra (Mulethi), Smilax China (Chobchini), Rubia Cordifolia (Manjistha), The Aril Of Myristica Fragrans (Jaypatri), Cocculus Cordifolius (Giloy), Dolichos Biflorus (Shawetbeez), Oldenlandia Herbacea (Pitpapra), Saussurea Lappa (Kut), Nelumbium Speciosum (Kamal), Operculina Turpethum (Nisont), Myristica Fragrans (Jaiphal), Nardostachys Jatamansi (Jatamansi), Alangium Lamarckii (Ankol), Pinctada Margaritifera (Moti), Balsamodendron Mukul (Guggul), Chrysanthemum Coronarium (Guldaudi)

You may like reading:

Homemade Healthy Fruits and Vegetables Juices
Turmeric Face Mask Recipe for Skin Problems

Herbal Acne Treatment Pills

All ingredients are renowned herbs when it comes to any kind of skin ailments. Herbs like Neem, Haldi, Gulab, Kesar, Tulsi, etc. are popular for treating acne, pimples and allergic skin and soothing it naturally. Together their extracts work wonders and that is why provide the best herbal acne treatment in the form of Golden Glow capsules.

Golden Glow capsules are highly effective ayurvedic remedies for pimples that provide long term fruitful solution. The herbal nature of these ayurvedic acne pills does not generate any signs of aftereffects. This property of Golden Glow herbal treatment for pimples makes it truly unique.

An individual simply needs to take one to two pills of this herbal acne treatment three times in a day with water and continue the course for about three or four months in order to get outstandingly effective benefits. These ayurvedic remedies for pimples could be consumed by men and women of any age and even teenagers are free to take.

Market is filled with expensive treatments and medications that are capable to snatch your hard earned money without any guarantee of fine treatments. In place of that we offer you Golden Glow capsules as the excellent herbal acne treatment which is effectual in its own way and is affordable as well. Apart from that this herbal treatment for pimples does not cause any side effects or withdrawal effects during or after the course completion, making it entirely safe for use.

You May Like…