Ayurvedic Remedies for Piles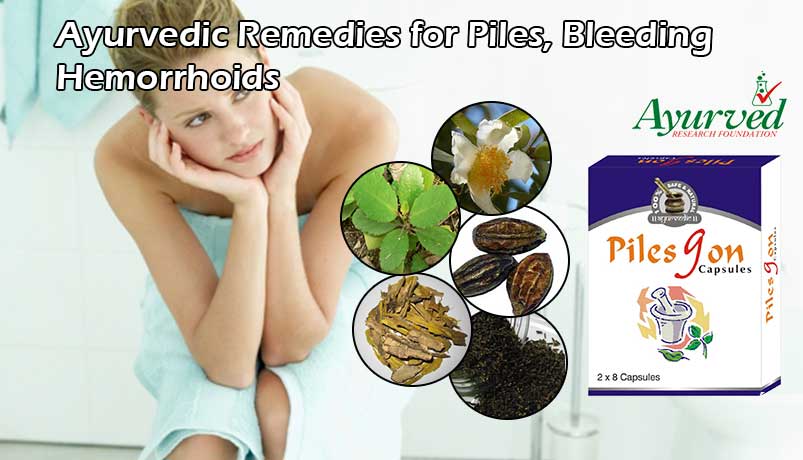 Piles Ayurvedic Remedies
Piles are the swollen or inflamed veins at the lower rectum and around the anus probably because of too much straining while passing the stools. Those areas are primarily affected due to constipation which could occur due to a number of reasons:
Irritated or itchy anal region
Painless bleeding noticed usually on the toilet paper
Extreme pain and discomfort while standing, sitting or walking
Fecal leakage
Lump hanging down at the anus region that needs to be pushed back inside
Swelling and redness around anus
Mucus discharge after bowel movements
You may like reading:
Pilesgon Capsules Review
Foods and Herbs to Prevent Premature Ejaculation
Causes of Hemorrhoids

There are a few risk factors that we are describing here to explain why this issue would occur at the first place to a certain individuals more:
Chronic Constipation or Diarrhea:-Constipationcauses too much pressure and straining while passing the stools, thereby causing inflammation over the internal rectum and external anal region. Diarrhea, on the other hand, causes frequent passing of the stools which in turn results in inflammation because of the chemicals involved during defecation.
Pregnancy:-Pregnancy in women also causes this trouble since the baby grows in size week by week, causing strain on the intestines and hence trouble in digesting food.
Anal Intercourse:-This is due to the fact that there is no natural lubricant and the individuals involved must use the artificial ones. Absence of that results in friction and ultimately inflamed piles.
Having Low Fiber Diet:-Low fiber diet causes trouble in the healthy digestion and often results in the constipation. This is why it is advised to take food rich in fiber to avoid such condition.
Obesity:-Obese people tend to take unhealthy foods like refined form of wheat and other low fiber foods that increase the chances of constipation and ultimately hemorrhoids.
Types of Hemorrhoids
There are two types of hemorrhoids – Internal and external. Internal piles are inside the rectum and since there are no nerve endings there an individual doesn't feel any pain while experiencing it. The only means to detect it is rectum bleeding. Internal hemorrhoids are capable to heal themselves and a person doesn't need to seek any medical help. External hemorrhoids are around the anus and since the area is connected with nerves the pain and discomfort is maximum to the extent that a person feels the need to visit the clinic.
Hemorrhoids generally do not cause any permanent damage and are often treatable in most cases but in some cases if the individual is helpless and cannot control his or her health concern they need to take some effective measures. Most people are advised to opt for the painful surgeries which are expensive and do not guarantee that the individual won't experience that ever in life again.
This is the reason why we consider recommending ayurvedic remedies for piles such as Pilesgon capsules. Pilesgon capsules are the prominent herbal remedies for hemorrhoids that naturally heal the issue from its roots. The key reason behind this ayurvedic treatment for bleeding piles is the pure and fine extracts of magnificent herbs that are being blended well and formed a tremendously effective formula. Following provide the key composition to these ayurvedic remedies for piles:
Ingredients of Pilesgon Capsules

Bryophyllum Calycinum (Hemsagar), Mesua Ferrea (Nagkesar), Terminalia Chebula (Haritaki), Extractum Berberis (Rasaunt), Vernonia Anthelmintica (Kalijiri), Acacia Catechu (Kttha), Wrightia Tinctoria (Indrajau), Eupatorium Ayapana (Ayapana), Sapindus Mukorossi (Ritha), Daemonorops draco Blume (Khun Shosha), Sodii Biboras (Shudh Takan)
These are all carefully chosen with a purpose of making a unique ayurvedic treatment for bleeding piles. Therefore, we assure you that regular intake of Pilesgon ayurvedic remedies for piles will bring you fruitful results. These herbal remedies for hemorrhoids not only provide relief from extreme discomfort, pain and inflammation but also make sure that the stools get soft and easy to pass through the anus so as to avoid extreme pressure over there.
Bleeding Hemorrhoids Herbal Treatment
The extract of every natural herb is attentively blended in the presence of experienced ayurvedic professionals and so the chances of facing the negative effects are literally nil. In addition to this, the price of these herbal remedies for hemorrhoids is not even close to expensive. We believe in providing natural healing techniques with a purpose of showing the way to mankind and so the cost is affordable to anyone who is earning.
Now let us discuss about the way to consume Pilesgon capsules. Take 1 to 2 capsules of Pilegon twice in a day with water at anytime suitable to you. This ayurvedic treatment for bleeding piles does not provide instantaneous results and hence might seem to be ineffective at first but its intake week by week affects the health positively in such a way that the digestion is improved and swollen piles are simply gone as if never happened before.
You may like reading:
Ayurvedic Remedies for Constipation, Hard Stool
Ayurvedic Herbal Remedies for Acidity, Gas and Indigestion
You May Like…