Ayurvedic Remedies for Iron Deficiency Anemia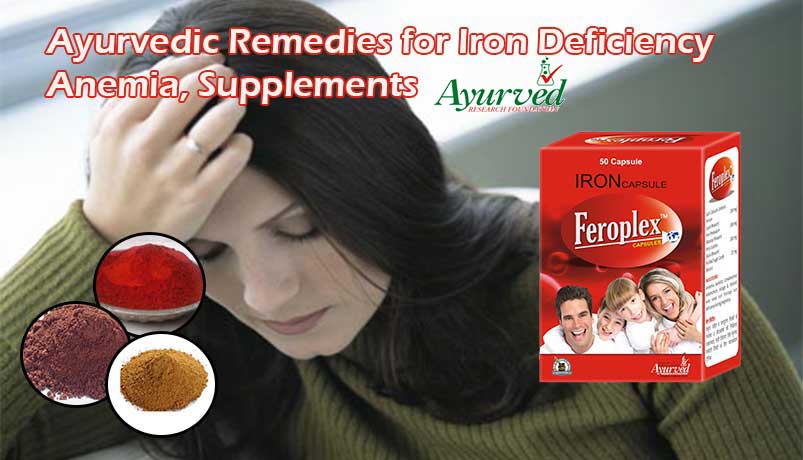 Iron Deficiency Anemia Ayurvedic Remedies
Iron Deficiency Anemia is a condition in which the blood contains less number of red blood cells (RBCs or hemoglobin) than it typically must have. This occurs if a person lacks iron mineral. Iron is a crucial mineral without which it is impossible for the RBCs to carry oxygen. There are no initial signs and symptoms of iron deficiency but with time if the condition is not improved following issues are noticed:
Chest pain
Extreme fatigue, weakness and tiredness
Pale skin
Fast heartbeat
Headache and lightheadedness
Dizziness
Cold hands and feet
Brittle nails
Inflammation of tongue
Lack of appetite
Restless leg syndrome
Frequent infection
Shortness of breath
Cravings of non-nutritive materials like ice, dirt, etc.
You may like reading:
List of Foods to Avoid When Pregnant
Healthy Diet and Foods for Pregnant Women
Causes of Iron Deficiency Anemia

Hemoglobin is the reason why our blood has red color and that in turn enables the oxygen carrying RBCs reach throughout the body. Production of hemoglobin is not possible if an individual loses too much of iron or takes very less in amount through food. This is the reason why one may develop the anemia. Here are the causes mentioned below:
Consuming Less Iron in Diet:- Too little amount of iron through food causes this condition till a person eventually reaches to the point of serious health concerns if not paid attention.
Blood Loss:- The RBCs contain iron and its loss results in loss of iron. A person may lose blood in cases like internal bleeding such as peptic ulcer, colon polyp, gastrointestinal bleeding, etc. Women undergoing heavy periods also face iron deficiency. This loss of blood could also be due to some accidents that causes heavy bleeding and doesn't get instant medical assistance.
Inability to Absorb Iron:- The small intestine is responsible for absorbing all the essential nutrients, including iron. If someone got a problem with that like facing celiac disease or due to some reasons small intestine is removed surgically the body loses ability to make use of iron mineral.
Pregnancy:- Pregnant women are more prone to face lack of iron since they need it for their unborn fetus as well as themselves. If they do not take iron supplements they risk their health to greater extent.
Risk Factors of Iron Deficiency Anemia
Some of the possible risk factors of iron deficiency anemia are as follows:
Infants and Children:- Infants if born prematurely or weigh less than normal or do not get iron through breast milk are at increased risk of lack of iron. Children also need to feed on iron rich foods for their healthy growth which is less likely. This causes iron deficiency anemia in them as well.
Vegetarians:- Vegetarians have to be cautious about their food intake since there is a limited source of iron for them as compared to meat eaters. They are therefore at greater risk of facing anemia.
Women:- Women face monthly menstruation that causes lack of iron in them. They often don't take iron rich foods and so the problem remains. Women also have to deal with pregnancy and delivery. Being pregnant requires more iron in the body since the intake fulfils the iron needs of both herself and the unborn baby. Giving birth to a baby again causes loss of iron mineral as they bleed during the process.
Frequent Blood Donors:- Donating blood reduces the blood count in the body. If a person frequently donates the blood he or she will gradually end up in anemia. They might reach to a point when they are not even allowed to do the blood donation.
Ayurvedic Remedies for Iron Deficiency Anemia
Most people take artificial iron supplements that might show them instant results but that are just temporary and do not generate fruitful long term results. We therefore advise people to go for ayurvedic remedies for iron deficiency anemia. Feroplex capsules are indeed the best herbal iron supplements in such a case since this iron deficiency anemia treatment provides outstanding outcomes. This is because these ayurvedic remedies for iron deficiency anemia contain tremendous herbs inside of them as under:
Ingredients of Feroplex capsules

Mandur Bhasma (Ferri Peroxidum), Lauh Bhasma (Ferrum), Kasis Bhasma (Ferri Sulphas), Mishri (Purified Sugar Candy)
Above ingredients are famous for their hemoglobin providing properties. Together all the herbs present in these herbal iron supplements naturally raise the hemoglobin levels. These ayurvedic remedies for iron deficiency anemia not only provide long term benefits but also have no issues of side effects or withdrawal effects.
Consuming these ayurvedic remedies for iron deficiency anemia is quite simple. Depending on your current health scenario just take 1 capsule or 2 capsules of Feroplex ayurvedic remedies for iron deficiency anemia with water right after having breakfast and dinner to get marvelous results. The best part about Feroplex capsules is that these are suitable for both men and women of any age group.
You may like reading:
Ayurvedic Remedies for Heavy Periods, Menstrual Bleeding
MCBC Capsules Review
You May Like…