Ayurvedic Remedies for Irregular Periods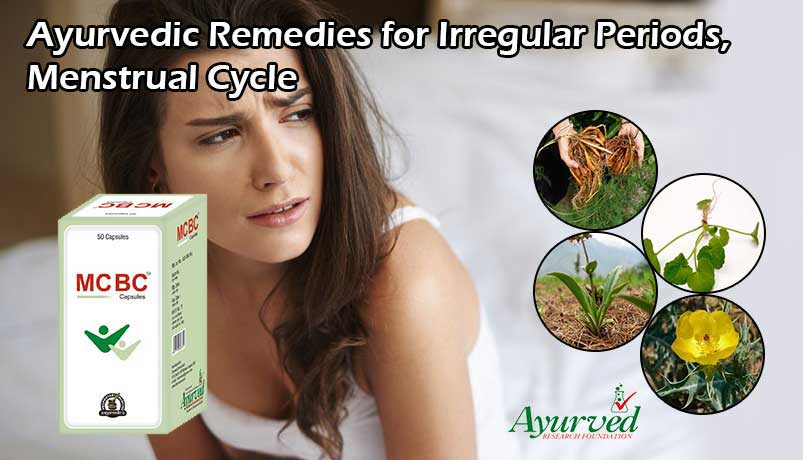 Irregular Periods Ayurvedic Remedies
Periods occur when the thick uterus lining sheds every month because the woman doesn't get pregnant. This lining again forms in case the pregnancy occurs in order to support the unborn fetus. If it doesn't happen shedding of uterus lining continues till then, every month in the form of blood whose quantity is about 2 to 6 tablespoons that lasts from 2 to 8 days. Basically a girl is born with about 2 million eggs. The moment she reaches the puberty this number declines to 300,000 to 400,000.

At the time somewhere around 11 to 16 days before periods one egg gets released from the ovaries in order to get fertilized with the sperm. The uterus then becomes thick to make a woman's body get ready for pregnancy. Around 1000 of eggs get wasted every month since each and every egg doesn't ovulate. By the time women ages with time the amount of eggs also gets shortened. Roughly at around 45 to 55 years of age women reach the menopause phase.
You may like reading:
Ayurvedic Remedies for Heavy Periods, Menstrual Bleeding
Natural Female Sex Boosters
Types and Patterns of Irregular Menstrual Cycles
When we talk about irregularities in periods there could be many cases which are jotted down as under:
Heavy Menstrual Periods:- In this case, the bleeding occurs more than normal that interferes with the woman's daily activities and has a negative impact on her life psychologically, physically and socially.
Abnormal Bleeding:- When the bleeding happens between two periods of different months. The bleeding must occur during periods only and other than that it is not considered as normal condition.
Absence of Bleeding:- This is the case when a woman doesn't experience menstrual periods even within 90 days (or 3 months).
Irregular Bleeding:- In such a case, the bleeding during periods is sometimes less in amount and sometimes greater in amount than normal flow of blood. Also there must be 21 to 34 days gap between two periods. During irregularities this time period is either less than 21 days or more than 34 days and that too varies every month. This means you never come to know when your next period will start.
Light Bleeding:- In this, the blood flow is very less that there is no requirement of changing the pads or tampons. Some women claim that they do not need pads or tampons at all during those days.
Heavy and Prolonged Bleeding: Here is the case when the bleeding is really heavy and that too for more than 8 days.
Causes of Irregular Periods

Here are the causes that explain that why would a woman face such kind of situation.
Changing birth control pills
Consuming certain medications that result in irregularities
Pregnancy
Stress or anxiety
Excessive physical or mental exertion
Polycystic ovary syndrome
Overactive thyroid (hyperthyroidism)
Thickening of uterine lining
Ayurvedic Remedies for Irregular Menstrual Cycle
In order to treat such issues doctors usually prescribe taking some allopathic medicines to which your body becomes literally addicted. This is because at first you will notice fast changes within so you will consume them always and might think that you are cured now. But this is not the case. You will see the withdrawal effects that will again ask you to continue it till you don't reach menopause. Not only this, the regular consumption of such medications delivers side effects as well. This is certainly not good for your health.
In spite of consuming harmful medicines we suggest you ayurvedic remedies for irregular periods. MCBC capsules are the best ayurvedic remedies for irregular menstrual cycle since these contain herbal ingredients that particularly target the root causes of the problem and rectify it accordingly. Regular intake of MCBC capsules can regulate menstrual cycle naturally and the major benefit of its intake is these ayurvedic remedies for irregular periods have no negative effect on a woman's health, both physically and mentally. This is why one must not compare these ayurvedic remedies for irregular menstrual cycle with other kinds of treatments.
Ingredients of MCBC capsules
Following are the ingredients that these ayurvedic remedies for irregular periods contain inside of them:
Jatamansi (Nardostachys Jatamansi), Salabmisri (Orchis Mascula), Aparajita (Clitoria Ternatea), Jyotishmati (Celastrus Paniculatus), Satavar (Asparagus Racemosus), Agastya (Sesbania Grandiflora), Buch (Acorus Calamus), Nilkadambika (Sphaeranthus Indicus), Kachnar (Bauhinia Tancatosa), Unab (Zizyphus Vulgaris), Ustukhuddus (Lavandula Stoechas), Shankhpushpi (Convolvulus Pluricaulis), Brahmi (Bacopa Monnieri), Brahmadandi (Tricholepis Glaberrima), Dirghwali (Argyreia Speciosa), Gurhal (Hibiscus Rosa-Sinensis), Aloe Vera (Aloe Barbadensis)
Above ingredients together form a potent formula of defeating irregular menstrual cycle among women. Depending on the current health condition one must take one capsule or two capsules of MCBC two times a day after consuming breakfast and dinner respectively. A woman must follow this regime of ayurvedic remedies for irregular periods for three to four months in order to get remarkable results. Women not only experience stoppage of the problem with these ayurvedic remedies for irregular periods but also their mental status becomes healthy and positive and along with that their hormones get balanced as well.
You may like reading:
MCBC Capsules Review
Gynecure Capsules Review
You May Like…
Sale!