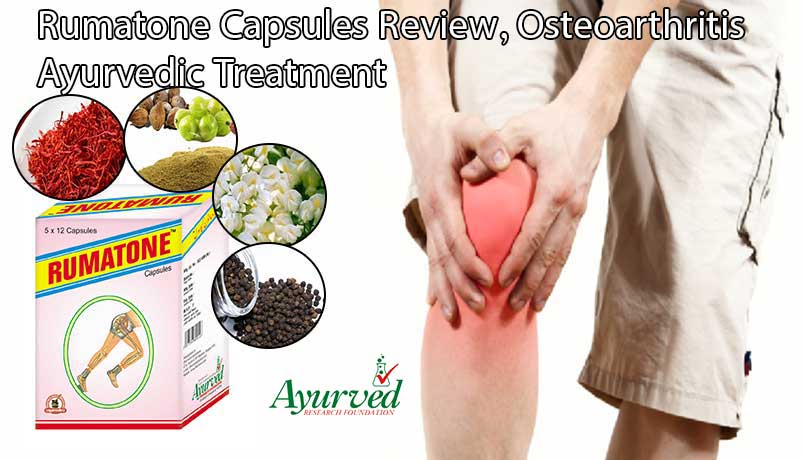 Osteoarthritis Ayurvedic Treatment
Osteoarthritis is counted as one of the most common type of arthritis that is also known as degenerative arthritis. It is caused by aging, wear and tear, obesity or any injury to our joints. Most frequently, joints of our hand, wrist, knee, back and hips are affected by osteoarthritis. Cartilage is a flexible connective tissue which provides support and flexibility to our joints. It acts as a cushion that assists in providing smoothness to our movements.
Osteoarthritis occurs when after repetitive use or aging effects our cartilage wears away causing pain in our joints. As a result, our bones rub against each other and symptoms like joint stiffness, warmth, swelling, debilitation, bow legs, degeneration and creakiness appear. In extreme cases of osteoarthritis, there is a complete loss of cartilage that results in friction between our joints limiting our motion ability.
If one is overweight, losing few kilograms of extra weight will be very beneficial in soothing osteoarthritis pain. Apart from that one can take herbal treatment for osteoarthritis as it is quite effective and does not cause any harm to our health. While choosing a right herbal supplement for osteoarthritis could be a tiresome task because almost all manufacturers show misleading advertisements focusing only on the low pricing range of their ayurvedic products but provide vague information regarding their ingredients or composition.
Though, cost of an herbal product is an important feature, it cannot become the sole guiding parameter of our purchase. The effectiveness and safety are truly the most important features when it comes to delicate issues such as our health. Through this Rumatone capsules review, we would like to throw some light on important aspects of these ayurvedic capsules for osteoarthritis which will certainly prove very helpful to the interested consumers. Read this in-depth ayurvedic treatment for osteoarthritis review.
For more on osteoarthritis, check out:
Healthy Juices and Smoothies for Arthritis Pain Relief
Best Natural Foods for Arthritis Relief
Features
There are some prominent features of Rumatone capsules which we would like to highlight at the starting of our reviews of osteoarthritis ayurvedic treatment –
100% herbal composition
Zero side effects
Contains powerful anti-inflammatory properties
Soothes arthritis, osteoarthritis and rheumatoid disorders
Alleviates pain in knee, neck, back, wrist, ankle, elbow, shoulder, hip and spine
Relieves painful conditions like gout, sciatica, lumbago, spondylosis, fibromyalgia, cervical spondylitis and hand arthritis
Soothes muscular sprains, swelling, inflammation and body pain
Nourishes and reinvigorates our body
How Rumatone Capsules Work and What are The Results After Taking Them?
Rumatone capsules are highly useful in soothing pain in conditions like arthritis, rheumatoid arthritis, osteoarthritis, gout, cervical spondylitis, hand arthritis, spondylosis, fibromyalgia, sciatica and lumbago. They are packed with potent anti-inflammation properties that take care of swelling, inflammation, warmth and redness of joints. Common sports injuries such as pain, sprain in muscles, trembling of hand and foot and stiff joints are effectively treated on regular consumption of Rumatone ayurvedic capsules for osteoarthritis treatment.
These herbal pills are so versatile as they soothe a vast variety of painful conditions such as back pain shoulder pain, knee pain, frozen shoulder, hip pain, neck pain, wrist pain, elbow pain, ankle pain and spinal pain. They enhance the joint mobility as well as joint performance. Adequate nourishment is provided to the skeletal system tissues by the pristine and exotic ayurvedic contents of Rumatone capsules. The overall health of cartilage is also improved and one experiences great improvement in the joint condition.
Ingredients
Rumatone capsules are purely based on ayurvedic ingredients and pristine herbs which is a full proof of its safety and reliability. After intense experimental work, experts found out that the composition of osteoarthritis ayurvedic treatment is 100% herbal with no traces of any chemical additives whatsoever. The complete list of the natural ingredients of Rumatone capsules were given by the manufacturers and hence we are mentioning them here in this ayurvedic capsules for osteoarthritis review –
Hartal, Kesar, Triphala, Lohban, Kapur, Kali Mirch, Rigni, Ramyaphal, Sonth
Direction of Use
It is advised to consume 1 or 2 Rumatone capsules twice daily, after having breakfast in morning and after having dinner at night regularly for 3 to 4 months to obtain outstanding results. It is also recommended to use Rumatone oil to massage the affected area that will provide external healing to our joints and speed up the soothing process.
Are Rumatone Capsules Safe to Use?
Rumatone osteoarthritis ayurvedic treatment is absolutely safe to use and does not produce any sort of side-effects to our health. We assure you in our Rumatone capsules review that even in case we stop taking these capsules, there are not even slightest chances of causing withdrawal effects and health hazards. The safety and reliability is all due to wonderful, pure and high grade ayurvedic ingredients that are used to make Rumatone capsules.
After How Much Time Can I Expect Results?
Rumatone capsules take approximately 3 to 4 months to undertake complete herbal treatment for osteoarthritis and to show amazing results. The exact time may vary from person to person from 2 to 5 months as per the severity of condition, discipline of course and recovery capability. Hence, we recommend people in our reviews of Rumatone capsules to be patient about the results and follow strict dosage of these ayurvedic capsules for osteoarthritis at least 3 months to avail impressive health benefits.
Pros
We are enlisting below, some remarkable pros and advantages of Rumatone capsules which are very unique and worth mentioning in this ayurvedic treatment for osteoarthritis review
Rumatone capsules are comprised of pure herbal ingredients and hence are very safe and reliable to consume.
There are zero percent chances of having any health hazards or detrimental side effects to our health.
Powerful anti-inflammatory properties of Rumatone ayurvedic capsules for osteoarthritis reduce joint swelling and joint inflammation.
This osteoarthritis ayurvedic treatment helps in relieving pain caused due to arthritis, osteoarthritis, rheumatoid arthritis, spondylosis, fibromyalgia, cervical spondylitis, hand arthritis, gout, sciatica and lumbago.
Painful conditions like backache, shoulder pain, spinal pain, hip pain, neck pain, knee pain, wrist pain, elbow pain, ankle pain and frozen shoulder are also soothed on regular intake of Rumatone capsules.
Muscular sprain, muscle pain, trembling of hands and feet and stiff joints due to any sports injury are all alleviated up to a great extent.
Cons
We would like to mention some cons and setbacks of Rumatone capsules in the last section of this review of ayurvedic treatment for osteoarthritis –
Rumatone capsules are inaccessible from shops or stores and can be obtained via online modes only.
One has to follow the directions of use of Rumatone osteoarthritis ayurvedic treatment unfailingly for 3 to 4months to actually avail some betterment.
Healthy habits must be inculcated in the daily routine such as weight management, doing mild exercises and taking nutritious diet apart from taking these pills to get maximum benefits.
=> Buy Rumatone Herbal Arthritis Supplements to Relieve Pain and Stiffness.
You may like reading:
Rumoxil Oil Review
Rumoxil Capsules Review
You May Like…