Exercises For Diabetic Patients That Control Diabetes Naturally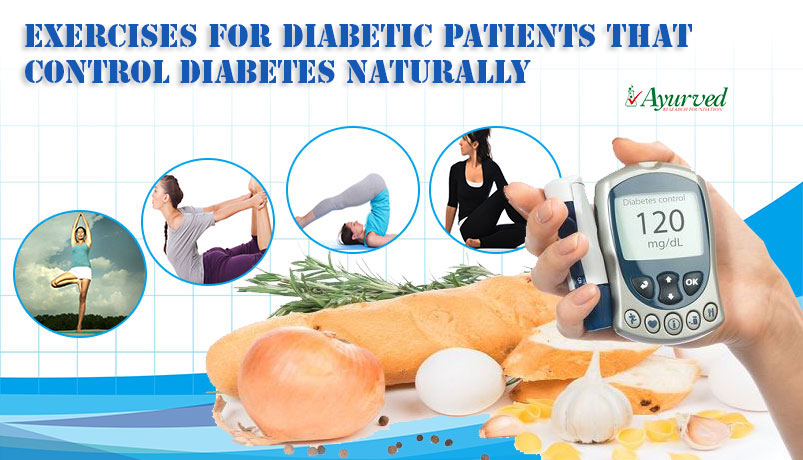 Exercises are the most underestimated methods of lowering high blood sugar. People often do not regard it as an option for managing blood sugar levels due to couple of reasons. Firstly, diabetics in general not all but most of them are not very fond of exercises, even before they were diagnosed with diabetes. Secondly, once hyperglycemia is already in the system, the problem of fatigue associated with this health condition stops diabetics from getting the push from inside to go out and toil a bit.
But these can be very useful ways to curb high blood sugar and also its side effects on health. Physical activity has positive impact on blood sugar levels as it promotes absorption and utilization of glucose and lowers its presence in blood even in absence of insulin. Exercises for diabetic patients has far reaching effects than medicines as these improve body's other mechanisms and processes which directly or indirectly help in boosting-up sugar metabolism.
Like exercises are wonderful in maintaining blood pressure, improving heart health, blood vessels and digestive system which in one way or other help in relieving high glucose levels and also curbing their damaging effects on health. Exercises are the best preventive measures too. People predisposed to suffer with hyperglycemia can gain proper protection from the disease by maintaining healthy and regular exercising regimen.
For more on diabetes, check out:
Best Food for Type 2 Diabetes Diet
List of Best Foods to Control Diabetes
Exercises – Best Treatment to Control High Blood Sugar Levels
Exercises have hypoglycemic effects; blood sugar level drops after exercises and stays low for another 24-48 hours but yes effects of exercises are strictly personal and results vary from very good to mediocre. In few cases, exercises can boost-up sugar levels so one needs to keep an eye when he or she starts exercising as how these are affecting blood sugar levels. It is recommended that blood sugar readings shall be taken before and after exercises and even in between initially to check out for effects.
Once it is confirmed that exercises are bringing down sugar levels then proper and regular regimen can be of immense help in controlling the problem. There is no specific set of exercises recommended to individuals. Mostly experts suggest exercises for diabetic patients which suit to their age, health condition, heart condition and taking in consideration their mobility. If any patient is suffering with mobility issues or heart condition then specific exercising programs are suggested to maintain healthy sugar levels.
One should not try and hit any hypothetical benchmark right from day one and neither one shall exercise too less. It is recommended that 30 minutes of regular exercise five days a week is necessary to gain positive effects. Exercises for diabetic patients need to be interesting and not too highly straining. While exercising, keeping a carb rich snack or sugary drink is good in case sugar level drops loo low. Walking, jogging, swimming, cycling, still cycling, treadmill, running, etc., can be good exercises for diabetic patients. One should begin with duration which keeps him or her comfortable. It is not necessary to hit 30 minute mark right from day one so begin with time which is suitable and keeps you fresh and then gradually stretch it every day. Exercising in intervals is also good. If one cannot continue for 30 minutes then take a pause to recollect energy and start again.
The idea behind exercises for diabetic patients is to improve muscular activity and increase cellular sensitivity to insulin and it also initiates another process which allows absorption of glucose in cells for energy production without any need of insulin. Another major benefit of exercises for diabetic patients is controlling weight. Though high blood sugar is infamous for dropping weight suddenly but people having high BMI or high cholesterol conditions get benefited by exercises which they do not get through medicines. Cardio exercises for diabetic patients are best as these improve flow of blood and increase level of oxygen in blood along with burning sugar for energy production.
Yoga – Best Natural Treatment for Diabetic Patients

Yoga provides the most trusted and beneficial exercises for diabetic patients. There are four yoga poses which have been described by experts as the most effective in treating condition of high blood sugar. User reviews about these poses have also been great and people have recommended these above other types of exercises. Few yoga asanas in a day along with breathing exercises balance endocrine functions, stimulate and massage abdominal organs and pancreas and improve circulatory and nervous system to provide effective relief from high blood sugar. Four yoga exercises that control diabetes naturally are listed below:-
Vrikshasana
This is one of the best exercises for diabetes control as it stimulates pancreatic functions and hormonal secretion. To perform this, stand straight and keep your feet close to each other. Bring your right foot and keep it on your left thigh, try to make a right angle. If one cannot keep foot high up on thigh then keep it at any place over left leg and maintain balance. Keep right toe pointed towards ground and rest entire body weight on left leg. Now join your palms and hold them right in front of chest with fingers pointing upwards, raise your palms upwards with hands bent a little. Keep looking in front and hold this position for at least 10 seconds. Bring back your hands back to starting position and keep your right leg on ground back. Repeat same process with right leg and perform 3-4 times in one session. Regular practice of this asana is one of the best exercises that control diabetes. Supplement these with breathing exercises for better effects.
Dhanurasana

This is another one of the most effective exercises that control diabetes naturally. This asana makes organs like liver, pancreas and other enzyme producing organs active and helps immensely in controlling diabetes. This too is reckoned as one of the best exercises for diabetes control. To perform this asana follow the below procedure. Lie on your stomach with your feet little apart and arms resting over floor. Stretch your arms and fold your legs so that you can grip your ankles, lift your chest upwards and breathe in. Hold the position for 15-20 seconds and bring down your chest and exhale, repeat again and perform few times in one session. Later, release the ankles and relax for a couple of minutes before getting up.
Halasana
It is another reliable asana which is one of the effective exercises that control diabetes naturally. Regular practice of this asana provides multiple benefits like improved pancreatic, liver, kidney spleen and immune system functions. To perform this one of the best exercises for diabetes control, lie on your back with your arms straight and palms touching the floor completely.
Now lift your legs keeping them straight and bending from your back, you can support your legs with hands if needed and bring them in a position perpendicular to the floor. Inhale while doing this. Now move your feet over your head keeping legs straight till toes touch ground above your head. Hold this position for a few seconds. Bring legs back to starting position slowly and exhale. Repeat this few times and do not push or jerk your body. This may be difficult to perform initially but with regular practice it is doable.
Ardha Matsyendrasana

This asana is wonderful for improving functions of kidneys, pancreas, small intestines, gallbladder and liver and is one of the amazingly beneficial exercises that control diabetes naturally. It is easy too which makes it one of the best exercises for diabetes control. Sit on the carpet with legs fully stretched forward, bend right knee and touch left knee with heel of right leg. Twist your trunk towards right and stretch your right hand behind waist as far as possible and keep it over floor with palm touching the floor. Now take your left hand and hold right legs' knee or ankle and sit in this position looking backwards over your right shoulder. Turn straight and perform with left leg and hand. Repeat few times in each session.
Ayurvedic Supplements To Control Diabetes
Diabgon capsules are powerful herbal supplements which along with these exercises for diabetes control can bring wonderful results in short time. These pills come with herbs which are capable of improving pancreatic functions and increasing level of insulin hormone. These promote better sugar metabolism and keep it within healthy limits naturally. The herbs present in these pills also slow down sugar supplementation during digestion and prevent sugar levels from shooting-up after meals. These also metabolize fat faster, prevent high cholesterol and maintain energy levels higher to allow a person to stay active and do exercise regularly.
These suppress issues like pain in legs, lethargy, fatigue, frequent hunger and urination happened due to diabetes. Some of the herbs used in Diabgon pills are wonderful for improving immune system functions. Herbal ingredients of these pills also prevent plaque deposition and keep blood vessels free from blockages. These pills relieve pressure on heart, improve cardiac functions, circulatory and urinary system and also improve liver and kidneys to protect health.
Diabetes is severe on eyes, nerves and other vital organs of the body. By keeping sugar level under control and preventing it from surging, these provide protection to all the organs of the body. Regular use of these herbal diabetes pills promotes faster healing of wounds and also relieves symptoms like frequent urination, thirst and cravings to eat sugary. A person taking these pills can easily maintain his dietary regimen and also perform the exercises that control diabetes naturally to reduce intensity of the problem considerably.
These supplements are purely natural and do not have side effects. The herbs used in these are time-tested natural remedies which have been in use since ancient times. These supplements can be used without any medical prescription and along with any on-going treatment. One can use these supplements for regular and prolonged duration also. These do not cause any dependency and allow a person to lead a normal life despite of diabetes.
=> Buy Diabgon Ayurvedic Remedies to Lower Blood Glucose and Control Diabetes Naturally.
You may like reading:
Healthy Foods for Diabetes
Rolls, Sandwiches and Wraps for Diabetics
You May Like…
Sale!

Sale!