Ayurvedic Remedies for Hypertension, Lower Blood Pressure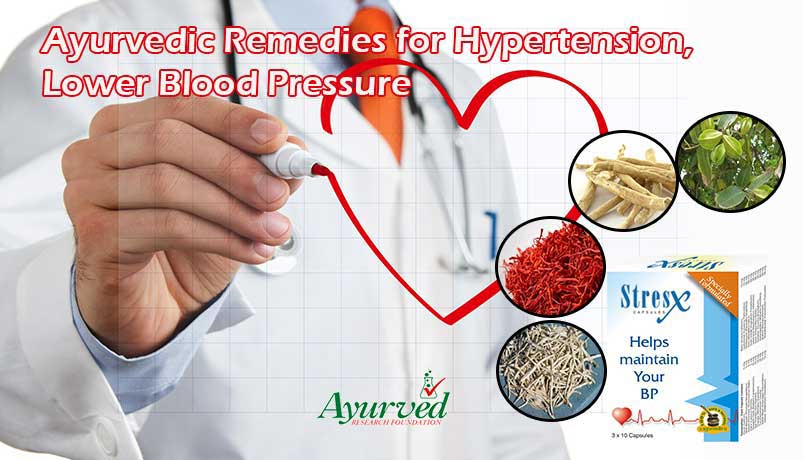 Blood pressure (commonly termed as B.P.) is the force of blood against the artery walls. When we talk about hypertension or high blood pressure it means this force is elevated enough to cause strain in the arteries and the heart and can probably cause heart diseases if not paid enough of attention. More of the blood our heart pumps and the narrower the arteries there is more blood pressure and vice versa.
Hypertension is known to be a silent attacker since one may have high blood pressure for years and have not a single clue since symptoms are not observed till then. What's worse is it keeps on damaging the blood vessels, kidneys, heart, etc. and unless the damage is not high enough to be seen one never knows about that. Uncontrollable hypertension causes major health concerns including heart attacks and strokes. It is therefore very necessary to pay attention towards your health and have regular blood pressure readings.
For more on high BP, check out:
Best Diet for High Blood Pressure
Natural Foods for High Blood Pressure
Some of The Risk Factors of Hypertension
Age:Having age more than 45 years in males and greater than 65 years in females are commonly at risk of having high B.P.
Obesity:Highly obese and physically inactive people are more prone to suffer with hypertension as compared to those having active lifestyle and are fit in health.
Race:Blacks are more prone to high B.P. as compared to whites when we talk about high blood pressure and related issues such as strokes, heart attacks and kidney failure.
Family History: Having any blood relative suffering from high BP makes a person more prone to the condition if compared with those who don't.
Too Much Sodium in Diet:Too much sodium causes fluid retention which further leads to high blood pressure in the body.
Too Less Vitamin D:Vitamin D is believed to affect an enzyme generated by the kidneys that affects the level of BP.
Too Little Potassium:Potassium is responsible for balancing the sodium levels in the body. If an individual doesn't consume potassium through diet or doesn't retain enough of it the levels of sodium rise in the body and hence high pressure of blood also rises.
Too Much Alcohol and/or Tobacco Intake:Men and women are recommended to take two or one drink(s) at a time respectively. More than that may cause the blood pressure to rise.
Some Chronic Condition: Diseases like diabetes, sleep apnea and kidney disease cause the elevated BP, especially if a person faces any one or more of these conditions for long.
Stress:Stress may also be the cause of high blood pressure so a person is always advised to relax him or herself with some basic healthy techniques and not by smoking or drinking since such habits increase the risk instead of helping.
Signs and Symptoms of Hypertension
Signs and symptoms of hypertension are not visible even if the readings reach at an extreme dangerous point. A few people may experience nosebleeds, shortness of breath and headaches but such symptoms are not that much specific to diagnose as high blood pressure symptoms. Until the magnitude reaches severe and life threatening point he or she then faces some of the symptoms like:
Difficulty in breathing
Chest pain
Irregular heartbeat
Severe headache
Fatigue
Feeling of pounding in neck, chest and ears
Bloody urine
Ayurvedic Remedies For Hypertension
People seek medical help and take the medicines throughout their life. Such medications make them literally addictive in such a way that they have no option turning back, meaning stopping that course would be dangerous. Allopathic medicines do not cure any disease or disorder. A person spends his or her money for life and the pharmaceutical companies earn large profit margins.
What if we say that it is possible to lower blood pressure levels naturally? How do we do that? The answer is simple. Just start the course of ayurvedic remedies for hypertension and see the results by yourself and we are sure you won't be disappointed. Try Stresx capsules as the ultimate herbal remedies to lower blood pressure. These ayurvedic remedies for hypertension lower blood pressure levels naturally with apparently no side effects. Stresx capsules contain certain crucial herbs that support in controlling the high BP. Following provide the key composition of these ayurvedic remedies for high blood pressure:
Ingredients of Stresx Capsules
Arjuna Myrobalan (Arjun), Bacopa Monnieri (Brahmi), Withania Somnifera (Ashwagandha), Convolvulus Pluricaulis (Shankhpushpi), Onosma Bracteatum (Ganjwan), Asphaltum Punjabinum (Shudh Shilajit), Mangifera Indica (Aam), Rauvolfia Serpentina (Chotachand), Celastrus Paniculatus (Jyotishmati), Asparagus Adscendens (Safed Musli), Acorus Calamus (Vacha), Saffron (Kesar), Michelia Champaca (Champa), Cinnamomum Cassia (Tuj), Delphinium Denudatum (Jadwar), Elettaria Cardamomum (Elayachi Choti), Lactuca Serriola (Kahu), Gul Chandni (Gul Chandni), Pinctada Margaritifera (Moti Bhasma), Hyoscyamus Niger (Ajwain Khurasani)
Each and every herb used in these herbal remedies to lower blood pressure are renowned for their efficacy since ages and were used by our ancestors. Therefore, there is no doubt in the fact that together these herbal extracts would be highly beneficial if blended in the right proportion. Simply take one to two capsules of Stresx ayurvedic remedies for hypertension and find yourself in a controlled blood pressure.
=> Buy Stresx Ayurvedic Hypertension Supplements To Lower Blood Pressure Safely.
You may like reading:
Stresx Capsules Review
Healthy Low Cholesterol Diet
You May Like…
Sale!

Sale!