Best Natural Foods to Prevent Hair Loss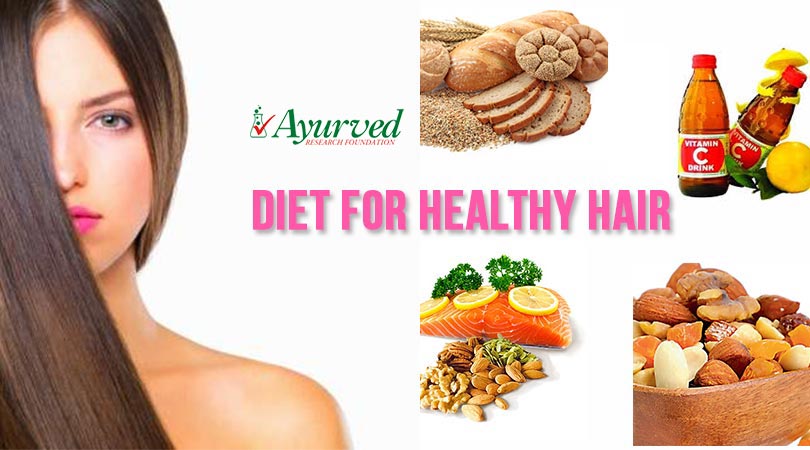 Diet for Healthy Hair
Body needs supplementation of certain nutrients to grow hairs and maintain their health. People due to poor metabolism, stress and poor diet begin to lose hairs at early age or have growth of weak and fragile hairs. People also suffer with problem of thinning of hairs which reduces density of hairs on head.
Hairs gain nutrition and health from scalp, and scalp is also a part of skin, practically to keep scalp healthy, diet has to be rich in certain nutrients so that scalp maintain clear and healthy hair follicles and produce thick and healthy hairs. Diet for healthy hairs can play an effective role in resolving problems like hair fall, bald spots, thinning of hairs, lesser density of hairs and premature greying.
For more on hair care, check out:
Homemade Papaya Hair Mask Recipe
Natural Homemade Hibiscus Hair Masks
Best Foods that Prevent Hair Loss
Here is list of certain nutrients which diet for healthy hairs contain, regular supplementation of these nutrients keeps scalp healthy and free of ill-effects of chemicals, shampoo, chemicals in water, poor health etc. and also of ageing. Good diet for healthy hairs can even reduce effects of genetic factors which are also major causes of hair fall and bald spots.
Vitamins – Natural Treatment to Cure Hair Loss

Diet for healthy hairs shall also supplement range of vitamins in optimum dosage. The vitamins which play a crucial role in promoting hair growth are as follows.
Vitamin A – This vitamin can be obtained by including broccoli, green and yellow vegetables and fruits, apricots and sweet potatoes in your diet. These vegetables and fruits supplement beta-carotene in optimum dosage which is converted into vitamin A by the body.
Vitamin E – Include foods rich in vitamin E to form a diet for healthy hairs. Foods like avocado, rice, bran, nuts, dark green vegetables, legumes and wholegrain are good sources of vitamin E which shall form a part of regular diet.
Vitamin B – Consume whole range of this vitamin through diet for healthy hairs. Deficiency of this vitamin can cause fragile hairs, greasy hairs, problem of dandruff, splitting hairs and hair loss. Foods like wholegrain, beans, lentils and fresh fruits and vegetables particularly citrus fruits and vegetables like tomatoes are sources of range of vitamin B. Include these foods in your diet for healthy hairs.
Vitamin C – Good dose of this vitamin keeps hairs strong, healthy and also maintain their natural colour. All types of citrus fruits are excellent sources of this vitamin out of these lemons and Indian gooseberry are major sources. Vegetables like broccoli, cabbage, tomatoes are also good foods to gain optimum dose of vitamin C. These foods in regular diet provide diet for healthy hairs.
Protein – Natural Diet to Get Rid of Hair Loss

This nutrient is building block of muscles and also of hairs. Inadequate supplementation or metabolism of this nutrient can cause sudden hair loss and also make them brittle. Hairs when become rough and inflexible break due to snapping and combing and gradually this condition reduces density and forms bald spots.
Eat foods like fat-free milk, curd and cheese and also include beans, pulses, soy and tofu in your diet to increase protein intake. Nuts like almonds, pistachios, cashews and walnuts are also good sources of protein. Healthy intake of these foods makes a good diet for healthy hairs which promotes hair growth and prevents hair loss.
Minerals for Healthy and Strong Hairs
Ensure supplementation of few minerals for a complete diet for healthy hairs. The minerals which are vital for healthy and strong hairs are as follows.
Iron – This mineral is necessary for optimum nutrition and oxygen supply to hair follicles. Include presence of this mineral in your diet by consuming foods like wholegrain, seeds, dark green vegetables and fruits.
Zinc – Lack of this mineral in body affects hair growth and also makes them fall-off easily. The sources of this mineral are wholegrain, spinach, pumpkin seeds, sunflower seeds, legumes and mushrooms. Zinc builds hair protein which is vital for hair health and increasing its life-span.
Magnesium – This mineral is obtained from foods like wholegrain, green leafy vegetables, nuts, fruits, pulses and dairy products. Optimum intake of this mineral is essential for forming diet for healthy hairs.
Carbohydrates – Best Diet for Healthy Hair

These are excellent diet for healthy hairs. This nutrient grows tissues and promotes hair growth. Consume foods like wholegrain, brown rice, fruits and vegetables in your diet to gain optimum dose of complex carbohydrates.
Essential fatty acids – Diet supplying 15-20% of total calorie requirements of the body through essential fatty acids is excellent diet for healthy hairs. The sources of healthy fatty acids are foods like fish, flaxseed, flaxseed oil, walnuts, vegetable oils, spirulina, wholegrain, legumes and pumpkin seeds. Include these foods in your regular diet to maintain growth and prevent hairs from falling-off.
Recommended reading:
Homemade Healthy Fruits and Vegetables Juices
Take special care to keep your body hydrated. Increase intake of water and ensure at least 2 litres of water every day. Water keeps hairs supple and soft and prevents them from falling-off due to air, sunlight and moisture. This is also very useful as three-forth of each strand is formed by water. If you get dehydrated frequently it promotes hair loss and also reduces growth of new ones. Eat one banana every day to get healthy dose of potassium. This mineral is also very necessary along with other nutrients to maintain hair density.
Read full details here>>Best Healthy Diet for Hair Infographic
You may like reading:
Aloe Vera Mask Recipe for Skin and Hair
Rice Water for Beautiful Skin and Long Shiny Hair
You May Like…