Mouthwatering Aam Panna Recipe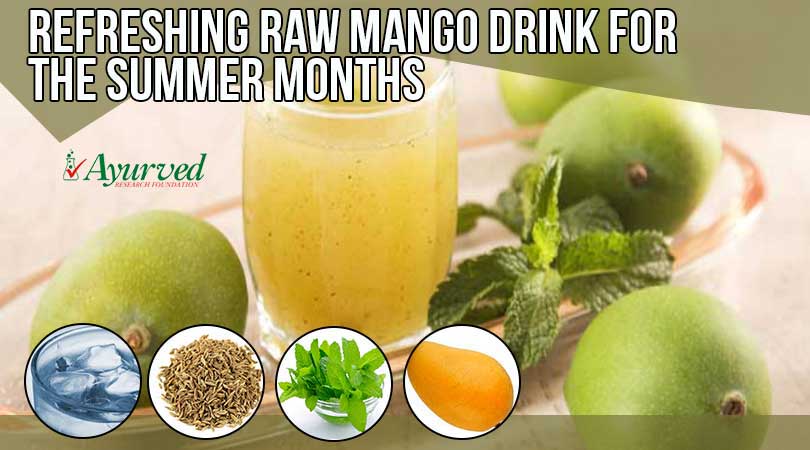 Aam Panna Recipe – Refreshing Raw Mango Drink for Summer Months
Summer is the hottest of all four seasons. It completely drains out the energy from our body. Summers are the time when children get off from their schools and colleges. They play out in grounds most of the time or plan picnics and holidays. It is very much essential to keep yourself going and enjoy the summers. Staying hydrated is important for you in this hot season because excessive heat can lead you to dehydration.
Dehydration is the condition when your body loses more fluids and salts in comparison of taking in. To avoid the dehydration doctors always recommend you to drink at least 7 to 8 glass of water. You do not have to wait till you get thirsty because your body need much more than what you feel. Consuming this much amount of water is a very difficult task as many of us are not habitual.
So, this scorching heat calls for some chill and icy drinks that cool down our body to survive the heat. Fruits are considered good to eat in summers as fruits have high water content that keeps your body hydrated and refreshed. Who does not loves to eat fruits? And what if we make some interesting drinks out of them? How about the king of fruits – Mango? It is a gift of nature to all of us. Apart from being tasty, it has numerous health benefits. Today we bring you a unique recipe with raw mango for all crazy mango lovers. You do not have to search them as the summer strikes they are all over the streets.
You may like reading:
Homemade Healthy Fruits and Vegetables Juices
Natural Aloe Vera Juice and Smoothies
Basically, this raw mango drink is popularly known as 'aam panna' in traditional Indian language is loved by everyone. It is a wonderful drink that quenches your thirst at one go and leaves you with rejuvenating and refreshing feel. It has a sweet and tangy taste that is unbeatable. This raw mango drink for summer can be drunk several times in a day to beat the heat and is hard to resist. Let's start with preparing this flavorful and cool drink.

Ingredients of Raw Mango Drink for Summer
2 or 3 Raw Mangoes
10 to 15 Mint Leaves
2 Tablespoon Cumin Seeds
2 Tablespoon Black Salt
Sugar
Water
Well, there are two ways we can prepare this aam panna or raw mango drink. The first one is an instant recipe in which you have to peel the raw mangoes, cut them into pieces and put them in the blender with adding all the ingredients till they get the smooth consistency. Strain it with the strainer in a glass with crushed ice and your drink is ready to enjoy.
The main recipe which is known for its unbeatable taste requires a little procedure. For that, we have to take 2 or 3 raw mangoes and rinse them well with water.
Boil them with water into a pressure cooker. When they become soft enough let them cool and peel their skin. Take out the pulp out of them removing the seeds.
Put the pulp into the blender and add sugar to it. Raw mangoes and sugar should be in the ratio of 1:2.
Then add 10 to 15 mint leaves to the blender and also add cumin seeds and black salt to it. Blend the mixture into a smooth pulp.
You can use sugar syrup instead of sugar so that it can dissolve nicely. You can store this pulp into a glass or plastic container into the freezer.
Now, to finally prepare a glass of drink, take 2 tablespoons of this pulp and chilled water. Blend them well into a blender. Pour it in a tall glass with some ice cubes in it.
Enjoy this super ultimate aam panna or raw mango drink for summer which is delicious and tangy. You can also add black pepper, cinnamon, jaggery and other spices if you like more flavors in it. You can adjust the amount according to your preferences.
Rich Source of Vitamins and Minerals
This healthy and refreshing raw mango drink has many benefits besides its mouth watering taste. Raw mango is loaded with the nutritional value such as vitamin A and C, calcium, magnesium, potassium, sodium and phosphorus. This refreshing raw mango drink prevents you from dehydration and indigestion. Your immunity boosts up and new blood cells start forming with this refreshing raw mango drink.
Aam panna prevents you from morning sickness and afternoon drowsiness with enhancing your liver and heart health. You will be away from the fear of water loss from your body by drinking this raw mango drink for summer as it prevents the excessive loss of sodium chloride and iron during the summer season due to excessive sweating. This rejuvenating drink also helps in fighting gum diseases and takes proper care of your oral health.
This mango drink is a treat for your tongue. No matter what you are planning this summer if you are trying this delicious and beneficial aam panna drink at home. You will surely enjoy your summers to the fullest.
You may like reading:
Healthy Juices and Smoothies to Lower Cholesterol
Healthy Juices and Smoothies for Arthritis Pain Relief
You May Like…