Homemade Oatmeal Mask Recipe for Eczema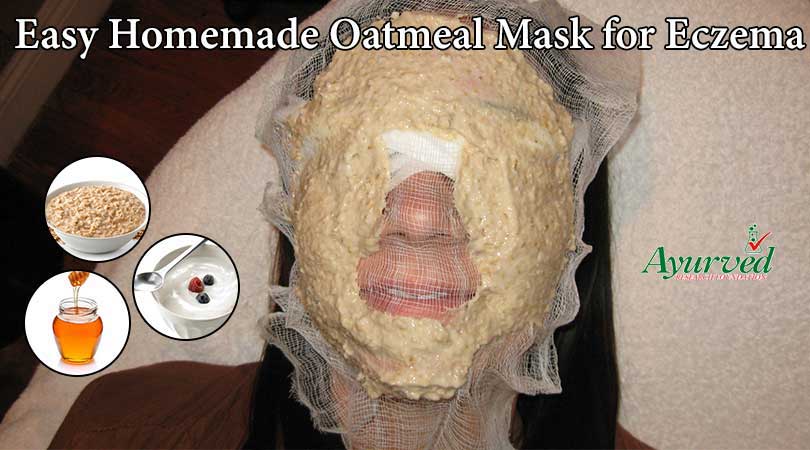 Make Oatmeal Mask at Home to Get Relief from Eczema
Eczema is a condition when your skin becomes inflamed and gets red, itchy and swelled. Rashes appear on your skin and your skin turns dry and rough and in severe cases, our skin causes cracks which are very painful. It can happen anywhere on your body making our skin patchy. Its causes are known but commonly appear in people having a family history of allergies.
This skin disorder occurs because our immunity weakens or gets overactive to irritants and allows the germs, viruses, and bacteria to get in our body and it dehydrates your skin, thereby vanishing all the moisture out. This situation is very irritating, the more you scratch the more it gets worse and spreads to other parts of the body; it does not spread to other persons, though through activities like touch.
Life becomes frustrating while living with this chronic condition. People feel rejected in their relationships and in their professional life too. Their social life also gets affected as people get uncomfortable in shaking hands, sitting together or eating with them although this disease does not transfer. But it creates a distance between them because people are uncertain about that whether they are dealing with some who might be contagious and it clearly affects their behavior towards people suffering from eczema.
People get worried what they look like with patches and red itchy skin and feel embarrassed. Well, it is not a big deal as we have the solution for your problem. Natural remedies always see to the root cause and heal your red dry and itchy skin. The very first thing is to watch what you eat. Avoid processed and oily fried foods as they make the eczema worse. Also, reduce your sugar intake because it decreases immunity. Secondly, avoid a sudden change in temperature, avoid stress and depression as they link to eczema somewhere. And lastly, avoid harsh chemical product to use on your skin.
You may like reading:
Best Diet to Prevent Acne Problems
Rice Water for Beautiful Skin
Homemade Oatmeal Mask Recipe for Eczema
Natural remedies are always safer and do not harm as they made with plant-based ingredients that are tested and used since ages among our elders and in ayurvedic medicines. They are inexpensive and give you long term relief. You do not have to search for the ingredients too as they are found nowhere else but in your kitchen itself. Today we are going to use one such ingredient that you are very familiar with and have it daily in your breakfast. Yes, oatmeal is that wonderful remedy for treating eczema that is loaded with healing properties.
Homemade oatmeal mask for eczema soothes your skin and relieve you from all the symptoms of eczema. A homemade oatmeal mask for eczema helps you get rid of horrible eczema flare and lightens the buildup patches over your skin giving you your confidence back.

Ingredients
Half cup of Oatmeal
1 tablespoon of Honey
2 tablespoon of Yogurt
Half cup of hot Water
Take a clean bowl and put half cup of oatmeal in it. Pour half cup of hot water in it and leave it for few minutes.
After few minutes, add two tablespoons of yogurt and one tablespoon of honey to it.
Mix it well to form a paste-like consistency. Your homemade oatmeal mask for eczema is ready to use.
Apply this homemade oatmeal mask for eczema over all the affected areas. Leave it for 25 to 30 minutes.
Now wipe out the mask gently with a little moist towel or a cloth. After removing the mask rinse your face with lukewarm water and pat dry with a clean towel.
Then apply coconut oil as it is a good moisturizer to prevent your skin from getting dry.
You can apply this homemade oatmeal mask for eczema twice daily. You can also add baking soda to it as baking soda help in balancing pH level of your skin and fights inflammation.
This homemade oatmeal mask for eczema has honey which keeps the skin moisturized and reduces flaking and itching of the skin. More to this, the antiseptic property of honey helps in protecting the eczema sores from getting infected. Yogurt has anti-bacterial and moisturizing properties and it also lightens the skin and clears dark patches due to its bleaching properties. It moisturizes the skin and protects the outer layer of skin from getting dry and rough.
Oatmeal itself has so many qualities like its anti-inflammatory properties which give relief from the symptoms of eczema. It absorbs the excess oil and also removes dirt and impurities from the pores keeping them clean and also acts as an exfoliant. This homemade oatmeal masks for eczema rejuvenates your skin treating redness, itching, swelling, dryness all at once. Your skin will become soft and smooth again regaining its moisture and the most important your topmost skin protective layer will not get irritated anymore.
You May Like…