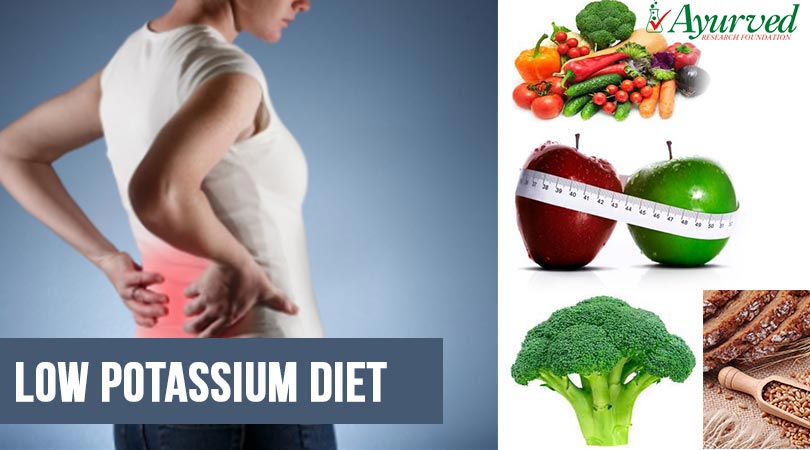 Low Potassium Diet
Potassium is necessary mineral required by the body which performs various functions vital for health. High level of potassium can lead to a health condition called as hyperkalemia. The symptoms of this problem are debilitating and this condition can cause serious heart problems along with impaired muscular functions. The low level of potassium actually disturbs PH balance of stomach. During digestion to breakdown complex food items body secretes acids, these acids if stay in the stomach make body acidic, acidic body is sick body as it becomes vulnerable to diseases and disorders.
It is potassium's job to nullify these acids and maintain healthy PH balance of the body and stomach. But high level of potassium are hazardous for health too, usually almost every food supplements potassium in small or large amount, eating low potassium diet by knowing the amount of potassium each serving of foods you eat can provide will help you to control excessive intake of this mineral by eating low potassium diet.
People suffering with high level of potassium can identify the problem by checking few symptoms. High potassium level in body causes tingling or feeling of numbness in any limb or part of the body, causes fatigue and breathlessness easily, causes frequent nausea or vomiting, and palpitations and skipped heartbeats. There are medical methods to treat this condition but unless person checks his or her dietary intake this problem cannot be controlled for longer period of time.
You may like reading:
Best Low Fat Diet
Healthy Low Cholesterol Diet
List of Low Potassium Foods
Switching to low potassium diet is the best way to gain relief and protect health from the problem. The best way to find out high level of potassium is through blood test as sometimes meagrely high levels of this mineral do not cause any symptoms in a person but silently keep affecting the health negatively.
Vegetables – Good Amount of Potassium Diet

Vegetables are rich sources of potassium. Almost all types of vegetable contain good amount of potassium and if you include these in every meal of the day your potassium intake is going to go higher easily. You can adopt a method before cooking to wipe-off potassium content from commonly used vegetables like potato, carrots, squash, beets, cauliflower, mushrooms, frozen green vegetables etc. and prepare a low potassium diet.
Cut these vegetables after peeling them off into small pieces and soak these pieces in enough quantity of water. Cover the bowl and keep these in a refrigerator for half an hour. The potassium will get attracted towards water and you can drain this water out before cooking. This will reduce your potassium intake considerably. But remember that this method does not work for all the vegetables.
Include vegetables like asparagus, broccoli, cabbage and carrots more in the diet as these are low potassium vegetables. Six spears of asparagus contains 190 mg of potassium, one bunch of broccoli supplements 370 mg, one head of cabbage contains 2200 mg and one medium sized carrot supplements 230 mg of potassium.
Apart from these, other vegetables which are low on this mineral and can be included in low potassium diet are cauliflower, cucumbers, corn, celery, white mushrooms, okra, onion, green peas, green beans, red radish, zucchini, turnips, squash and green turnips. One should limit the servings of these vegetables to 2-3 per week as these all contain some amount of potassium and their indiscriminate use can prevent good effects of low potassium diet.
Grains – Best Low Potassium Diet
Refined grains are better for low potassium diet compared to wholegrain as these contain lesser amount of this mineral. Rice, pasta and noodles are good foods to eat for a low potassium diet.
Fruits – Best Food Good for Low Potassium Diet

Almost every fruit is source of potassium hence even their intake shall be kept according to content of this mineral these can supplement. Commonly used fruits like apples, apricots, black berries, blue berries, sweet cherries and grapefruit are good for low potassium diet as these supplements this mineral in relatively lesser amount than other foods.
One medium-sized apple supplements 160 mg of potassium, 2 medium-sized apricots supplement 185 mg, 1 pint of blackberries contain 460 mg, 1 pint of blueberries supplement 230 mg, 1 pint of sweet cherries supply 630 mg and one whole grapefruit supplements 360 mg of potassium. Other than these fruits like grapes, peach Asian pear, plums, Rhubarb, raspberries, strawberries and watermelon are good for low potassium diet.
Non-Veggie Foods – Best Diet for Control High Level of Potassium
Read Full Details Here>>Best Low Potassium Foods
Limit intake of non-veggie foods and take care of number of servings on per week basis to control high level of potassium in the body. Broadly speaking, one ounce of non-veggie foods like unsalted bacon beef, chicken, turkey, tuna, salmon, lamb, veal, pork and liver contains 120 mg of potassium.
If servings of these foods can be kept to minimum you can include these in your low potassium diet. If you can stop consuming non-veggie foods is even better and you can use peanut butter and tofu as their perfect alternates which can provide protein as much as non-veggie sources do without adding-up potassium levels.
You may like reading:
Low Carb Diet for Weight Loss
Best Diet to Prevent Kidney Stone
You May Like…