Best Pranayama For Diabetes Control In A Natural Way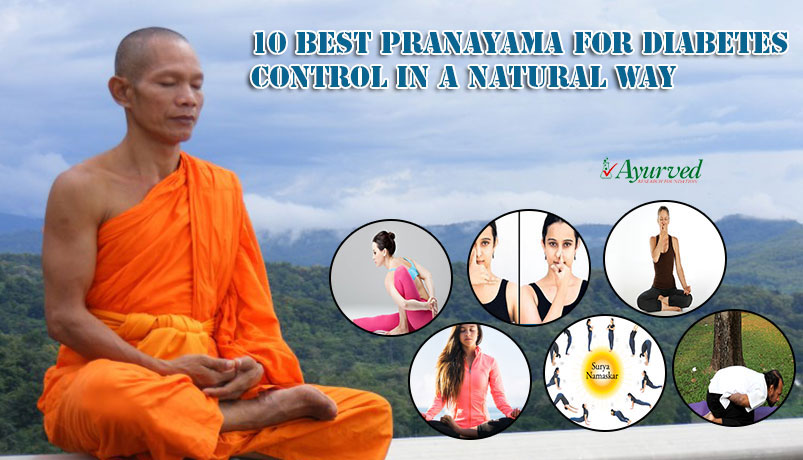 Pranayama means in Sanskrit dissolution of 'Praan Vaayu' in body. Praan Vaayu is breath which living organisms inhale and when it gets merged in body, it invigorates internal organs and systems as these too need oxygen to function. Aim of Pranayama is to provide optimum Praan Vaayu to body and promote longevity, health, vigour and vitality. Generally it is assumed that breathing exercises are only ways of practicing Pranayam, technically speaking it is correct too, as in Yoga only breathing exercises are reckoned as Pranayam. But there are many Yoga poses and exercises which can be practiced along with breath control to get maximum Pranayama benefits.
If one practice breath control, he or she gains double benefits of Yogic poses and exercises and also of Pranayam. One cannot perform breath control in all the Yoga poses but there are certain poses and exercises which provide scope for breath control and if one practice these poses along with Pranayama, their positive effects get multiplied. Here we have listed few very useful and beneficial Pranayama for diabetes control.
You may like reading:
Best Food for Type 2 Diabetes Diet
List of Best Foods to Control Diabetes
Pranayama for Diabetes Control
Anulom-Vilom

Anulom-Vilom is basic Pranayama in which Anulom means with the grain and Vilom means against the grain. Inhaling is accepting cosmic energy, purity of nature and power in through breath and exhaling is shedding or removing vices from mind and body through breath. To perform Anulom-Vilom sit over floor with legs folded and keep back straight. Look forward and block right nostril with your thumb. Inhale through left nostril as much air as you can and block left nostril with thumb, exhale through right nostril and inhale with it again. Keep repeating the process few times.
Remember if you have started Pranayama inhaling with left nostril at the end of session you should exhale with left one. This is the best Pranayama for diabetes control and for various other ailments like bronchitis, asthma and lung congestion. It improves flow of blood towards brain, sharpen its functions, increase stamina and promote flow of blood in body. Regular practice of this Pranayama allow to control diabetes in a natural way by improving level of oxygen in blood and improving functions of glands and organs of the body.
Nadi-Shodhan Pranayama
It is one step further than Anulom-Vilom and is also better Pranayama for diabetes control. To perform Nadi-Shodhan Pranayama you need to follow all the steps of Anulom-Vilom but once you have inhaled hold your breath in lungs for few seconds. You can start with 3, 5 or 7 seconds as per your ability do not push yourself beyond your limits and stay relaxed throughout the session. The oxygen which stays in the lungs gets mixed with blood and boost-up cellular functions of the body. When air stays in lungs for longer than usual, the carbon-dioxide inflate lungs a bit which over a period of time increase their efficiency to filter more oxygen. Higher oxygen level in blood is wonderful for sound health as it rejuvenates all the organs and glands of the body.
For beginners it is advisable that they follow Sam-Vritti while performing Nadi-Shodhan Paranayam for diabetes control. Sam-Vritti is inhaling, retaining and exhaling in same duration. Keep one beat each for inhaling, retaining and exhaling, later you can move on to Visham-Vritti which is 1:4:2 meaning one beat for inhaling, four beats for retaining and 2 beats for exhaling. In order to control diabetes in a natural way perform both types of Pranayama in morning on an empty stomach and preferably in open air where you get fresh oxygen.
Kapalbhati

This is one of the best pranayama to control diabetes. Nadi-Shodhan and Kapalbhati together are wonderful Pranayama for diabetes control, sound health and radiance on face. You can perform both these Pranayama for diabetes control in succession, if your body permits. To perform Kapalbhati you need to breathe through abdominal contraction and relaxation than moving your lungs. Sit in straight posture with legs folded and palms on your knees facing sky. Inhale with both nostril as much as possible let your lungs fill-in and you can even relax your abdominal muscles to accommodate more air.
Once you cannot inhale any more exhale, empty your lungs completely and pull your abdominal muscles in, right from under the ribs till below naval, pull your abdominal area around naval close to spine as much as you can to exhale entire air out. Relax your abdominal muscles and your lungs will fill with air again. Repeat this few times and gradually increase repetitions. Kapalbhati massages entire digestive system. It boosts functions of organs and flush toxins out and also stimulate pancreas to work as powerful Pranayama for diabetes control. It cleanses blood and provides radiance to skin by filling internal systems with energy and endurance. Combination of Nadi-Shodhan and Kapalbhati is regarded as highly effective Pranayama for diabetes control as these promote flow of energy in the body and promote sound physical and mental health.
Surya Namaskar

All of these are the best Pranayama to control diabetes, but there are some other ways too which can be extremely beneficial to control diabetes in a natural way and gain sound physical and mental health. Surya Namaskar is a set of the best yoga poses for diabetic patients which are done in succession and provide all round improvement in health. The method of performing Surya Namaskar for beginners is without following breath control. But those who have practiced Surya Namaskar enough can move on to higher level and perform this set of Yoga poses along with breath control which makes this exercise one of the best Pranayama to control diabetes and improve all round health and mental abilities. There are 12 poses in Surya Namaskar, each step provides scope for inhaling and exhaling which increases difficulty level, but provides much higher stamina, energy and improves health in a short time. Regular Surya Namaskar with breath control is one of the best Pranayama to control diabetes and numerous other disorders.
Mandukasan

This is another very effective method to control diabetes in a natural way. One can perform this asana simply and also along with breath control to make it the best Pranayama to control diabetes. To perform Mandukasan sit on the floor with legs folded and form fists. Keep fists right below your naval region and press the abdomen with these a bit. Now bend to touch ground with your forehead. To perform Pranayama along with this asana inhale in sitting position and exhale while you bend, stay with empty lungs for few seconds with your forehead on the ground, and get back to sitting position and inhale. Repeat few times and gradually increase duration of staying in bent position. This way Mandukasan works as one of the best Pranayama to control diabetes as it stimulates all the organs of abdomen, flush toxins out, speed-up metabolism and promote healthy liver and pancreatic functions
ArdhMatsyendra-Asana
This is wonderful asana for controlling diabetes as it stimulates pancreas, intestines, liver and improve circulatory and nervous system. You can perform Pranayama while doing this asana for better effects. Sit on the floor with legs stretched forward, fold your left leg and cross it over right leg, place the heel of your left leg touching knee of right leg from outside. Now fold right leg and bring its heel right under your right buttock, do not sit on the heel just let it touch your buttock. Now take your right hand and grip ankle of your right leg from outside, move your left hand and place its palm on floor right behind your left buttock. Inhale when you begin folding your legs and exhale when you have completed the posture. Stay for few seconds and perform with other leg and hand and repeat few times. This asana is recommended to people suffering with diabetes to control the problem effectively and when it is performed with Pranayama its effects become even better and quicker.
Apart from these are few more asanas which can be performed along with Pranayam. These are as follows.
Vriksha-Asana – This is tree pose and one can inhale and exhale during movement of palms while performing this asana. It is recommended to people suffering with diabetes.
Setubandha-Asana – This is popular asana for diabetics and breathing can be done while chest is pumped up and pulled down to enhance effects and gain better control over diabetes in a short time.
Vajra-Asana – This asana for faster metabolism and proper digestion of fat and sugar provides scope for inhaling and exhaling breath as long as person wants to.
Chakra-Asana

This asana requires person to twist torso in right and left direction and this movement can be done while breathing in and out to perform Pranayama along with asana.
Ayurvedic Pills To Control Diabetes
Use of Diabgon capsules is easiest and effective way to control diabetes in a natural manner. These herbal pills for diabetes come with natural herbs which increase insulin production, improve pancreatic functions and produce energy.
These keep blood vessels clear, improve heart functions, cleanse liver, keep kidneys healthy and maintain healthy eating pattern. Diabgon capsules relieve side effects of the problem like frequent thirst, hunger and urination and also suppress cravings to eat sugary. These treat pain in legs, dysuria, lethargy, fatigue and keep a person energized and active. The herbs present in these pills protect vulnerable organs like eyes, liver, kidneys, heart, blood vessels and nerves from high sugar level by slowing down sugar supplementation during digestion.
These herbal anti diabetic supplements are free of side effects and can be used by person of any age. These do not require any medical prescription and on regular use reduce intensity of the problem considerably to provide relief. Diabgon capsules along with diabetes control treat conditions like high cholesterol, plaque deposition, slow healing of wounds, trembling of limbs, palpitations etc. effectively.
=> Buy Diabgon Ayurvedic High Blood Sugar Supplements to Control Diabetes.
You may like reading:
Healthy Foods for Diabetes
Diabetic Recipes for Diabetes Patients
You May Like…
Sale!

Sale!