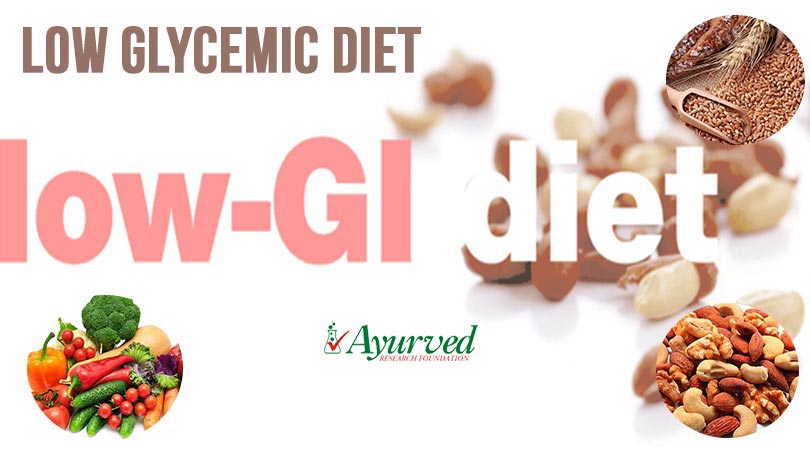 Low Glycemic Diet
Low glycemic index diet comprise of food items which are low or at the most moderate in supplementing carbs and sugar. Such diet is recommended for people who are suffering with diabetes, after eating this type of diet person does not get sudden rise in sugar levels which are damaging and can be harsh for overall health. The major benefit of this diet is that it keeps nutrition complete. Person suffering with diabetes suffers with low energy levels due to poor sugar metabolism, eating low glycemic diet keeps nutrition complete to maintain health and also energy levels high so that person can lead a normal life.
Sugar levels need to be healthy in blood, body cannot afford to have too low or too high sugar levels. Diabetes is for life and its side effects can cast long-term effects, the best way to keep sugar levels healthy is through diet as healthy diet prevents fluctuations in sugar levels and protects health from ill-effects of too low or too high sugar levels.
Foods low on glycemic index are the ones which supplement less carbs, carbohydrates during digestion get converted in glucose which increases sugar levels. Low carb diet is actually low glycemic diet which protects body from high level of sugar. Some of the foods which are low or moderate on GI are listed below; you can choose these food items to form a diet plan which supplements all round nutrition without piking the sugar levels.
For more on diabetes, check out:
Best Food for Type 2 Diabetes Diet
List of Best Foods to Control Diabetes
Low Glycemic Index (GI) Foods
Foods from different food categories which are low on GI are as follows
Vegetables – Best Low Glycemic Diet for Blood Sugar
To form a low glycemic diet you can include these vegetables, these are good sources of fibre to maintain metabolism and sources of vitamins, amino acids and minerals to keep health upbeat. Broccoli, cabbage, cauliflower, asparagus, celery, bulb of fennel, bokchoy, Brussels sprouts, green beans, mustard greens, kale, bell peppers, beet greens, mushrooms, collard greens, cucumbers, turnip green, tomatoes, lettuce, summer squash, spinach and Swiss chard.
To change taste you can include vegetables in low glycemic diet which are moderately high on GI but not more than one or two servings in a week. Such vegetables are carrots, garlic, onions, winter squash, green peas, eggplant and sea vegetables.
Fruits – Low Glycemic Index GI Foods

All fruits are moderately or very high on GI, so their intake shall be limited and ideally not more than one fruit per day. The fruits are good sources of fibre, minerals and vitamins in optimum dosage so limited quantity of fruits can be included in low glycemic diet. Fruits which are nutritious and moderately high on GI are – apples, bananas, cranberries, raspberries, blueberries, grapes, kiwi, grapefruit, plums, prunes, pears, lemon, oranges, strawberries and limes.
These shall be included in controlled quantity in regular low glycemic diet. And fruits like papaya, watermelon, pineapple, figs, raisins and cantaloupe shall be avoided or eaten just once a week.
Poultry – Diet to Prevent high Sugar Levels
All types of poultry products shall be used fat-free in low glycemic diet. Include cow's milk or skimmed milk, fat-free yoghurt, fat-free cheese and egg whites only in the diet to prevent pike in sugar levels and gain dose of vital minerals to stay healthy.
Nuts and Seeds – Regular Low Glycemic Diet for Diabetes


Nuts are sources of protein and also fibre; these are included in low glycemic diet due to their higher nutritious value. But since most of nuts are moderately higher on GI hence shall be part of low glycemic diet in controlled quantity. Nuts and seeds like almonds, walnuts, cashews, peanuts, pumpkin seeds and sunflower seeds shall be included in limited quantity, however flaxseeds and sesame seeds are low on GIso can be part of regular low glycemic diet.
Wholegrain – Regular Food to Gain Nutrition and Lesser Sugar
Wholegrain are part of regular low glycemic diet but again since these are moderately high on GI so their intake shall be in controlled quantity. You can include oats, barley, brown rice, quinoa, buckwheat, rye and whole wheat in regular diet to gain nutrition and lesser sugar supplementation.
Seafood and Meats -Low Glycemic Index GI Foods
Foods form this category like salmon, tuna, shrimp, sardines and cod are safe and can be part of regular low glycemic diet. Similarly meats like chicken breast, lean lamb and grass-fed turkey are also safe to eat.
Beans and Legumes – Best Low Glycemic Diet

These shall be part of regular low glycemic diet but not more than 1-2 cups in a day. These are fibrous and also rich in minerals and protein, include soybeans, tofu, tempeh, black beans, kidney beans, lentils, lima beans, navy beans, pinto beans and dried peas as parts of low glycemic diet in controlled quantity.
Herbs and Condiments – Diet for Diabetic
These also play a crucial role in enhancing quality of diet and their use is important not only for improving taste but also nutritional value. Coriander, ginger, black pepper, basil, cinnamon, cumin seeds, chilli pepper, sage, mustard seeds, oregano, parsley, peppermint, rosemary, thyme and turmeric are useful herbs and spices which can be part of regular diet for a diabetic.
Read Full Details Here>>Low Glycemic Foods
You may like reading:
Healthy Foods for Diabetes
Rolls, Sandwiches And Wraps for Diabetics
You May Like…
Sale!

Sale!