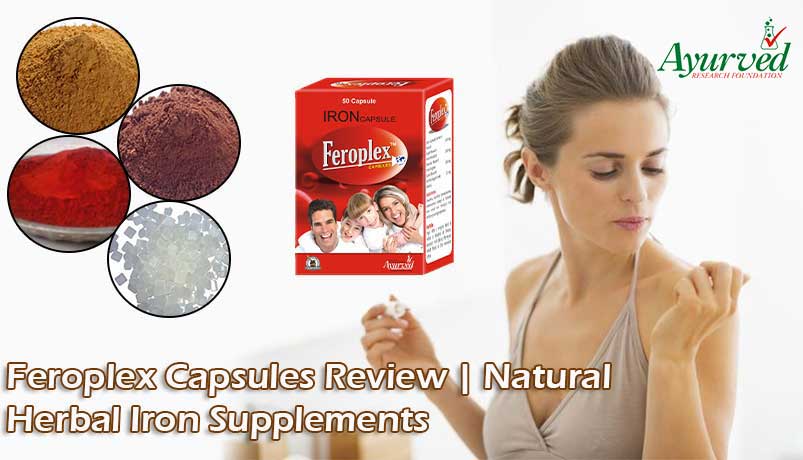 Natural Herbal Iron Supplements
Iron is a vital mineral necessary for the transportation of oxygen in our body. One-third of the body's iron is present in hemoglobin that is in turn present in our red blood cells. This substance hemoglobin is hugely responsible for carrying oxygen from lungs to all our body's tissues. If we do not contain adequate amounts of iron, our body will not be able to produce healthy red blood cells and hence our cells won't get proper oxygen. The end result for lack of iron is fatigue and tiredness. Frequent exhaustion may even hamper your healthy brain function and immunity. Iron is also crucial in the health of our cells, hair, nails and skin. Women need iron in ample amounts during menstruation and pregnancy. If our diet is not providing us the right amount of iron, we must definitely combat this situation using herbal iron supplements. Feroplex capsules are new natural iron supplements around the block which are gaining rapid popularity among people.
Our Feroplex capsules review will provide a brief introduction about its features and then keep on going to elucidate various parameters such as results, ingredients, directions of use, safety, advantages and disadvantages one by one. People should definitely know these factors as it is very essential to be well-informed about the facts and features about the product you are going to purchase. Inadequate knowledge and hasty decision can lead to long term regret. That is why one must go through our review of Feroplex herbal iron supplements and judge for him or her that how effective these pills are and it is really worth your money.
You may like reading:
Herboglobin Capsules Review
Ayurvedic Remedies for Calcium Deficiency, Best Supplements
Basic Features
It is very important to get a basic gist and overview about the product you are thinking of buying. This section of our review of natural iron supplements will let you know some of the basic features of Feroplex capsules. They are-
Assist in the formation of red blood cells and tissues
Help in normal functioning of body and growth of RBCs
Highly beneficial for teenagers and athletes as they need energy and stamina, to which iron fulfillment is one of the most crucial factors
Increase concentration and attention and hence helpful for students
Good for aged people as these enhance their energy and performance
Useful for women during menstruation, pregnancy and breastfeeding
Fatigue, cramps, muscular spasms, dizziness, anemia, etc. are mitigated
Symptoms like weakness, breathlessness, brittle nails, under eye dark circles and damaged hair are alleviated
Optimal health and vitality is achieved
How Feroplex Iron Supplements Work and What Will We Achieve After Using?
All credit to the effectiveness and reliability of Feroplex capsules goes to the presence of powerful and top grade ayurvedic ingredients that cater for all our body's iron demands. They stimulate the production and growth of red blood cells. Feroplex natural iron supplements heal the damaged blood cells and provide them adequate nourishment. Slowly and steadily all the symptoms of iron deficiency are mitigated such as brittle nails, frizzy hair, fatigue, dizziness, shortness of breath, dark circles under eyes and lack of stamina. Even anemia is effectively treated by regular intake of these pills. Feroplex herbal pills are good for people of all categories be it women, athletes, men, old aged people, teenagers, students and adolescent girls. The whole body system is reinvigorated and revitalized and optimum health is obtained as an outcome.
Ayurvedic Ingredients
Feroplex herbal iron supplements are composed of exotic herbal ingredients like Lauh Bhasma, Mandur Bhasma, Mishri and Kasis Bhasma. They do not contain any harmful chemical additives or fillers that may pose serious threat to our health. These natural contents ensure all round recovery from iron deficiency and revitalize our overall health.
Directs of Use
It is advisable to take 1 or 2 Feroplex ayurvedic capsules two times a day with milk or water.
Do Feroplex Pills Produce Any Sorts of Side Effects?
Zero side effects are produced by taking Feroplex herbal pills as it has been experimentally verified. All thanks to the presence of pristine ayurvedic herbs and natural ingredients that heal and nourish our body organs. We ensure everyone in our natural iron supplements review that these capsules work in synergy with our body and provide long term advantages. This is in stark contrast from the allopathic remedies that are high on chemicals and synthetic substances and are not completely free of side effects.
How Much Time Will They Take to Achieve Good Results?
We are putting forward a word of advice in our Feroplex capsules review that it takes a time frame of 3 to 4 months minimum to get all round outcomes of these pills. They are no magical potion that will ameliorate our health at a go. As they consist of ayurvedic herbs which are very gentle and uproot the problem from its underlying cause. The time is worth it as the final results are actually quite amazing and stupendous.
Advantages
We will not forget to mention some clinically tested and experimentally verified advantages of Feroplex herbal capsules that are outstanding to rectify iron deficiency problem. They are –
Feroplex herbal capsules are absolutely herbal iron supplements that make up for the body's iron demands without causing any side effects.
The regular intake of these capsules does not cause any sort of stomach irritation and constipation as they are free from harsh chemicals, synthetic fillers and additives.
They are suitable for men and women of any age and can be taken by vegetarians without hesitation as they comprise of pure herbal ingredients.
Symptoms of iron deficiency such as brittle nails, brittle hair, fatigue, feeble bones, weakness, shortness of breath, dark circles, etc. under the eyes are effectively tackled.
Feroplex herbal iron supplements are extremely beneficial for elderly people suffering from low stamina and energy and enhance their daily functionality.
Anemia due to lack of iron is also cured by regular intake of Feroplex pills. Children must take them to improve concentration, focus and attention in their studies.
Girls suffering from menstruation must consume them to get relief from muscular cramps, spasms and dizziness.
Feroplex herbal remedies act as a boon for pregnant, menstruating and lactating mothers and also helpful to provide maximum stamina and energy to the athletes.
Feroplex natural iron supplements trigger the formation of RBCs and maintain their growth. Optimum health, efficiency and vitality are attained by taking them on a regular basis.
Disadvantages
Some of the disadvantages of Feroplex iron supplements are listed in the last section of our Feroplex review –
Slight changes have to be made in our lifestyle such as abstaining from bad habits such as alcoholism and eating a balanced diet along with taking these Feroplex natural iron supplements in order to achieve greater benefits.
Feroplex capsules are non-prescription natural iron supplements that are available only via online means.
They take a time frame of 3 to 4 months to complete their treatment and acquire long lasting results.
=> Buy Feroplex Herbal Iron Capsules to Cure Fatigue and Low Energy.
You may like reading:
Homemade Electrolyte Energy Drink
Foods and Herbs to Increase Energy and Stamina in Men
You May Like…