Ayurvedic Remedies to Dissolve and Pass Kidney Stones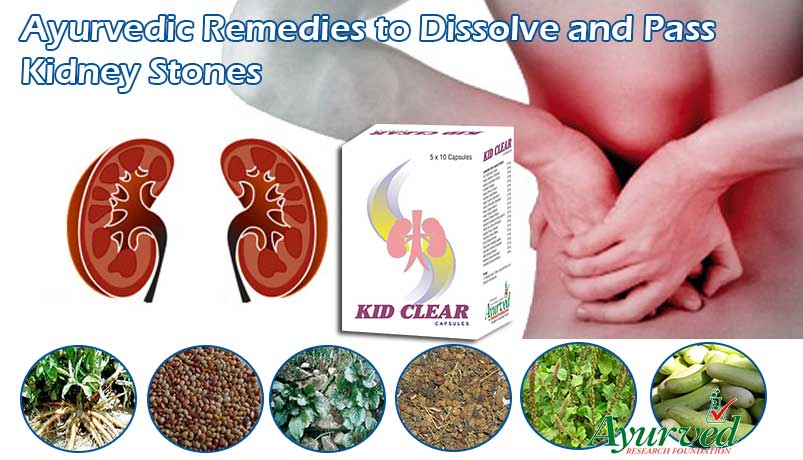 Dissolve Kidney Stones with Ayurvedic Remedies
Kidneys are the pair of organs that are of bean shape and are situated at the back side of the upper abdomen. One kidney is 11 to 14 cm long, about 6 cm wide and 4 cm thick. Their basic function is to expel the toxins out of the body. Other than that these also regulate the blood circulation and red blood cells, and balance the acid levels and water in the body.
Since the kidney's function is contiguous these need to be detoxified after certain time duration. Else it may create health troubles such as bladder stones, urinary tract infection (UTI), kidney stones, kidney failure, etc. If the kidneys fail other troubles also pop up such as irregular RBCs and blood circulation, acid and water levels balancing irregularities. Developing kidney stones is one of the common issues among mankind that is really life hampering and painful.
Almost every human being is born with a pair of kidneys but there might be the case if one needs to seek one of other person's kidneys to be transplanted within him or her in case of failure. It is possible to live with one kidney but it has other complications. There are chances that your immune system doesn't accept the new kidney since it is the foreign organ and you probably end up facing troubles related to that. Also one cannot lead a rough and tough life with just one kidney. They have to be delicate. It is not allowed to do complex physical exertion such as running, lifting heavy loads, etc. Avoiding such issues is the better way and when it comes to taking care of your kidneys we suggest you go for the ayurvedic remedies.
You may like reading:
Best Diet to Prevent Kidney Stone
Best Diet for Healthy Kidney
Symptoms of Kidney Stones
Now when we talk about kidney stones these are the concentrated wastes that get crystallized and solidified inside the kidneys if not excreted out on time. Many people develop these and pass these out through urine without significant display of any sign or symptom as the stones are small. But if the stones get bigger with time and try to pass all their way to urinary tract these create a great pain causing symptoms as under:
Extreme achy feeling right below the ribs at the back and side
Fluctuations of pains that grow and settle like water waves
Pain that reaches the lower abdominal region and groin
Painful urination
Presence of blood in the urine in severe cases
Cloudy urine
Foul smell of urine
Nausea and vomit
Urinating much frequently as compared to normal and in small amounts as well
Chills and fever together in case of infection
The strong bond between the stone formations must be lessened and broken into several tiny particles so that these could be eliminated through urinal excretion. If the stones are too big surgery is suggested by the doctors. If a person develops the kidney stones he or she is likely developing that in the coming years of life. So, one can say that allopathic or surgical treatments never guarantee the long term benefits and these are expensive in addition.
Pass Kidney Stones Naturally

We therefore recommend Kid Clear capsules as the finest ayurvedic remedies to dissolve kidney stones. These ayurvedic remedies dissolve and pass kidney stones naturally with the principle of breaking the strong and endless bonds between the crystallized stones and making them several tiny pieces so that these get dissolved and excreted out of the body painlessly. Let us now reveal about the herbal ingredients that are used in the making of ayurvedic remedies to pass kidney stones:
Patthar Chur (Coleus Aromaticus), Kulthi (Dolichos Biflorus), Elaychi Badi (Amomum Subulatum), Pashan Bhed (Saxifraga Ligulata), Bastimoda (Apium Graveolens), Ambihaldi (Curcuma Aromatica), Kakadi (Cucumis Utilissimus), Kali Musli (Curculigo Orchioides Gaertn), Barna (Crataeva Nurvala), Gaukshroo (Pedalium Murex), Javakhar (Potassii Carbonas), Kaknaj (Physalis Alkekengi), Alubalu (Prunus Cerasus), Makoy (Solanum Nigrum), Karmkalla (Cabbage), Apamarg (Achyranthes Aspera), Javatea (Orthosiphon Stamineus), Hauber (Juniperus Communis), Taj (Cinnamomum Cassia)
One needs to take one capsule or two capsules of Kid Clear ayurvedic remedies to dissolve kidney stones with water twice a day regularly for about four months and see the changes all by yourself. We assure everyone who is dealing with the issue and wants to dissolve and pass kidney stones naturally that the results would be slow but beneficial and for long run.
Regular intake of these ayurvedic remedies to dissolve kidney stones is not painful at all. Your issue would be healed internally and you won't face anything excruciating. Moreover, unlike allopathic medicines that offer a list of side effects these ayurvedic remedies to dissolve kidney stones do not display such kinds of signs. The estimated period for the results to show up varies in every individual and also the complexity of the condition. Users need to be patient in this regard but one thing is for sure. Once you stop noticing the stones within you that won't occur again which makes these ayurvedic remedies to dissolve kidney stones really a successful and trustworthy method.
You may like reading:
Best Diet Gall Bladder
Best Healthy Renal Diet
You May Like…
Sale!